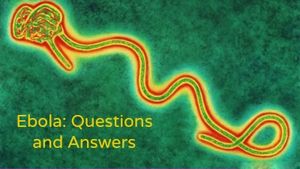 There is a lot of confusing - and often contradictory - information about the Ebola virus circulating.
Hopefully this Q&A will clear things up.
Q: What IS the Ebola virus?
A:
Ebola is an infection with a virus of the family
Filoviridae
, genus Ebolavirus. So far, only two members of this family of viruses have been identified - Marburgvirus and Ebolavirus.
Five subspecies of Ebolavirus have been identified, four of which can cause disease in humans:
Ebola virus (Zaire ebolavirus)
Sudan virus (Sudan ebolavirus)
Taï Forest virus (Taï Forest ebolavirus, formerly Côte d'Ivoire ebolavirus)
Bundibugyo virus (Bundibugyo ebolavirus)
Reston virus (Reston ebolavirus): This is the one that has not caused disease in humans (but it can be fatal in non-human primates). This is the strain that killed dozens of lab monkeys at a research facility in Reston, VA, in 1989. Four workers at that facility tested positive for Ebola. In 1996, nine lab workers were exposed to this strain after handling infected animals. None of those infected developed symptoms or became ill, but they did develop antibodies to the strain. It is possible that the Reston strain can be transmitted via small-particle aerosols (airborne), but that hasn't been confirmed.