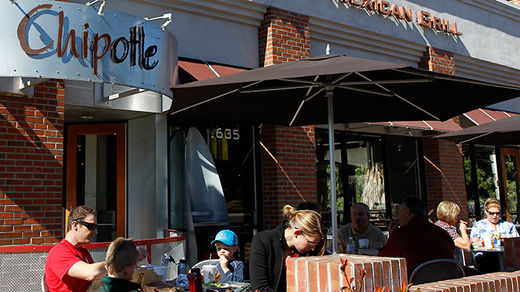 Chipotle has become the first fast-food chain to ban genetically modified foods, known as GMOs, in all foods served in its restaurants. The Mexican fast-casual chain has removed non-organic soy and corn from its tortillas and other menu items.
"Chipotle was the first national restaurant company to disclose the GMO ingredients in our food, and now we are the first to cook only with non-GMO ingredients," the company wrote on its
website
.
Back in 2013, Chipotle started showing which items contain GMOs. On Monday, it removed those items altogether from the 68 ingredients ‒ including salt and pepper ‒ served at its 1,831 restaurants.
"This is another step toward the visions we have of changing the way people think about and eat fast food," Steve Ells, founder and co-chief executive of Chipotle, told the
New York Times
. "Just because food is served fast doesn't mean it has to be made with cheap raw ingredients, highly processed with preservatives and fillers and stabilizers and artificial colors and flavors."
"The vast majority of our ingredients don't come in a GMO variety, and we use lots of whole, unprocessed foods, so it was easier for us to do," Ells added.