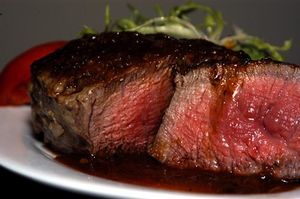 Where food science and dietetics are concerned, there has been a major hate-on for red meat in the mainstream media and academia since the 1950s. And when you scrutinize the issue, as I have done, you find that there is no (and has never been) solid reasoning behind it. But, with their constant need to acquire grants or sell headlines, or simply justify their own existence, these people need an enemy. Red meat seems to fit the bill, at the moment. Think of it as the ISIS of your dinner plate.
This all goes back to the ridiculous hubub that started in the 1950s when seemingly clear-headed nutritional scientists decided to ignore all their schooling (and rational thought) to lend their support to really shoddy science "showing" how saturated fat was related to heart disease. I won't go into the nitty-gritty of it here (there are
ample expositions
of this story already).
The public's perception of red meat never really recovered from that, and the "beat 'em when they're down" media continue to relentlessly take shots at their victim. Pair this ancient knack for blaming scapegoats with the politically-correct trending mythology of the necessity of a "plant-based diet" and you've got the perfect recipe for a 'bad guy' to end all 'bad guys'. Truth be damned: red meat is Hitler (props to Fox News for that one).