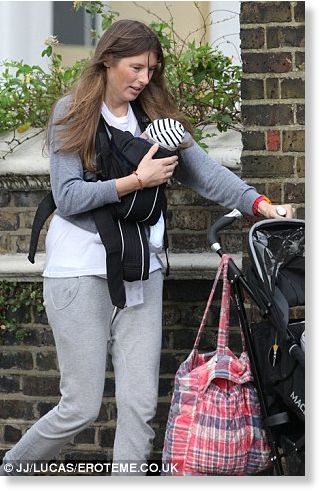 A baby boy died in a sling during a ten-minute walk with his mother on Christmas Eve, an inquest heard.
Eric Matthews was only five weeks old when he accidentally suffocated as his mother Marianne tried to calm him down.
The tragedy prompted the coroner to raise concerns about the safety of the slings, which have grown in popularity in recent years and have been used by celebrity mothers such as Gwyneth Paltrow.
The inquest also heard that six children have died in slings in the UK, while 16 deaths have been recorded in the US and Canada.
An emotional Mrs Matthews, attending the inquest with her 48-year-old partner Robert, said she had learned to position her child in the sling from a parenting manual, suggesting it was safest against her chest.
She issued a warning to other parents over the dangers posed by the slings, saying: 'I don't want to scaremonger but I think it isn't known about.'