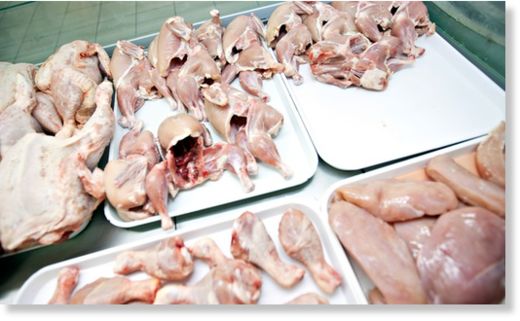 Experts say freezing chickens could reduce poisoning risks after FSA report shows high levels of potentially lethal bug present in poultry sold at British supermarkets
Chickens sold in Britain are still being contaminated with high levels of the potentially deadly food poisoning bug
campylobacter
due to poor practice within the poultry industry, public health officials have warned.
Supermarkets have also continued to allow chickens to be sold to consumers even though they have tested positive for high levels of the bacteria.
Officials at Public Health England claim that without sufficient legislation the industry will resist implementing measures that could help to reduce the contamination of chickens for fear it will drive up the cost of meat. Their warnings come as the Food Standards Agency is preparing to publish a survey assessing the
campylobacter
levels on chicken being sold at leading UK supermarkets. Preliminary results showed that the bacteria could be found on the meat 59% of fresh chicken products on sale.
Dr Frieda Jorgensen, a microbiologist at Public Health England, said the updated results due to be published later this month are likely to show even higher contamination levels.