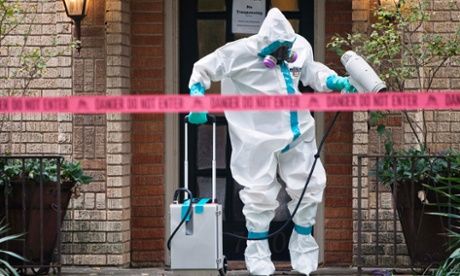 Worker who cared for Thomas Eric Duncan flew on US flight from Cleveland the day before she reported Ebola symptoms
A second healthcare worker who treated
Thomas Eric Duncan
, the first patient in the US to be diagnosed with Ebola, has tested positive for the virus, escalating the challenge for officials battling to contain it in Texas.
The worker, a nurse at Texas Health Presbyterian hospital in Dallas, was immediately isolated after reporting a fever on Tuesday. Officials on Wednesday said that more cases were a possibility.
The second infection calls into question the Dallas hospital's ability to protect staff treating Ebola patients, and raises concerns about the quality of the initial response to Duncan's diagnosis by state and federal agencies
. The US Centers for Disease Control and Prevention (CDC) admitted before the latest announcement that it should have sent a bigger team to Dallas in the wake of Duncan's diagnosis.
"It may get worse before it gets better," said Dallas mayor Mike Rawlings at a press briefing on Wednesday morning.
The CDC said it was working to confirm of Texas's preliminary examinations on the new patient.
"An additional healthcare worker testing positive for Ebola is a serious concern, and the CDC has already taken active steps to minimise the risk to healthcare workers and the patient," it said.