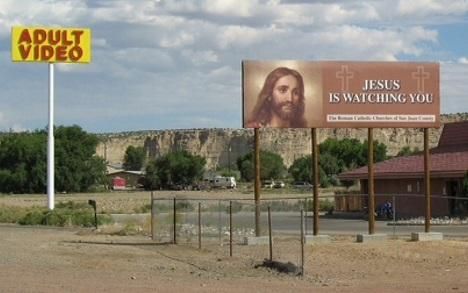 For the faithful, porn addiction isn't about how much porn is watched - it's about how guilty they feel when they do it.
Standing out boldly against a bright yellow background, the tall red capital letters hover above the highway shouting their promise of sexual stimulation to oncoming motorists: ADULT VIDEO! But as turned-on drivers downshift toward the X-rated invite, they can't avoid seeing another sign. On it, the familiar face of a bearded, long haired man looks down with gentle, disapproving eyes. Alongside the portrait, another set of capital letters warns that "Jesus Is Watching You."
Catholic leaders in San Juan County, New Mexico installed that billboard as a shame-inducing admonition to porn shop patrons - you may be able to hide your "sinful" behavior from other people, but not from God!