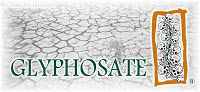 Glyphosate
was first introduced in 1974 and has become the world's most dominant herbicide. It's now generic, so there are many brands and formulations. As a result, it's virtually ubiquitous,
found nearly everywhere on earth
.
Further driving its use are genetically modified (GM) crops, which were first developed for the purpose of creating glyphosate-tolerant plants, usually known as Roundup Ready. These have resulted in ever-more blatant and free use, especially in the wake of glyphosate-resistant superweeds. Estimates put glyphosate-tolerant GM crops at 90% of all transgene crops.