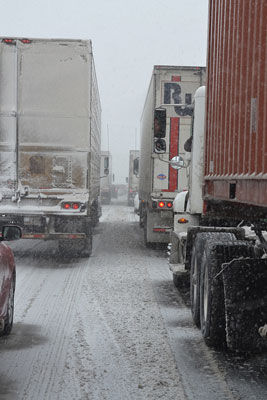 Vermeulen R, DT Silverman, E Garshick, J Vlaanderen, L Portengen, K Steenland. Exposure-response estimates for diesel engine exhaust and lung cancer mortality based on data from three occupational cohorts. Environmental Health Perspectives. 2013.
http://1.usa.gov/1gcpfX9
.
An estimated 6 percent of lung cancer deaths in the United States and the United Kingdom - 11,000 deaths per year - may be due to diesel exhaust, according to a new
study
.
Emission standards for diesel engines have become more stringent in recent years, but their exhaust still plays a significant role in lung cancer deaths among truckers, miners and railroad workers, the authors wrote. In addition, diesel exhaust still poses a major cancer threat for people living in dense cities or near highways, they said.
Truckers and miners exposed over their careers to diesel exhaust face a risk of deadly lung cancer that is almost 70 times higher than the risk considered acceptable under U.S. occupational standards. The scientists calculated the lifetime risk for these workers at up to 689 extra lung cancer deaths per 10,000 workers exposed. In comparison, one cancer death per 1,000 workers is used to set federal workplace standards.