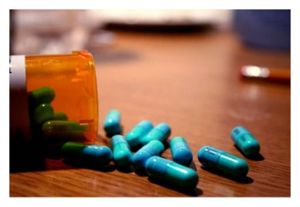 As patients, we entrust our health to a variety of medical professionals. We often think of the role doctors play in our well-being, but pharmacists - the gatekeepers of the medicine that doctors prescribe - also play a crucial part.
Like other medical errors, pharmacy mistakes can have serious consequences. According to a
2009 ABC News report
, medical mistakes are the eighth-most-common cause of death in the U.S., and pharmacies account for a large portion of those errors.
We occasionally hear stories about the aftermath of these errors, like
the Houston woman
who last fall sued the pharmacy she says filled her daughter's medication at 10 times the prescribed dose, causing her death. But most people have no idea how frequently these errors occur. I know I didn't until it happened to me. In December, my four-year-old Labrador retriever was prescribed a medication to help with a condition related to her cancer. The pharmacist at a West Chester, Pa., Rite Aid mistakenly filled the medication at three times the prescribed dose, putting my dog's life in danger. Fortunately, she recovered from the overdose after two nights at the emergency veterinarian.
It turns out that dispensing the wrong dose of a prescribed medication is one of the most common pharmacy errors, along with dispensing the wrong drug and providing incorrect instructions. And while we know these errors occur all too frequently - a pharmacy auditor I consulted called them "fairly common" - we don't know exactly how frequently because many cases are never reported and even fewer are publicized. With Americans these days taking more prescription medications than ever before, we should expect these errors to increase.