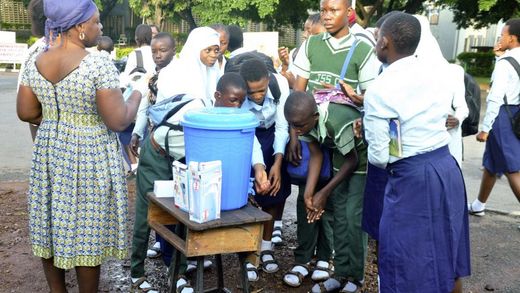 Nigeria was declared free of the deadly Ebola virus on Monday after a determined doctor and thousands of officials and volunteers helped end an outbreak still ravaging other parts of West Africa and threatening the United States and Spain.
Caught unawares when a diplomat arrived with the disease from Liberia, authorities were alerted by Doctor Ameyo Adadevoh, who diagnosed it, kept him in hospital despite protests from him and his government and later died from Ebola herself.
They then set about trying to contain it in an overcrowded city of 21 million where it could easily have turned a doomsday scenario if about 300 people who had been in direct or indirect contact with him not been traced and isolated.
"This is a spectacular success story," Rui Gama Vaz from the World Health Organization (WHO) told a news conference in the capital Abuja, where officials broke into applause when he announced that Nigeria had shaken off the disease.
"It shows that Ebola can be contained, but we must be clear that we have only won a battle, the war will only end when West Africa is also declared free of Ebola."
This year's outbreak of the highly infectious hemorrhagic fever thought to have originated in forest bats is the worst on record.