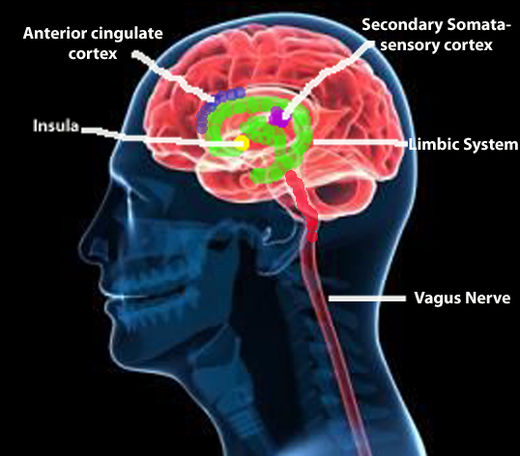 Last time we covered some of the functional and structural changes that take place in your brain when you're chronically stressed.
Comment:
From the author's
prior article
she states:
Stress affects the size and thickness of a few different regions of your brain - the one we'll focus on here is the amygdala, an almond-shaped structure located deep within your brain. During acute stressors, the amygdala helps orchestrate the brain's rapid fight or flight response (3). This response can be adaptive in some settings, but repeated, excessive, or prolonged stress responses are thought to place people at risk for stress-related diseases (4,5). The amygdala has been shown to be a key player in mental and emotional health, with abnormal amygdala function identified in depression, anxiety, posttraumatic stress disorder, phobias, and panic disorders (6 - 8). Higher levels of perceived stress in a large sample of community adults have been associated with increased size of the amygdala (9). Moreover, some recent work suggests that reductions in perceived stress are associated with reduced amygdala density (10).

Under stress, specific functional neural changes have been observed in amygdala to prefrontal cortex (a higher order "thinking" area) circuitry, with the amygdala activating stress pathways that result in impaired prefrontal functions such as attention and working memory (3). Essentially, stress is changing how different brain regions "talk" to each other. This occurs even when your brain is at rest - it is reflected in baseline patterns of brain activity, where changes in neural functional connectivity have been shown between the amygdala and frontal brain regions in people with stress-related disorders (11 - 13).
While it's important to know what these changes are, most people are understandably more interested in what they can do to combat some of these negative effects.
There's a two-part answer to this question: you can (a)
reduce
your stress levels, (b) try to reverse the negative effects of stress, or ideally, (c) - a combination of both. There are a number of stress-reduction techniques that neuroscientists have studied, including guided relaxation and breathing techniques, mindfulness and meditation, biofeedback, and physical activity. I'd like to divide these into two categories: what can be thought of as "direct brain training" (mindfulness, guided imagery, attention training, etc.), and physiological training methods that have downstream effects on your brain (e.g. exercise, biofeedback). Let's start with the former: