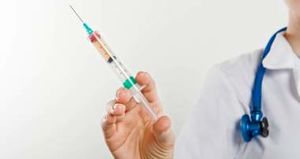 In collaboration with Big Business and special interests, the Obama administration's Department of Health and Human Services (HHS) is plotting a new program to track Americans' vaccination records, wage a massive propaganda campaign to "encourage" more inoculations, and foist more controversial vaccines on adults against their will. Federal bureaucrats and crony capitalists set to profit from the proposal claim the goal is to improve "public health," and establishment media outlets have largely parroted that line so far.
However, critics of the unconstitutional scheme, formally dubbed the "
National Adult Immunization Plan
" (NAIP), say the ultimate goal is to forcibly vaccinate all Americans and move toward a radical new healthcare paradigm in which medical "treatment" is delivered at gunpoint.
The controversial plot was cooked up and unveiled by the Obama HHS National Vaccine Advisory Committee during its February meeting. If approved by federal bureaucrats, the executive-branch assault would, among other elements, enlist private businesses, churches, and non-profit organizations in a nationwide campaign to prod Americans into accepting the Obama administration's perpetually expanding list of "recommended" vaccines. The scheme would also offer doctors and other vaccine providers "incentives" — read taxpayer-funded bribes — to shred patient privacy and feed private medical information into state and federal databases to track those who refuse to comply.