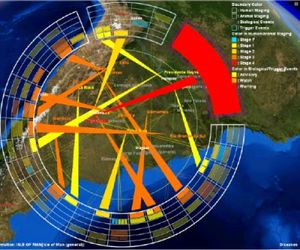 University of Michigan research shows web-based system could help improve detection and response to spread of illnesses.
There is growing trend toward the use of "biosurveillance" - Web-based systems to track public health, many times with an added
predictive model
. As you'll see in the University of Michigan press release below, a familiar sales pitch is employed to assert that the only way to keep the public safe is through pervasive surveillance ... now including preschoolers.
With
Ebola
taking center stage as the latest threat to humanity, along with new concerns over
enterovirus EV-D68
which is afflicting children in increasing numbers, the surveillance state is not letting a single crisis go to waste.
Recent announcements by social media companies also indicate the arrival of full-scale health surveillance. Twitter's
"ChatterGrabber"
is a "machine-learning algorithm" that will harvest communications for "tickborne diseases, such as Lyme disease, public sentiment involving vaccines ...serving as an early warning system for public health officials through suspicious tweets or conversations." And Facebook is
" exploring creating online 'support communities' that would connect Facebook users suffering from various ailments...also considering new 'preventative care' applications that would help people improve their lifestyles."