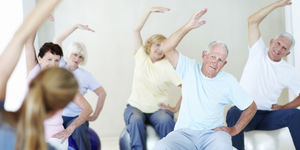 In Austria, around ten per cent of over-65-year-olds are frail, while a further 40 per cent are in a preliminary stage of frailty. The Healthy For Life project, with the MedUni Vienna as the academic lead, aims to raise fitness levels and quality of life for older people whose nutritional condition is inadequate.
The first results show that regular strength training is particularly beneficial for increasing hand strength, and thus enabling people to live independently,
says Thomas Dorner of the MedUni Vienna's Centre for Public Health to mark World Health Day on April 7.
The Healthy For Life project is a collaboration between the MedUni Vienna, Wiener Hilfswerk and Sportunion Österreich and is sponsored by the Vienna Science and Technology Fund. It involves volunteer "buddies" (aged at least 50) making weekly home visits to motivate older people to do strength training. Other nutritional issues are also discussed and it also boosts social support. It's a win-win situation: "it is not only beneficial to the elderly people's health, but also does the younger buddies good."