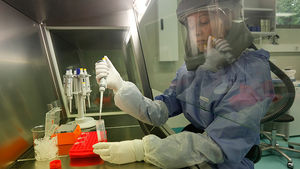 Britain may be facing its first case of Ebola. A person in Wales is being monitored by health officials following a potential exposure to the virus.
Though the individual is not showing any concrete symptoms of the virus, the person has voluntarily limited their contact with others and will not be going to work, Public Health Wales (PHW) confirmed on Tuesday.
It is believed the individual may have been exposed to the virus in West Africa.
The recent outbreak of Ebola has so far killed 887 people across Guinea, Sierra Leone, Liberia, and Nigeria. Over 1,600 separate cases of the virus have been detected throughout the region.
There are currently no confirmed incidences of the virus in Wales, or in the wider United Kingdom.
"We are alert to the possibility of Ebola cases in the UK given the outbreak in Sierra Leone, Liberia, and Guinea and we remain vigilant to unexplained illness in people who have traveled from the area,"
PHW told the Independent on Tuesday.
Measures are currently in place to protect public health in the event of an outbreak in the region, Public Health Wales added.
The potential Ebola carrier is not currently in hospital, according to a Public Health England (PHE) spokeswoman. But if the individual develops suspicious symptoms, the person will be quarantined in a local hospital and receive medical tests to discern whether he or she has contracted the deadly disease
, the spokeswoman added.