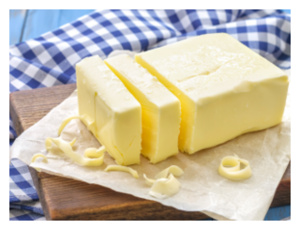 Load up on butter, and throw away your calorie counter. A major new study has reversed the commonly accepted, decades-long nutritional wisdom that fat is bad for you - even the dreaded saturated fat. "People who avoid
carbohydrates
and eat more fat, even
saturated fat
,
lose more body fat and have fewer cardiovascular risks
than people who follow the low-fat diet that health authorities have favored for decades," the
New York Times reported today.
The report is based on a major new study paid for by the National Institutes of Health and published in the Annals of Internal Medicine. It monitored a racially diverse group of 150 men and women who followed different assigned diets for a year. The diets either limited carbs or fats, but placed no limits on calories, which set it apart from other studies of its kind.
"To my knowledge, this is one of the first long-term trials that's given these diets without calorie restrictions," Dariush Mozaffarian, the dean of the Friedman School of Nutrition Science and Policy at Tufts University told the
Times
. "It shows that in a free-living setting, cutting your carbs helps you lose weight without focusing on calories. And that's really important because someone can change what they eat more easily than trying to cut down on their calories."
Dieters who follow the trends may recognize echoes of the infamous Atkins diet, which featured lots of protein and fat and few carbs as the ticket to weight loss. But critics said it increased heart disease risks by ignoring the supposed dangers of cholesterol.