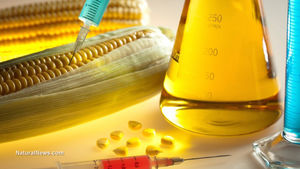 The Corn Refiners Association is now labeling high fructose corn syrup as fructose. Packing on products such as General Mills Vanilla Chex cereal now states the product contains no high fructose corn syrup, while the ingredients list contains the simple word, "fructose." This fructose is actually a manufactured sugar called HFCS-90, and is made up of 90% pure fructose. High fructose corn syrup, or HFCS, contains 42% or 55 percent fructose. Health issues relating to free fructose include diabetes, leaky gut syndrome, and liver failure.
The Corn Refiners Association states,
"...HFCS-90 is sometimes used in natural and 'light' foods, where very little is needed to provide sweetness. Syrups with 90% fructose will not state high fructose corn syrup on the label [anymore], they will state 'fructose' or 'fructose syrup."