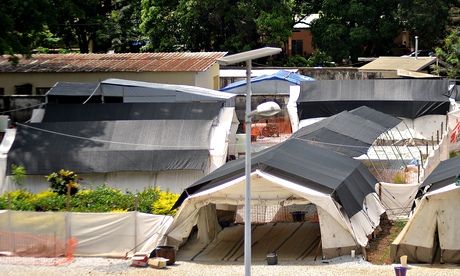 Health ministers from across western Africa met on Wednesday to plan "drastic action" against the world's deadliest-ever Ebola epidemic as dozens of new cases continued to emerge.
There have been 759 confirmed or suspected cases of the haemorrhagic fever in Guinea, Liberia and Sierra Leone, the World Health Organization (WHO) said on Tuesday, with 467 people dead.
The new death toll represented a rise of 129 - or 38 percent - since the UN agency's last bulletin given just a week ago.
"This makes the ongoing Ebola outbreak the largest in terms of the number of cases and deaths as well as geographical spread," the WHO said in a statement announcing the two-day conference, which opened in Ghana's capital Accra, with 11 west African health ministers attending.
"Decisions taken at this meeting will be critical in addressing the current and future outbreaks," it said.
Since the region's first ever epidemic of the deadly and highly contagious fever broke out in Guinea in January, the WHO has sent in more than 150 experts to help tackle the regional crisis.