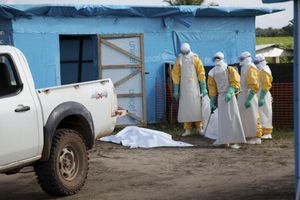 Hundreds of troops deployed in Sierra Leone and Liberia on Monday to quarantine communities hit by the deadly Ebola virus, as the death toll from the worst-ever outbreak reached 887 and three new cases were reported in Nigeria.
With healthcare systems in the West Africa nations overrun by the epidemic, the African Development Bank and World Bank said they would immediately disburse $260 million to the three countries worst affected - Sierra Leone, Liberia and Guinea.
The World Health Organization, which warned last week of catastrophic consequences if the disease were not controlled, reported 61 new deaths in the two days to Aug. 1 as the disease continues to spread.
The outbreak began in February in the forests of Guinea. The toll there continues to rise, but the epicenter has since shifted to neighboring Liberia and Sierra Leone.