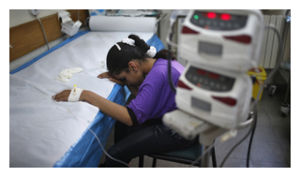 An influential group of worldwide cancer experts has warned that the astronomical prices charged by drug companies are in effect condemning some patients to death.
More than 100 leading cancer specialists have accused the world's drug industry of
"profiteering"
from cancer patients in the same way that unscrupulous food vendors raise the price of basic food stuffs after a natural disaster.
The authors of the article, which appeared in the journal
Blood
, are all specialists in blood cancer. Blood cancers, such as Leukemia, have been proven to be very responsive to cancer drugs.
The specialists are keen to get the message across that they understand that drug companies must make a profit on what they do, but the profit should be in relation to the money invested and should not take advantage of people with life threatening medical conditions.
"What determines a morally justifiable 'just price' for a cancer drug? A reasonable drug price should maintain healthy pharmaceutical industry profits without being viewed as 'profiteering'. This term [profiteering] may apply to the trend of high drug prices where a life threatening medical condition is the disaster," the specialists wrote in the report.