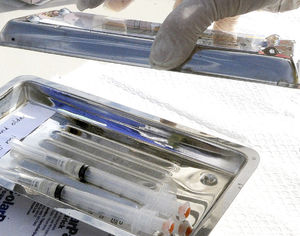 At least five children at a Salem County-run clinic were given improper immunizations, including one who received a cervical cancer prevention vaccine, officials say.
An annual state compliance audit of the Shots For Tots program "identified irregularities respecting its appraisal of standards, policies and competencies regarding the clinic operation, patient records, vaccine storage and medication dispensing," according to a statement released by the county this weekend.
"As soon as it was brought to our attention we reacted to this finding," said Salem County Freeholder Director Julie Acton on Saturday. "Our main concern is the safety of our residents. It's
sad and disturbing
when something like this takes place."
In addition to the children receiving the wrong medicine, vaccines with an estimated value of $20,000 used for the Shots for Tots program were deemed unsafe after a refrigeration unit failed and they had to be destroyed.
In the wake of the revelations, Salem County agreed to pay for medical monitoring costs for the five children receiving improper immunizations "for the foreseeable future until their medical status may be determined to a reasonable degree of medical certainty."
The parents will take the children to a physician of their choice for the monitoring officials say.
Meanwhile, the clinic has been shut down. The nursing supervisor and nurse in charge of the clinic have both resigned as employees of the Salem County Department of Health, county solicitor Michael Mulligan said Saturday.