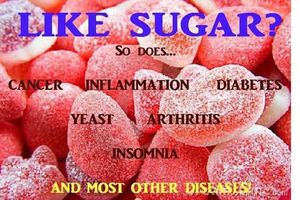 An estimated 12.5 million people had some form of cancer in 2009, according to
the American Cancer Society.
Another 25.8 million have
diabetes.
These two preventable diseases are responsible for millions of deaths worldwide each year. In the constant battle to stay healthy, many of us know that too much sugar in the blood can lead to diabetes and that by controlling our diets we can both prevent and even reverse the disease. But, could the same be said for cancer?
According to researchers, sugar and cancer
are
indeed connected.
The Sugar-Cancer Connection
Obesity and high blood sugar are risk factors for diabetes. And diabetics have an estimated double risk of suffering a colon or pancreatic cancer diagnosis. Scientists say that the two facts are connected and that blood sugar could play a role in the development of cancer.
In one study published
in the journal Molecular Cell
, a team of researchers under Dr. Custodia Garcia-Jimenez, have identified how sugar could directly increase the cancer risk.