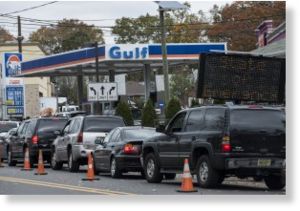 With patience running thin and tension running high in the fight for fuel after Superstorm Sandy, the scene at area gas stations has been chaotic.
On Friday, New York Gov. Andrew Cuomo said gas is finally on its way. But not soon enough.
Speaking at a news conference, Gov. Cuomo acknowledged there is a shortage of fuel, but said "there is no reason to panic."
Try telling that to drivers at the Hess station at 44th Street and 10th Ave. As CBS 2′s Tony Aiello reports, drivers coming up from the South are waiting six hours to fill their tanks at the station.