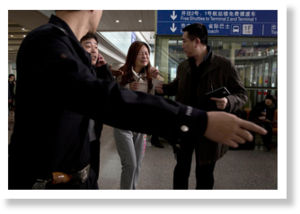 A
12-mile-long oil slick spotted between Malaysia and Vietnam
on Saturday afternoon is thought to be the first sign that a missing Malaysia Airlines flight with
239 people aboard
went down in the waters between southernmost Vietnam and northern Malaysia, according to Vietnam's director of civil aviation.
"An AN26 aircraft of the Vietnam Navy has discovered an oil slick about 20 kilometers in the search area, which is suspected of being a crashed Boeing aircraft," Lai Xuan Thanh, the director of the Civil Aviation Administration of Vietnam said. "We have announced that information to Singapore and Malaysia and we continue the search."
Mr. Thanh said the oil on the surface of the water was somewhat closer to Vietnam than Malaysia, at the mouth of the shallow Gulf of Thailand. The last coordinates automatically transmitted by the aircraft were from on the Malaysian side near the midpoint between the two countries, when the plane appeared to be in stable flight at 35,000 feet.