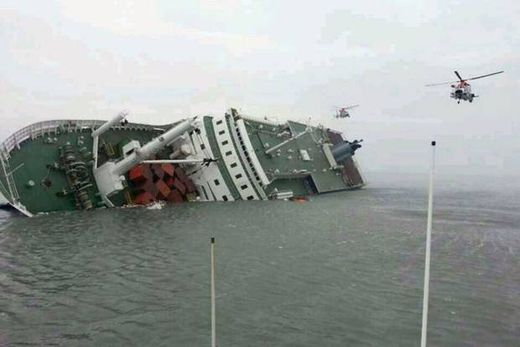 More than 300 people remain unaccounted for after a ferry carrying 477 passengers, most of them school students, sank in cold waters off South Korea's southern coast, killing at least two and injuring 14.
The South Korean Coast Guard warned many more are missing than the initial 100 announced, as dozens of boats, helicopters and divers scrambled to rescue passengers.
The Sewol ferry, which had been carrying students from the Danwon high school in Ansan city near Seoul, had been travelling from the north-western port of Incheon to the popular southern tourist island of Jeju for a four day trip when it capsized.
The Coast Guard said 164 people have been rescued so far. One rescued passenger said he believed many others were trapped inside the ferry when it sank.
South Korea's Ministry of Security and Public Administration had reported that 368 people had been rescued and about 100 were still missing but later said those numbers had been miscalculated.
Emergency officials said at least 30 navy and coastguard divers are searching the ship for survivors. The US Navy has confirmed it will be sending a ship to join the rescue operation.
The vessel sent a distress call after it began listing, according to the Ministry of Security and Public Administration. The government said about 95 per cent of the ferry was submerged.