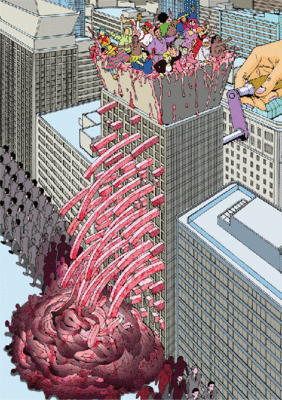 Is it morning in America again, or is the bubble that is the American economy about to pop (again), this time perhaps tipping it into full-blown collapse in five stages with symphonic accompaniment and fireworks?
A country blowing itself up is quite a sight to behold, and it makes us wonder about lots of things. For instance, it makes us wonder whether the people who are doing the blowing up happen to be criminals. (Sure, they may be in a manner of speaking - as a moral judgment passed on the powerful by the powerless - but since none of them are likely to see the inside of a jail cell or even a courtroom any time soon, the point is moot. Let's be sure to hunt them down once they try to run and hide, though.) But at a much more basic and fundamental level, a better question to ask is this one:
"Why are we being so fucking stupid?"
What do I mean when I use the term "fucking stupid"? I do not mean it as a term of abuse but as a precise, if unflattering, diagnosis. Here is as good a definition as any, excerpted from
American Eulogy
by Jim Quinn:
If you had told someone on September 10, 2001 that ten years later America would be running $1.5 trillion annual deficits, fighting two wars of choice in countries that despise our presence, and had not only not addressed the $100 [trillion] of unfunded welfare liabilities but added billions more with Medicare D and Obamacare, they would have thought you were a crazy doomster predicting the end of the world. They would have put you away in a padded cell if you had further predicted that politicians would cut taxes three separate times, that the Wall Street banks that leveraged themselves 40 to 1 and destroyed the financial system [would be] handed $2 trillion of taxpayer funds so they could pay themselves multi-million dollar bonuses, and that the Federal Reserve would triple its balance sheet to $2.45 trillion by running its printing presses at hyper-speed and handing the money to those same Wall Street Mega-Banks.