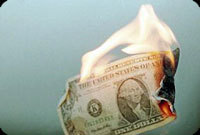 Dollar is over-valued and has to come down. Look for the market to wake up to that when the Fed doesn't raise interest rates as expected and inevitably sends the US currency tanking
Everyone expects an interest raise in 3-6 months time. It's not happening
Seeing how at this very moment ruble is getting
hammered by the dollar
predicting a ruble appreciation seems like a very bold statement indeed. However, if one contrarian investor is right that is exactly what we should expect.
Peter Schiff
is a financial analyst who made his fame and fortune by going against the grain. He is most known for having
predicted
and warned about the housing bubble and the financial crisis of 2008. Broadly speaking he is bearish on US economy and the US dollar and bullish on commodities, gold, foreign stocks and foreign currencies.
He would sum up his position something like this:
The much vaunted US recovery since the 2008 crash has not been real. Economy and disposable income of most people have not improved significantly, or at all, since then.
As such the gains made by US stock markets are not based on the state of the US economy. They are the outcome of loose money policies of the US Federal Reserve.