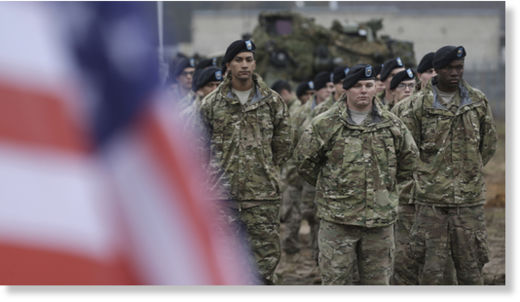 The US Secretary of Defense Secretary categorized Russia as a global threat - much like Obama in his UN address last month - in the same breath as Ebola and Islamic State.
For anybody who took at face value the Obama administration's past commitment for a "reset" with Russia, US Secretary of Defense Chuck Hagel's speech on Wednesday should dispel those grand illusions once and for all.
But first, there's the deadly Ebola virus for the US military to contend with.
In commemorating the US military's "global presence and engagement," Hagel said the US Army "will soon deploy as a key part of America's contribution to the global effort to stop the spread of Ebola before it becomes an even more of a grave threat."
The activation of the US Army into the epicenter of a viral epidemic may strike some as an actual dereliction of military duty, not to mention a reckless risk to soldiers. Moreover, judging by the Obama administration's apparent lack of preparedness to handle a few Ebola cases in Dallas, Texas, how will the US Army fare in the midst of a full-blown epidemic in Africa?
Washington's apparent desire to find a military solution even for a medical problem should give the American people some pause. In the event of a full-blown outbreak of Ebola in the United States, would that be the signal for the US Army to introduce martial law on the streets of America? If the answer is no, why then does Hagel believe the US military should activate its forces in a foreign country that really needs armies of doctors, not soldiers?

Comment: The U.S. government only knows how to use force. It deploys the military to fight an infectious disease, even if it makes no logical sense, because all it knows is take over, control, and threats.