"Oh what a tangled web we weave, When first we practice to deceive." (Walter Scott, 1771-1832, "Marmion.")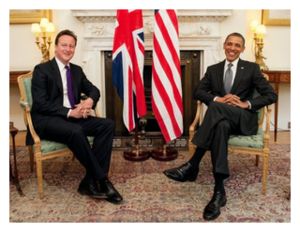 How speedily the lies of the "international community" in general and those of the US and UK in particular about the Syrian situation are unraveling since the participation of Russia.
Take UK Prime Minister David Cameron. On 24
th
September last year he addressed the United Nations, committing British aircraft to targeting IS/ISIL/ISIS in Iraq adding unequivocally that there would be no similar action in Syria and absolutely no "boots on the ground."(1)
Referring to Iraq he added that the West should not be frozen by "past mistakes." If Iraq is a "mistake" Heaven alone knows what a catastrophe would look like.
Cameron of course was being economical with the truth. In 2013 Parliament voted not to be involved in Syria, making Cameron the first Prime Minister in 200 years to lose a Parliamentary war vote. It would anyway have been another illegal action, since they had not been invited by the Syrian President or government and had no UN mandate.
However, in July this year it transpired that pilots of Britain's Air Force have been "embedded" with US and Canadian Air Squadrons and been involved in flying: "intelligence, surveillance, reconnaissance and strike missions ..." according to the Ministry of Defence. (2)
On 7
th
September Cameron also announced that a British drone strike in Syria had killed two UK citizens fighting with ISIS. What an irony, the UK has enjoined wiping out entire nations having accused their leaders of "killing their own people", terrorists or not, now Cameron kills his "own people" in what Michael Clarke, Director General of London's hawkish Royal United Services Institute has called a "targeted assassination."
Those killed were : "... targeted in an area that the UK does not currently regard, legally, as an operational theatre of war for UK forces", Clarke commented, adding: "The government insisted that, unlike CIA drones, they were never used for targeted assassinations in territories where we were not militarily engaged." (3) Another government lie pinned.
As for "no boots on the ground", another seemingly whopping untruth. As Stephen Lendman has written (4): "On 2
nd
August
The Sunday Express
revealed: 'SAS dress as ISIS fighters in undercover war on jihadis' expanding that:
" 'More than 120 members belonging to the elite regiment are currently in the war-torn country' covertly 'dressed in black and flying ISIS flags' engaged in what is called Operation Shader - attacking Syrian targets on the pretext of combatting ISIS."
A mirror image of Basra, Iraq, exactly ten years ago, September 2005, when British Special Forces, dressed in Arab clothing, were arrested by Iraqi police in an explosive laden car. Had the car detonated, "Iraqi insurgents" would, of course, have been blamed.
The British military demolished the police station in order to free the would-be bombers. (5) How many were not caught and "insurgency" for which Iraqis were blamed, killed, tortured, was actually "made in Britain" and the US, as Syria now?