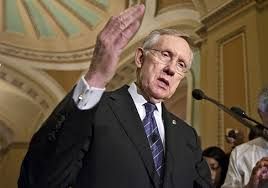 In a sensationalist move Senator
Harry Reid has labeled supporters
of Nevada cattle rancher Cliven Bundy "domestic terrorists" during an event held in Las Vegas on Thursday.
While speaking at the 'Hashtags & Headlines' event, Reid called Bundy supporters:
"Nothing more than domestic terrorists" saying, "I repeat: what happened there was domestic terrorism."
He accused the Bundy supporters of inciting violence claiming, "There were hundreds, hundreds of people from around the country that came there," adding, "They had sniper rifles in the freeway. They had weapons, automatic weapons. They had children lined up. They wanted to make sure they got hurt first ... What if others tried the same thing?"
These claims were made in reference to the standoff,
reported on by us
last week, in Clarke County, Nevada at the Bundy Ranch, in which the feds brought in over 200 armed agents with sniper teams to confiscate cattle, allegedly due to unpaid grazing fees.
Perhaps Senator Reid had forgotten that the only violence that commenced during the standoff was when BLM agents
tazed Bundy supporters
, threw a 57-year-old woman recovering from cancer to the ground, and attempted to allow a dog to attack a pregnant woman.
The mischaracterization of the Bundy supporters as "domestic terrorists" is the continuation of a narrative that has been forwarded by the federal government for a number of years. First there is the
MIAC report
, which claimed that potential terrorists include people who own gold, Ron Paul supporters, libertarians, and even people who fly the U.S. flag. Then in 2012 there was a leaked
Homeland Security study
that claimed Americans who are "reverent of individual liberty," and "suspicious of centralized federal authority" are possible "extreme right-wing" terrorists.
Reid has promised that the BLM fight with the Bundy family is "not over." Perhaps his
possible complicity
in the BLM siege that has been reported extensively, questions of cronyism, as his longtime senior advisor
Neil Kornze was confirmed
by the Senate last Tuesday as the Director of the BLM, along with his involvement in the Moapa Southern Paiute Solar Project, which is about 35 miles from the Bundy homestead in Bunkerville, Nevada, is causing him consternation.