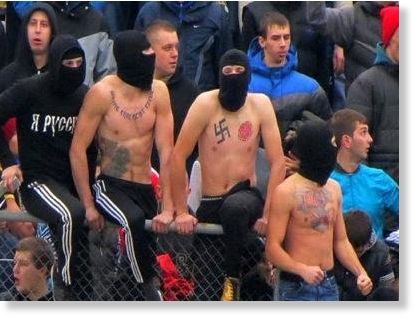 The United States is more than just an ally to fascists in Ukraine and everywhere else; the American South provided an historical model for fascism. "The fascist order of the pre-Sixties Solid South was simply a domestic expression of U.S. Manifest Destiny - the national religion." The fascists - both local and imperial - have laid siege to Russia.
Hillary Clinton is a walking profanity - and, thereby, a prime candidate to be the next president of the United States. The fiend who played Julius Caesar when U.S.-employed jihadists
butchered
Libya's Muammar Gaddafi ("We came, we saw, he died") now likens Russia's response to the U.S.-backed fascist putsch in the Ukraine to Hitler's quest for a
Greater Germany
. It is like spitting on the graves of the 25 million Russians and other Soviet nationalities slaughtered in Hitler's racist jihad - the people who actually defeated the Nazis while the U.S. and Britain loitered off Europe's shores. At war's end, the United States imported thousands of Nazis to construct the nuclear/chemical/biological military juggernaut that would usher in an "American Century" - while confiscating Paul Robeson and W.E.B. Dubois' passports.
Thanks to the Americans, West German denazification never happened but, by the mid-Seventies, Washington had implanted fascist military regimes throughout Latin America - one of which exterminated 200,000 Guatemalan Mayas.
When John Kerry praises the "brave Ukrainians" that "took to the streets to stand against tyranny and demand democracy," he makes common cause with the direct political heirs of the
Ukrainian Waffen SS
units and concentration camp guards that eagerly joined Hitler's genocidal rampage in the mid-20
th
century. The Ukrainian fascists, who command 40 percent of the electorate in some western regions of the country, return the compliment, hoisting the
Confederate flag
in Kiev's city hall. They see, correctly, that the epicenter of their ideology is not Berlin, but Washington.
"
Ethnic purity was the organizing principle of one-party Democratic rule in Dixie from the mid-1870s to the mid-1960s."