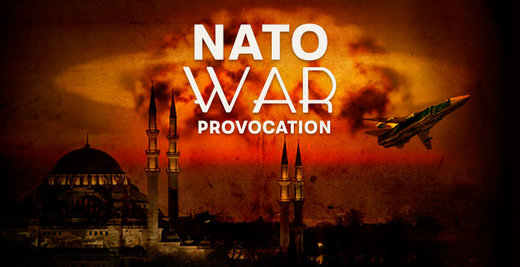 The NATO attack on a Russian military jet on Tuesday November 24, using the Turkish air force to do its dirty work, is a dangerous act of war against Russia with very dangerous consequences for the world. The murder of one of the pilots, shot by ISIS terrorists while parachuting to the ground, is a war crime for which Turkey and the NATO countries are collectively responsible. President Putin has rightly called it a stab in the back by Turkey, a betrayal that cannot be forgiven and will forever be remembered.
If anyone ever doubted that the joint criminal enterprise called NATO was supporting and directing the terrorist groups in Syria, the same groups, they claim, that conducted the attacks in Paris and on the Russian airliner over Sinai, they now have the proof.
Can there be any doubt that this attack on Russian forces in Syria is intended to disrupt the Russian-Syrian campaign against those NATO supported terrorist groups? Can there be any doubt that if they are willing to shoot down one Russian aircraft they are willing to shoot down more?
Can there be any doubt that this attack is intended to push Russia to react with counter force against Turkey resulting in a claim by NATO that it is under attack, resulting in a general war?