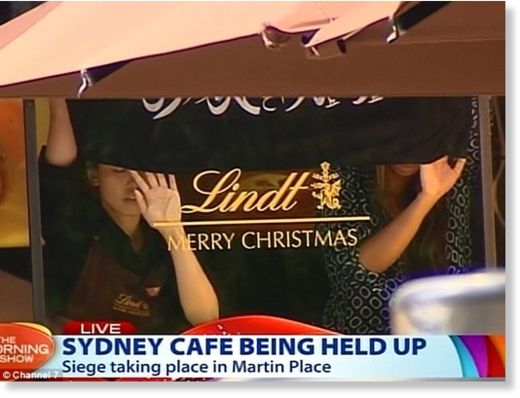 Terrorists were today holding up to 20 hostages in an armed siege in a cafe in Sydney where an extremist flag was being held up in a window. Witnesses reported seeing staff and customers sobbing as they were forced to stand with their hands pressed against the windows of the Lindt cafe.
At least two gunmen are involved in the siege but dozens of armed police have sealed off the streets surrounding the site. One gunman is believed to have a shotgun and possibly an explosive device. Martin Place has been shut down and scores of police are surrounding the building after the alarm was raised about 9.45am.
Journalist Chris Kenny, who was in the shop about 20 minutes before the siege began, said he understood the automatic glass sliding doors had been disabled.
'I did speak to a couple of people who saw a bit more of this unfold than I did,' he said.
'One woman said she tried to go into the shop just after I came out with my takeaway coffee but the doors wouldn't open.
'So obviously whoever is doing this has disabled the automatic glass sliding doors to stop anyone else going in and she said immediately she could see there was a weapon.
'The woman was quite frantic but very clear what she was telling (the police).
Additional images