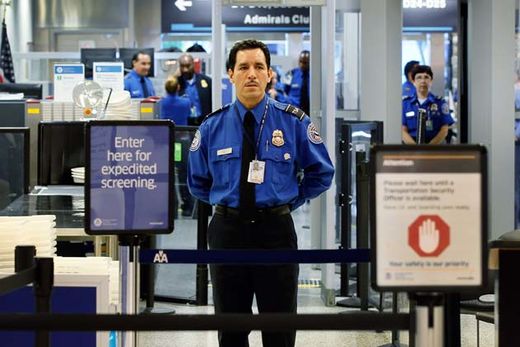 A program that allows
one million pre-approved fliers
to cruise through Transportation Security Administration checkpoints is under scrutiny by Congress following a report by federal inspectors that
a former terrorist was let through last summer
.
Specific findings from a report by the Department of Homeland Security (DHS) investigation were either classified or confidential, and therefore reserved for the closed session of Wednesday's hearing before the House Committee on Homeland Security's sub-committee on transportation security.
In the open portion of the hearing, DHS Inspector General John Roth testified that
while the concept of the Pre-Check program is a
"positive step towards risk-based security screening,"
the agency ought to limit it to "trusted populations."
Roth complained that the TSA
"has not accepted the majority of our recommendations"
from the report.
TSA Chief Risk Officer Ken Fletcher countered that the Pre-Check program was part of the measures the agency
adopted to increase efficiency
. Between risk-based screening, such as behavior detection, and programs such as Pre-Check,
the agency has
"significantly increased"
its ability to move people through checkpoints while saving $319 million,
Fletcher's prepared statement claimed.
"Trying to eliminate all risk results in poor security, unnecessarily burdens the aviation industry, and will create greater pressure on civil rights and liberties," Fletcher told lawmakers. "Perfect security is unattainable," he quoted from the 9/11 Commission report, adding, "and in my view, its pursuit is unsustainable."