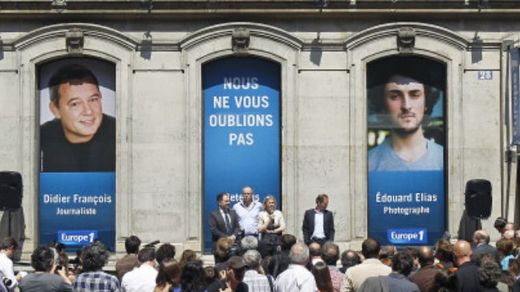 Four French journalists kidnapped by al-Qaeda-linked militants in Syria have been released, President Francois Hollande says.
The French President made the announcement on Saturday, saying he had "learned with great relief this morning of the liberation of the four French journalists."
Edouard Elias, Didier Francois, Nicolas Henin and Pierre Torres had been held captive in Syria since 2013.
The four were reportedly found blindfolded with their hands bound in Sanliurfa Province on the border with Syria.The four French journalists were found by Turkish soldiers.
Francois, a correspondent for Europe 1 radio, and Elias, a photographer, were kidnapped in early June near the northern town of Aleppo. Henin, a journalist for Le Point magazine, and Torres, reporter for Arte television channel, were abducted later in June near Raqqa, about 160 km east of Aleppo.
Earlier reports said the four had been abducted by militants from the Islamic State of Iraq and the Levant (ISIL).
The foreign-backed militants operating in Syria have kidnapped several journalists since the beginning of the violence in the country in March 2011.