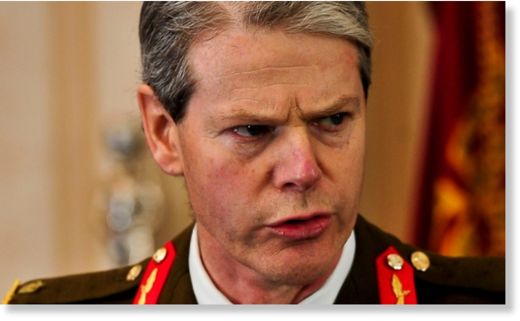 Russian expansionist ambitions
could
quickly become "an obvious existential threat to our whole being", the most senior British military officer in Nato has said in a strongly worded speech.
General Sir Adrian Bradshaw, appointed last year as Nato's deputy commander of forces in Europe, said the alliance needed to develop both fast-reacting conventional forces and capacities to counter Russian efforts at coercion and propaganda, as seen in Ukraine.
Talking of "an era of constant competition with Russia", Bradshaw told an audience at the Royal United Services Institute that Nato had to maintain a cohesive system of deterrence on its eastern borders, something that would require help from the EU.
He said Nato was pushing ahead with plans for a very high readiness joint taskforce, "in order to convince Russia, or any other state adversary, that any attack on one Nato member will inevitably lead them into a conflict with the whole alliance".
David Cameron has warned Vladimir Putin of "more consequences" if a ceasefire in Ukraine does not hold. Speaking on a visit to Govan shipyard in Glasgow on Friday, the prime minister said the responsibility for what had happened in Ukraine "lies absolutely squarely with Vladimir Putin and Russia", and a strong response was needed.