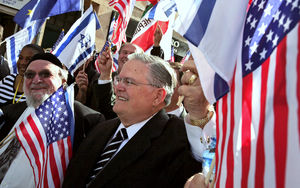 "
These settlements, and the occupation more broadly, are financially unsustainable on their own, and must be propped up by far right-wing Jewish and Christian Zionist funds from abroad," a member of a group campaigning against the practice told MintPress News.
As U.S. taxpayers prepare to send to Israel another $3.1 billion of their earnings, plus loan guarantees, discounted weaponry and other perks, two campaigns aim to shed light on organizations funding the Israeli occupation by their own initiative — and at taxpayer expense, no less.
The groups, opponents say, are deeply complicit in Israel's violations of international law and the human rights of Palestinians.
U.S. government assistance to Israel does not end with the
$121 billion in direct aid
it has provided since 1949. U.S. charities also send billions of dollars, funded, in part, by taxpayers as a whole through the organizations' tax-deductible status.
The scale of their support cannot be determined. A
2014 study of over 3,600 Jewish organizations
by the
Jewish Daily Forward
found
they sent $1.7 billion, or 11.9 percent of their budgets, to Israel each year.
But like U.S. Zionism in general, organizations voluntarily funding Israel
are not exclusively Jewish
, nor did the Forward
claim to have fully reviewed
even the Jewish sector.
Further, under normal circumstances, identifying the overseas recipients of these grants can prove impossible, as U.S. organizations have no obligations to release them. Only if most charities choose to publicize their foreign projects will the taxpaying public have the opportunity to know what projects they're subsidizing.