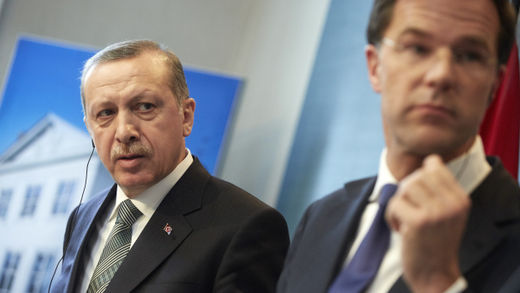 Turkish Prime Minister Recep Tayyip Erdoğan ridiculed Israel's ground invasion of Gaza, accusing the Israeli government of "
barbarism that surpasses Hitler
."
Speaking at a political re-election rally in the Turkish city of Ordu, Turkey's prime minister said that Israel has "surpassed what Hitler did to them" and
declared the country a "terrorist state."
"[Israelis] have
no conscience
, no honor, no pride. Those who condemn Hitler day and night have surpassed Hitler in barbarism," said Erdoğan. He accused Israel of rejecting ceasefires that Hamas has proposed and "spitting death, spitting blood."
Erdogan reiterated his opposition to Israel's operations in the Gaza Strip and said that the Israel Defense Forces have had a "disproportionate" effect and will end any positive relations between Israel and Turkey. Despite the climbing death toll of Palestinians - with nearly 800 killed during the most recent Israeli offensive in Gaza - Erdogan said that the Turkish people should not take out their frustrations on Turkey's own Jewish community.
"I don't approve of any [bad] attitude towards our Jewish citizens in Turkey, despite all this," Erdogan told supporters. "Why? They are citizens of this country."