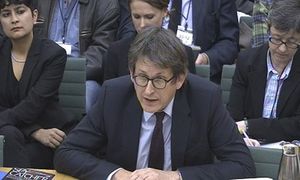 The top editor of the British newspaper
The Guardian
told Parliament on Tuesday that since it obtained documents on government surveillance from a former National Security Agency contractor, Edward J. Snowden,
it has met with government agencies in Britain and the United States more than 100 times and has been subjected to measures "designed to intimidate."
The testimony by the editor, Alan Rusbridger, gave a public airing to the debate over how to balance press freedom against national security concerns, an issue that became more acute once
The Guardian
began publishing material leaked by Mr. Snowden in June.
The American and British governments have said the disclosures, which detail how the National Security Agency and its equivalent in Britain, Government Communication Headquarters, gather vast amounts of data, damage national security and help hostile governments. Journalists and transparency advocates have countered that the leak spurred a vital debate on privacy and the role of spy agencies in the Internet age.