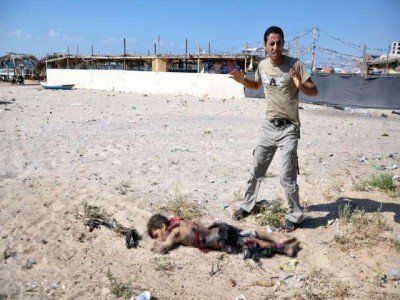 "They were conquerors, and for that you want only brute force nothing to boast of, when you have it, since your strength is just an accident arising from the weakness of others. They grabbed what they could get for the sake of what was to be got. It was just robbery with violence, aggravated murder on a great scale, and men going at it blind as it is very proper for those who tackle the darkness. The conquest of the earth, which mostly means taking it away from those who have a different complexion or slightly flatter noses than ourselves, is not a pretty thing when you look at it too much..."

- Joseph Conrad "Heart of Darkness"
July 18, 2014 "
ICH
" - A noticeable change has occurred in Israel since its bombardment of Gaza in 2008/9, what I have termed the Christmas bombing of imprisoned civilians caught in a steel net surrounding their sliver of land, a change that offers perspective on the altering mindset that guides this benumbed state. Then Foreign Minister Tzipi Livni on Saturday the 27
th
"...instructed the Foreign ministry to take emergency measures to adapt Israel's international public relations to the ongoing escalation in the Gaza strip" (Haaretz, 12/28/08). Her intent as she ordered the military to continue its devastation of the Gazan people resulting in over 1400 dead, many children, was "to explain the rationale for the expanded IDF operations in the Gaza strip." An all out call to PR personnel to mobilize was issued, including those with language proficiency in Arabic, Italian, Spanish and German, the better to muffle the voices of those finding fault with the invasion. She noted at the time that Israel expects foreign media and diplomatic figures to support Israel.