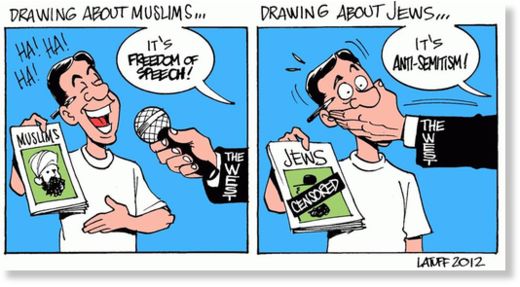 In the wake of the terrorist attack against the French satirical newspaper
«Charlie Hebdo»
, it has become apparent that the magazine's editorial chiefs killed in the attack on its headquarters in Paris and groups such as FEMEN and Pussy Riot are all connected in a campaign to disparage Islam and Christianity. In the aftermath of the terrorist attack, Israeli Prime Minister Binyamin Netanyahu used the occasion of the memorial service in Paris attended by a number of world leaders to admonish France's parliament for having recently recognized the independence of Palestine and urge France's large Jewish population to emigrate to Israel.
It was also reported that French President François Hollande specifically did not invite Netanyahu to Paris but that the Israeli Prime Minister appeared nevertheless just so he could insult his French hosts and politicize the memorial service for the 17 victims for his own selfish political purposes.
Netanyahu's antics in Paris were followed by a visit to French Prime Minister Manuel Valls by members of the Conference of Presidents of Major Jewish American Organizations, which represents 50 national Jewish groups in the United States, to urge France to withdrawal its recognition of Palestine in the wake of the attacks on the
«Charlie Hebdo»
offices and the Hyper Cacher Jewish supermarket in Paris.
The entire «Charlie Hebdo» affair has laid bare the inner workings of a newspaper that began as a left-wing counter-culture mocker of the establishment in the aftermath of the Paris Spring uprising of 1968. «Charlie» is a reference to French President Charles De Gaulle who was forced out of office as a result of the Paris student riots of 1968.
The assassination by two Franco-Algerian brothers, Said and Cherif Kouachi, of «Charlie Hebdo» chief editor Stephane Charbonnier, known as «Charb» to his readers, and three of his top cartoonists, was no surprise to Henri Roussel, the magazine's founder and original editor whose pen name is Delfeil de Ton. In an interview with «
Nouvel Observateur
,» Roussel said he warned Charb against provoking Muslims with repeated cartoons, some gratuitously sexual, of the Prophet Mohammed. Roussel said that one of the slain cartoonists feared that the cartoons would come back to «haunt» the newspaper, which suffered an arson attack in 2011. The attack came after the magazine published a Mohammed cartoon on its front cover. Roussel said of the 2011 cartoon: «He [Charb] shouldn't have done it, but Charb did it again a year later, in September 2012.»