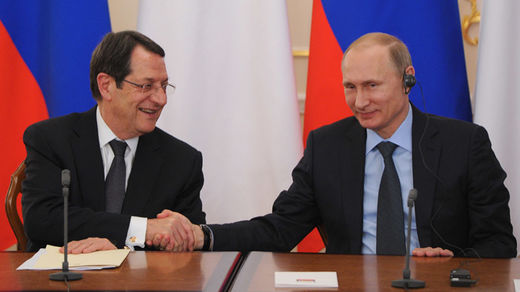 Russia will continue to help Cyprus to get over its debt crisis said President Putin after talks with Cyprus President Nicos Anastasiades in the Kremlin. Moscow has already provided the country with a €2.5 billion loan.
"Russia will continue to provide assistance to Cyprus in liquidating the aftermath of the debt crisis,"
Vladimir Putin said. Russia has already given Cyprus a €2.5 billion stabilization loan on favorable terms, the president added.
Russia's VTB Capital investment bank and the Cyprus Finance Ministry successfully placed Cypriot sovereign Eurobonds worth €750 million for the first time since the crisis, Putin said. "We think that consequently Russia has contributed and continues to contribute to the normalization of the situation in the eurozone after the difficult 2011-2012 period," the President commented.