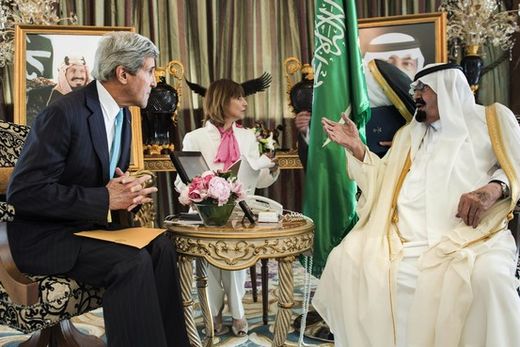 The Kerry-Abdullah Secret Deal & An Oil-Gas Pipeline War
The details are emerging of a new secret and quite stupid Saudi-US deal on Syria and the so-called IS. It involves oil and gas control of the entire region and the weakening of Russia and Iran by Saudi Arabia flooding the world market with cheap oil. Details were concluded in the September meeting by US Secretary of State John Kerry and the Saudi King. The unintended consequence will be to push Russia even faster to turn east to China and Eurasia.
One of the weirdest anomalies of the recent NATO bombing campaign, allegedly against the ISIS or IS or ISIL or Daash, depending on your preference, is the fact that with major war raging in the world's richest oil region, the price of crude oil has been dropping, dramatically so. Since June when ISIS suddenly captured the oil-rich region of Iraq around Mosul and Kirkuk, the benchmark Brent price of crude oil dropped some 20% from $112 to about $88. World daily demand for oil has not dropped by 20% however.
Chinese oil demand has not fallen 20%, nor has US domestic shale oil stock risen by 21%
.
What has happened is that the long-time US ally inside OPEC, the kingdom of Saudi Arabia, has been flooding the market with deeply discounted oil, triggering a price war within OPEC, with Iran following suit and panic-selling short in oil futures markets
. The Saudis are targeting sales to Asia for the discounts and in particular, its major Asian customer, China, where it is reportedly offering its crude for a mere $50 to $60 a barrel rather than the earlier price of around $100.
1
That Saudi financial discounting operation in turn is by all appearance being coordinated with a US Treasury financial warfare operation, via its Office of Terrorism and Financial Intelligence, in cooperation with a handful of inside players on Wall Street who control oil derivatives trading. The result is a market panic that is gaining momentum daily. China is quite happy to buy the cheap oil, but her close allies, Russia and Iran, are being hit severely.