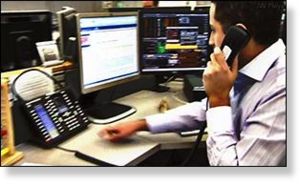 On any given business day, you can take a taxi ride into lower Manhattan in the wee hours of the morning and see lights and the glow of Bloomberg trading terminals eerily illuminating the 9th floor of the historic Federal Reserve Bank of New York at 33 Liberty Street.
A securities trader working at 4:30 a.m. in any other trading location in Manhattan might be concerned about personal safety. Not here. Quietly, without Congressional hearings, and lost in the tragedy and turmoil of September 11, the USA Patriot Act in 2001
bestowed private domestic policing powers
on the 12 Federal Reserve Banks, including the New York Fed.
On top of its own police force armed with Glock 22s and assault weapons, the building itself is a 22-story fortress with 18 floors above ground and four below. The building, completed in 1924, constitutes the block bounded by Maiden Lane, Nassau, Liberty and Williams Streets. The principal architect, Philip Sawyer, was influenced in his design by the Florentine palaces he observed while studying in Italy. The New York Fed's unique façade of large rectangular blocks of limestone and sandstone ashlar with imposing arched windows and ironwork resembles the Strozzi Palazzo in Florence.
There is also the comfort of knowing that if this fortress is safe enough for one of the world's largest stashes of gold, it's likely safe enough for groggy traders. The triple-tiered gold vault rests on a bedrock foundation deep below the building, which not only supports the gold but a 90-ton vault door and 140-ton door frame. The building was built around the gold vault after it was installed.