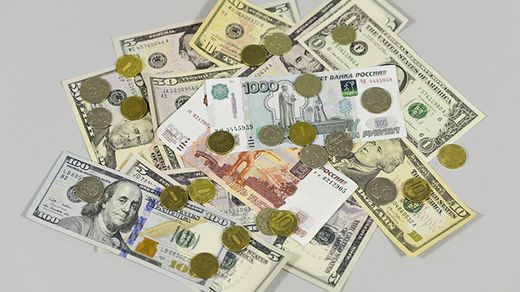 Russian ruble exchange rate changes have all the ingredients of success detective story. On Monday, 15.12. 2014 ruble weakened to a record low since 1998: the dollar cost 64 rubles and 79 rubles to the euro. In recent years, the price of an euro has been hanging around 50 rubles, or 5 000 rubles withdrawn from an ATM for a night of adventures in St. Petersburg would cost around 100 euros.
Last night, the Russian Central Bank raised its base rate drastically from 10.5 per cent to 17 per cent to curb currency speculation. The price of an euro during the day momentarily exceeded the limit of 100 rubles or 80 rubles for a dollar. Now at the end of the market day the ruble has slightly appreciated: $ 1= 72.60 rubles and 1 euro = 90 rubles. The official rates of the Russian Central Bank before tomorrow's market day are $ 1 = 61.15 rubles and 1 Euro = 76.15 rubles
What is this about?
The economic sanctions imposed by the US and the EU prevent granting of loans to Russian companies with a payment period of more than 30 days. As Russian companies have been borrowing money from the West the entire post-Cold War period at a lower rate of interest and the penalties now prevent loan restructuring and follow-up funding, these companies must now get euros and dollars to take care of their loans, thereby creating more demand for foreign currency in the Russian market and thus weakening the ruble.
Also, the fall in the price of oil reduces Russia's foreign exchange earnings, which in a situation of high demand for currency weakens the ruble.
The
Eurasian Economic Union comes into force on January 1, 2015. Most likely at the same time the Russian ruble and foreign exchange markets will change drastically, and the Russian economy will take a distance to the dollar and the euro. Now the West is doing its best to weaken the ruble and thus destabilize the Russian economy and the political system before the end of the year. The maxima of the West is to prevent the emergence of the new economic union and closer cooperation within the BRICS. Taking into account the Christmas holidays, the West has little more than a week to succeed.