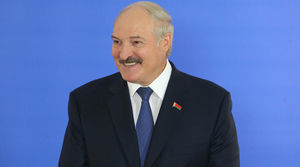 Belarus's longtime leader, Aleksandr Lukashenko, won a landslide victory in Sunday's presidential elections, taking over 80 percent of the vote, the Central Election Commission said.
The incumbent president received 83.49 percent of the vote with an election turnout of 87.2 percent. The highest turnout rate of 91 percent was registered in Vitsebsk region, located just north of Minsk, the Belarusian capital. The lowest turnout, on the other hand, was posted in Minsk.
These numbers do not include the votes of citizens who voted from abroad. The official final figures will be available on Friday, October 16.
Lukashenko visited one of the polling stations with his son and cast his ballot in a box.
"You know very well my position and I am not going to deviate from my main principle, and it's not just mine. Many have such a main principle for governing - everything should be quiet and without revolutions," he said.
He also said that he is ready to improve relations with the West, but only if the West wishes for this too.
"I don't think our elections, and not only the elections, can bring an improvement in our relations with the West. They will happen only when the West wants this itself," the president said.
He also said that Russia will remain Belarus' main partner. "Russia has always been with us economically and politically, they are not just our friend but our brothers, whether anyone likes it or not."