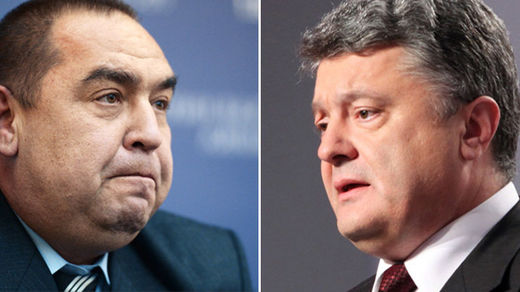 The leader of the self-proclaimed Lugansk People's Republic (LPR) Igor Plotnitsky has thrown down the gauntlet to the Ukrainian President Petro Poroshenko, pledging that "the one who wins, will set his terms" for ending the bloody conflict in the region.
"I suggest you consider just one, but a very good scenario," Plotnitsky wrote in an open letter to Poroshenko. "Let's (following the example of the ancient Slavic leaders and glorious Cossack chieftains) get together in a fight: whoever wins will dictate terms to the opposite side."
Plotnitsky's "terms" are multiple, among them an
immediate cessation of all hostilities; withdrawal of all legal, semi-legal and illegal armed groups of Ukraine beyond the administrative boundaries of Lugansk and Donetsk Regions; the start of peace negotiations
between Ukraine on one side and the LPR and Donetsk People's Republic (DPR) on the other.
"For the fight to be fair, each party has a right to engage 10 observers-seconds and 10 mass media representatives," Plotnitsky informed, adding that he doesn't mind a live broadcast on any TV channel, gallantly leaving the choice of location for the fight and choice of weapons up to the billionaire chocolate baron-turned-president.
"Why stir up mutual hatred and destroy people, cities, economy? You and I will have to heal these wounds for decades! Isn't it better to end all disagreements in a fair fight?" Plotnitsky wondered.
"God will judge and will not tolerate unjust victory", he stated.