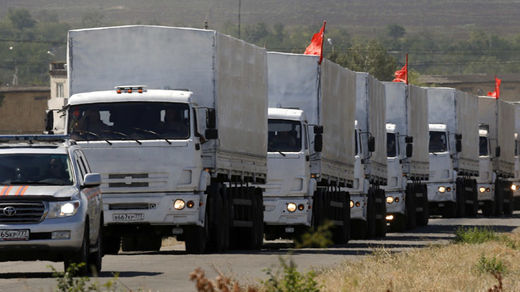 Russian humanitarian aid trucks will cross the Ukrainian border in small batches of several dozen vehicles and only after a thorough examination by border guards, Kiev says, following an official acknowledgment of 280 trucks carrying crisis-relief cargo.
"The cargo, in agreement with the mission of the Red Cross, will be delivered to the international crossing point of Izvarino-Donetsk in batches of up to 30 vehicles," the head of the Ukrainian State Fiscal Service Anatoliy Makarenko was quoted as saying by
LB.ua
.
After clearing customs, the aid trucks will be transferred "only to official representatives of the Red Cross," Makarenko added.
The Red Cross is expected to arrive at the border crossing on Monday to perform the necessary procedures.
Currently, only 16 trucks from the humanitarian convoy are at the "Donetsk" border checkpoint on the Russian side, awaiting inspection, while the rest are still parked at a local depot in order to avoid jamming the border crossing.