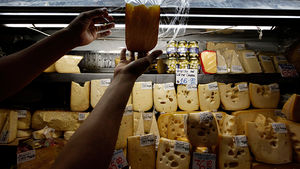 Three so-far-unnamed Brazilian dairy companies have received the proper paperwork to start deliveries to Russia, a representative of the Brazilian Ministry of Agriculture said. The new imports will help fill a gaping hole left by EU suppliers.
One of the companies has already started deliveries, Marcelo Junqueira, secretary for international affairs of the Brazilian Agriculture Ministry Marcelo said, ITAR-TASS reported.
The new deliveries will help fill the 57 percent gap of imported dairy products after Russia
introduced
a one-year food embargo in August on certain agricultural products from the EU, US, Australia, Canada, Australia and Norway.
The move is symbolic of the strengthening political and economic ties between Brazil and Russia as relations with the West continue to sour over the
Ukraine crisis
.
"Brazil is known for its high level of sanitary control, we supply meat to more than 100 countries and poultry to 155 countries, so it is natural that a major importer [Russia] came to us," Junqueira said, as quoted by ITAR-TASS.
Last week the Brazilian delegation, comprised of 37 private companies, attended the Moscow International Exhibition of World Food. Over $106 million in contracts were inked, Junqueira said, without disclosing which companies.
In 2012, the turnover of trade between Russia and Brazil reached $5.9 billion. Brazil plans to import fish and grains from Russia.