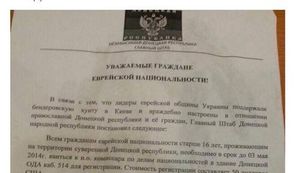 A report by the
Israel's Ynet News,
that has been widely circulated, claims that leaflets are being handed out in the eastern Ukrainian province of Donetsk, demanding Jews register, pay a $50 registration fee, and provide a list of property they own or face revocation of citizenship, deportation, and asset seizure.
Ynet has reported that that these documents carried the signature of Denis Pushilin, chairman of Donetsk's interim pro-Russian government. Pushilin, as reported in
The Times of Israel,
has denied any connection to the leaflet's content,
labeling them as a forgery and provocation designed to discredit the protest movement
.
The region has defied the central Ukrainian government and has been declared by pro-Russian activists as a "people's republic" disregarding an ultimatum from Kiev to surrender. Donetsk is a Ukraine province of about 4.3 million people and holds close to 10 percent of Ukraine's population. Roughly 17,000 Jews live in this province and it is home to much of the country's heavy industry. This makes it one of the most important prizes in eastern Ukraine, where pro-Russian activists have captured a number of government buildings over the past week.