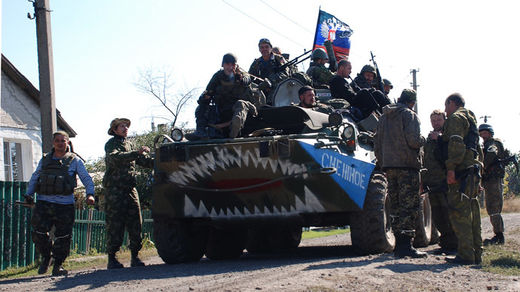 Kiev and self-defense forces signed a memorandum aimed at
effectively halting all fighting in eastern Ukraine after talks in Minsk.
It creates a buffer zone, demands a pullback of troops and mercenaries, and bans military aviation flybys over the area.
The signed memorandum consists of nine points, former Ukrainian president Leonid Kuchma told journalists following peace talks in Minsk, Belarus.
"The first one is stopping the use of weapons by both sides, the second is terminating new formations of units on military bases as of September 19. The third is
banning the use of all types of weapons and offensive action
," Kuchma said.
The agreement outlines a buffer zone of 30 km (18.6 miles) and bans all military aircraft from flying over part of eastern Ukrainian territory, except for the OSCE's aerial vehicles, Kuchma told RIA Novosti following the meeting.
Ukraine troops must pull back all heavy artillery by 15 kilometers from the conflict zone in eastern Ukraine, the treaty states.
All foreign mercenaries must be withdrawn from eastern Ukraine by both sides of the conflict, the signed Minsk memorandum states, according to Kuchma.
"We have agreed on the withdrawal of all foreign mercenaries from both sides," Kuchma said.
Both sides also vowed to continue the exchange of prisoners.
The OSCE has been tasked to monitor that both sides adhere to the memorandum's conditions. The organization's observers will be sent to observe the situation along the entire zone of the ceasefire, Itar-Tass reported.