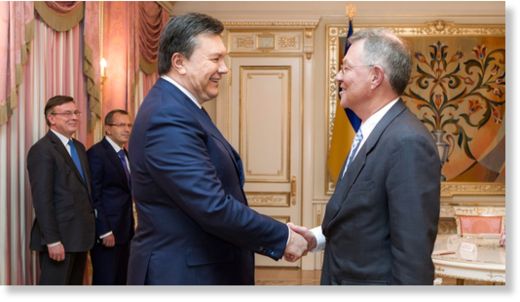 News that United Nations envoy Robert Serry had been
kidnapped or detained
in Crimea spread through the UN press briefing room in New York on Wednesday morning, minutes before a previously scheduled telephone question and answer session with UN Deputy Secretary General Jan Eliasson from Kiev.
When Eliasson came on the line, he said Serry had just called him from a cafe in Crimea to say that he had been not kidnapped, but he unidentified men had threatened him. Some of them were armed.
According to Eliassion, when Serry came out of a naval headquarters building, he was accosted and told to go to the airport and leave Crimea, but he refused. Serry instead got in his car, but abandoned shortly after and set out on foot for his hotel. That's when he stopped at the cafe to call Eliasson. Eliasson said it is not clear if Serry's work in Ukraine, or at least the Crimea region, would continue.
Two hours later, the UN told correspondents that Serry was "taking a late flight out of Simferopol and will shortly return to Kiev to continue his mission, which was cut short by
today's incident
."