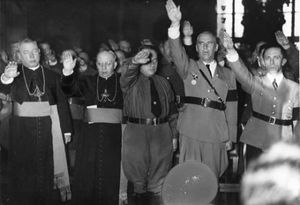 On October 19, 2014, Paul VI (Monsignor Montini) in a solemn ceremony at the Vatican is to be beatified which is the first step to sainthood A miracle, the curing of an unborn baby's illness, has been attributed to Paul VI. However, Holocaust Victims and their families from Eastern Europe who are locked in a decade's long legal dispute with the Vatican over looted assets from the Second World War, question the saintliness of the man who as Vatican Secretary of State supervised the infamous Vatican ratline funded with Holocaust era loot.
The Vatican Ratline was a post war system of escape routes for Nazis fleeing Europe at the end of the Second World War. The Vatican version was centered at the Croatian Confraternity of Saint Jerome located in Rome at Via Tomacelli 132 just a block away from the Tiber River bridge and next to the sprawling Tomb of Augustus.
The so called "Golden Priest" Fr. Krunoslav Draganovic, the Apostolic Vistator for Croatian matters, was the chief conductor of the Vatican ratline whose beneficiaries included major war criminals like Croatian mass murderer Ante Pavelic who escaped to Argentina in 1947 despite being responsible for the deaths of 500,000 Serbs, Jews, and Roma. Other ratline escapees included the Nazi war criminals Klaus Barbie, Josef Mengele and Adolf Eichman.