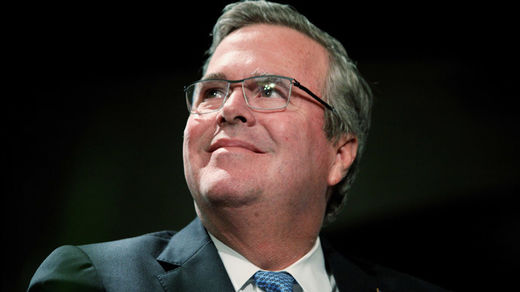 Will the White House soon host another President Bush? According to family members, Jeb Bush - a son of former president George H.W. Bush and the brother of the current president's predecessor, George W. Bush - is eying the oval office.
With the 2016 presidential election now nearly just two years away, potential candidates are becoming increasingly pressured to announce once and for all if they're willing to throw their hat into the race. Former Florida governor Jeb Bush has long been rumored to be considering a run in 2016 under the Republican Party ticket which, if successful, would make him the third Bush to win a presidential election in 30 years. Now, two of his sons are lending credence to those rumors by telling the media that the odds are better than ever that Jeb Bush will run in 2016.
"I think it's more than likely that he's giving this serious thought in moving forward ... that he'll run," son George P. Bush told
ABC
's This Week
on Sunday.
"No question," Jeb Bush Jr., another son of the former governor, added to the
New York Times
, "people are getting fired up about it - donors and people who have been around the political process for a while, people he's known in Tallahassee when he was governor. The family, we're geared up either way."
Additionally, Jeb Jr. added to the
Times
for an article published on Sunday that his mother, Columba Bush, has given Jeb Sr. her go ahead to pursue the White House. And according to one "family insider" quoted anonymous by the
Times'
Peter Baker, George W. Bush - or "Bush 43," as he's often called to differentiate himself from his father, George H.W. Bush, or "Bush "41" - wants his brother Jeb to enter the race.
"The one person who is really, really trying to get Jeb to run is George W.," the source told Baker. "He's talking it up all the time."
"The family will be behind him 100 percent," George P. Bush, Jeb Bush's eldest son, added during the
ABC News
interview over the weekend.