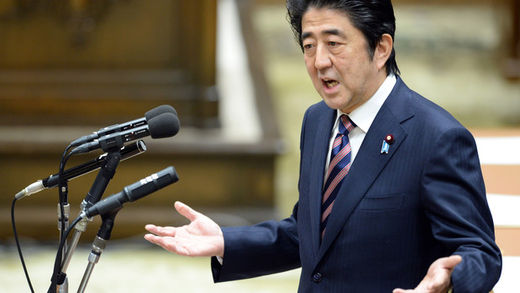 Prime Minister Shinzo Abe secured final passage of a bill granting Japan's government sweeping powers to declare state secrets, a measure aimed at shoring up defense ties with the U.S. that prompted a public backlash and revolt by the opposition.
The upper house of the Diet gave final approval of the measures in Tokyo late yesterday after opposition parties first forced a no-confidence vote in Abe's government in the lower house. The wrangling over the bill forced the government to extend the parliamentary session, due to end yesterday, for two more days.
The bill, which forms part of Abe's broader push to strengthen Japan's defense policy in the face of China's military assertiveness, stiffens penalties for bureaucrats who leak secrets and journalists who publish them. It gives government officials the power to define what constitutes a state secret under categories from defense to diplomacy, terrorism and safety threats.
"There is rationale in the secrecy bill, but the government has been too hasty and has lacked efforts to provide a framework for information disclosure which is the flip side of secrecy," said Hidenori Suezawa, a financial market and fiscal analyst at SMBC Nikko Securities Inc.