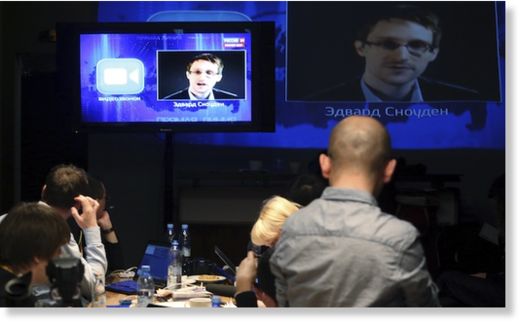 Edward Snowden defended his participation in an annual Russian telecast with Vladimir Putin on Thursday, a move that many described as a clear propaganda effort by the Russians, with Snowden as their pawn.
In an
op-ed for The Guardian
, the newspaper that originally published his first leaks, Snowden said he asked about Russia's surveillence in order to push the conversation and Putin's response into the public dialogue.
"I expected that some would object to my participation in an annual forum that is largely comprised of softball questions to a leader unaccustomed to being challenged," he wrote. "But to me, the rare opportunity to lift a taboo on discussion of state surveillance before an audience that primarily views state media outweighed that risk. Moreover, I hoped that Putin's answer - whatever it was - would provide opportunities for serious journalists and civil society to push the discussion further."