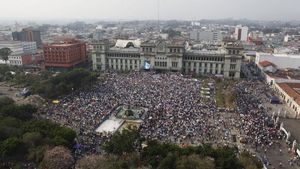 A massive tax fraud scheme exposed in Guatemala this April might once have been viewed as business as usual in a country that has struggled with corruption at the highest levels for decades.
Instead, Guatemalans got angry.
A protest organized via social media quickly erupted, sparking an ongoing wave of demonstrations that's drawn the participation of tens of thousands. For the first time in Guatemala's recent history, a broad cross section of society - including politicians, students from both private and public universities, the country's powerful business lobby, indigenous peoples, and members of a historically passive middle class - joined together in a unified call for the removal of corrupt officials.
Vice President Roxana Baldetti was the first to step down, handing in her resignation on May 8. Although she wasn't implicated in the initial corruption investigation, she was plunged into controversy when her private secretary, Juan Carlos Monzón Rojas, was identified as the leader of the fraud ring. Shortly after her resignation, Baldetti was also placed under investigation.