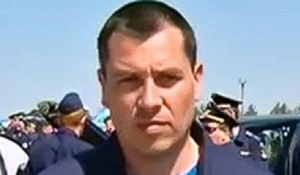 The sole survivor of the downed Russian Su-24M Fencer jet says the Turkish jets did not issue any visual or radio warnings before shooting down the warplane.
"
There was no warning, not by radio exchange nor visually. There was no contact at all
," said Konstantin Murakhtin, the surviving pilot of the doomed jet, speaking to Russian journalists on Wednesday at the Moscow's base in Syria after being rescued by Russian special forces and Syrian troops.
The remarks made by the Russian pilot are in contrast to those of Turkish government that claimed its F-16 warplanes had issued warnings before shooting down the aircraft.
I ordered them to shoot, says Mr. Premier
Meanwhile, Turkish Prime Minister Ahmet Davutoglu said that he himself had given the order to destroy the Russian jet.
"Despite all the warnings, we had had to destroy the aircraft. The Turkish Armed Forces carried out orders given by me personally," said Davutoglu, speaking to a meeting of his ruling Justice and Development Party, the Canadian ThinkPol news website reported.