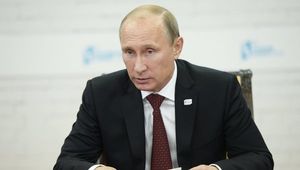 Russian President Vladimir Putin has expressed concern over the spread of
neo-Nazi
ideology in Europe and called for efforts to prevent the revision of the outcome of the Second World War.
"Unfortunately, the vaccine against the Nazi virus, developed at the Nuremberg trials, is losing its effectiveness in some European countries.
A clear sign of this trend is open manifestations of neo-Nazism, which have become common in Latvia and other Baltic states
," Putin said on the eve of his visit to Serbia on October 16.
"We are especially concerned in this respect about the situation in
Ukraine
,
where an unconstitutional state coup in February was driven by nationalists and other radical groups
," Putin said in an interview with Serbian newspaper Politika.
"Today, our common goal is to counter the glorification of Nazism, firmly counter attempts to revise the results of World War II and consequently fight any forms and manifestations of racism, xenophobia, aggressive nationalism and chauvinism," Putin stressed.