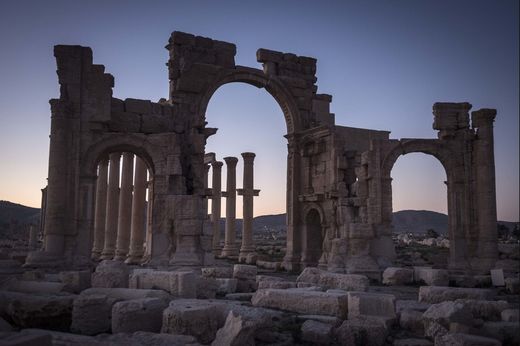 News reports have begun to come in about the fall of Palmyra to ISIS in Syria, and while most Western media has rightly been concerned with the city's ancient ruins, few mentions have been given to the welfare of the people living in the region, or the fact that "
The Syrian army launched a massive operation to evacuate as many civilians as possible of the city's 100,000 inhabitants before its epic defeat."
(
Debkafile
, May 20, 2015)
Perhaps it is not expedient to the Western narrative to report the fact that the Syrian army is heavily invested in the protection of its people.
However, these outlets do note that "The capture of Palmyra is the first time the al Qaeda offshoot has taken control of a city directly from the Syrian army and allied forces,
which have already lost ground in the northwest and south to other insurgent groups in recent weeks
." (Reuters, May 20, 2015) (emphasis added)
The title "insurgent groups" is a euphemism for al-Qaeda, as "the Syrian military opposition is dominated
by ISIS and by Jabhat al-Nusra, the official al-Qaeda representative
, in addition to other jihadi groups,"(1) and
their gains are not some recent aberration but instead are the direct result of the US-led coalition ramping up aid to their proxy forces in the region
.