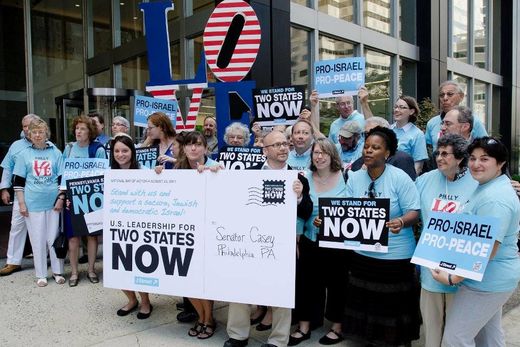 The Obama Administration has broadcast that since Benjamin Netanyahu announced that there will never be a Palestinian state so long as Netanyahu remains Prime Minister of Israel,
the US may end its policy of blocking consideration of the Israel-Palestine conflict at the United Nations Security Council. In particular, the US may support a Security Council resolution that lays out parameters for a diplomatic resolution of the conflict, and the US may support a resolution against Israeli settlements in the West Bank.
If the Obama Administration makes such a move,
will Democrats support it?
Here is some preliminary evidence that Democrats will be ready to support the Administration.
The
Jewish Daily Forward
reports that J Street will support such a push at the UN by the Obama Administration:
In terms of policy, taking on the fight means stating J Street's open support to moving the Israeli-Palestinian conflict to the United Nations Security Council...

This position puts J Street at odds with most other pro-Israel organizations, led by the American Israel Public Affairs Committee, which have been preparing to lobby against the administration's move.
In addition, the
Forward
notes, J Street is urging the Administration to
challenge the flow of US tax dollars to Israeli settlements in the West Bank:
The group is also calling on the U.S. government, Ben-Ami said, to "examine how it can eliminate funding" to Jewish settlements in the West Bank by taking a closer look at how government agencies provide funding to Israel and the way the IRS views donations going to settlements. J Street called on its members and supporters to make sure the Jewish charitable organizations they donate to do not support settlers beyond the Green Line.