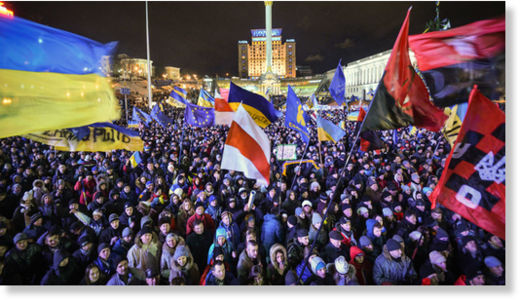 Ukraine should hold a referendum to decide its political course, Alexandra Thein, the German MEP from the EU-delegation to Ukraine told RT. The politician believes it is normal to support protests in the streets, if it doesn't incite violence.
A delegation of Members of the European Parliament descended on Ukraine on Saturday,
to meet with the opposition leaders and address the crowd in the streets of Kiev, fueling the protest further.
Jacek Saryusz-Wolski, a European Parliament member from Poland
expressed full support
for the protesters' demand for an early election, calling the situation
"unacceptable"
when
"the choice of the majority of Ukrainians, millions of people, is being put aside."
However, speaking with RT, German MEP Alexandra Thein, said that the
"unofficial"
visit of the European politicians was all about democracy and the Ukrainian people's desire to associate with Europe, and not the ousting of a democratically elected government which just recently survived a no confidence vote.
RT:
We've seen scores of EU politicians come mingle with the protesters in Kiev. Why aren't they letting Ukraine's elected leaders democratically decide?
Alexandra Thein:
I think it is not against Ukraine's leadership. I think they just show their solidarity with the protesters and I think we want the Association Agreement with the EU signed and therefore we assist them.

Comment: So now the EU in the name of democracy fuels the protests in another country and talks directly to the crowds???? What is wrong with presenting the views to those people elected by the people themselves? Isn't that how democracy works?

How would it be if Chinese or Russian or Iranian or African delegations start coming to Europe and address the protesters there directly and fuel them on to continue protesting for their rights? If you think that it is not a problem as there are no protests right now, think again as the austerity measures taken, soon will make the population come out in the streets across Europe.