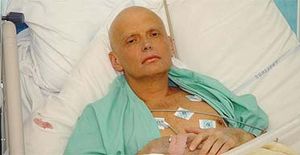 Britain announced on Tuesday it would hold a
public inquiry into the death of a former
Russia
n spy
who accused Russian President Vladimir Putin of ordering his murder, but
denied the decision was linked to the Ukraine crisis
.
A year ago, the British government declined to order an inquiry into the killing of ex-KGB spy Alexander Litvinenko, who died after drinking tea poisoned with a radioactive isotope in a London hotel in 2006. That led to accusations Britain was appeasing the Kremlin, which has always denied involvement.
Tuesday's announcement comes as Prime Minister David Cameron leads calls for hard-hitting sanctions against Russia, including freezing the assets of Putin's close allies, after the downing of Malaysian airliner MH17 in a pro-Russian rebel-held part of Ukraine last week.
A spokesman for Cameron denied there was a connection between the decision to hold an inquiry and the Ukraine crisis.
"
I can very clearly and firmly say there isn't a link
," he told reporters.
Litvinenko's wife Marina said she too believed the decision had not been taken as a result of events in Ukraine.
"I am definitely sure it was not taken because of this (the Ukraine situation)," she told reporters. "I was waiting for this since February. I believed one day it would happen."
She told a news conference she did not expect the inquiry would lead to the extradition of her husband's suspected killers from Russia, but would reveal what happened to him.
"I do this not against Russia. I do this for justice, for truth," she said.
The inquiry will be chaired by Robert Owen, the judge in charge of the inquest into Litvinenko's death who has said there is evidence indicating Russian involvement in the murder, Home Secretary Theresa May said in a statement.
Owen himself had called for an inquiry, saying the inquest - a British legal process held in cases of violent or unnatural deaths - could not get to the truth because he could not consider secret evidence held by the British government.