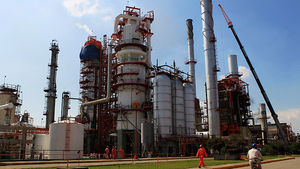 Opportunities for the West to hurt the Russian economy are limited, President Vladimir Putin said Thursday. Europe cannot stop buying Russian gas without inflicting pain on itself, and if the US tries to lower oil prices, the dollar will suffer.
If the West tries to damage Russia's influence in the world energy market, efforts will likely backfire, the Russian President said during his twelfth annual televised question and answer session.
To really influence the world oil market a country would need to increase production and cut prices, which currently only Saudi Arabia could afford, Putin said.
The president added he didn't expect Saudi Arabia, which has
"very kind relations"
with Russia, will choose to cut prices, that could also damage its own economy.
If world oil production increases, the price could go down to about $85 per barrel.
"For us the price fall from $90 to $85 per barrel isn't critical,"
Putin said, adding that for Saudi Arabia it would be more sensitive.
Also the President said that being an OPEC member, Saudi Arabia would need to coordinate its action with the organization, which
"is very complicated."
Meanwhile, Russia supplies about a third of Europe's energy needs, said Putin. Finland, for example, is close to Russia economically, as it receives 70 percent of its gas from Russia.
"Can Europe stop buying Russian gas? I think it's impossible...Will they make themselves bleed? That's hard to imagine,"
the Russian president said.