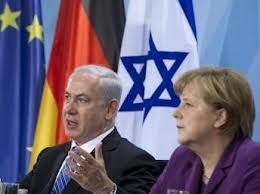 "The Berlin Wall, this symbol of state abuse cast in concrete, took millions of people to the limits of what is tolerable, and all too many beyond
it."
On the 25th anniversary of the fall of the Berlin Wall, German Chancellor Angela Merkel delivered a speech of sublime hypocrisy when juxtaposed beside the illegal
Apartheid/Annexation Wall
and beside the blockade 'wall' constricting Gaza constructed by Israel, which she once vowed, "Germany will never abandon Israel but will remain a true friend and partner."
Merkel rhapsodised, "the fall of the Berlin Wall showed us that dreams can come true - and that nothing has to stay the way it is, no matter how high the hurdles might seem to be."
The fact is Germany's partnership with Israel is one of the major hurdles that block Palestinians' right to self-determination under international law. In 2012, Germany abstained ( actually if its not a 'Yes' it's a 'No' ) to accord Palestine Non-Member Observer State status in the UN, voted against Palestine's membership to UNESCO and buttressed the brazen lie that Israel's war crime, Operation
Protective Edge
, was an act of self-defense.