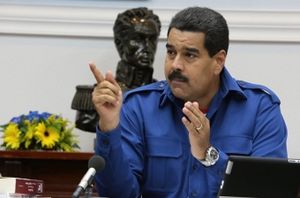 On Monday the successor of the late Hugo Chávez, Nicolás Maduro,
ordered the expulsion of three U.S. diplomats
in retaliation for working with anti-government activists in Venezuela. The expulsion order coincided with a planned rally by the opposition.
Maduro had three other diplomats expelled in September, including the charge d'affairs, Kelly Keiderling, after the government accused them of plotting with opponents.
The leader of the opposition, Leopoldo López Mendoza, has challenged the government to arrest him. Student-led protests have posed a serious challenge to Maduro's government.