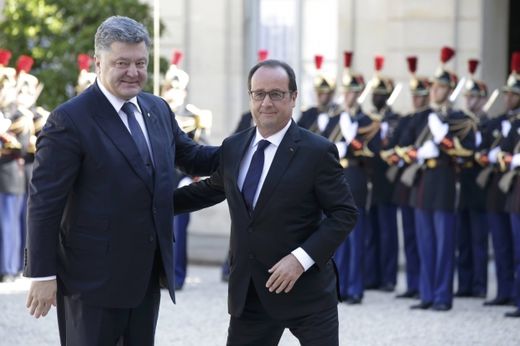 Ukrainian President Petro Poroshenko has discussed with French President Francois Hollande the situation in Donbas, issues of visa-free regime and UN Security Council reform, Poroshenko's press service said on Friday.
"Ukrainian President Petro Poroshenko held a meeting with French President Francois Hollande in France. The presidents discussed the situation in Donbas and Crimea and coordinated their positions ahead of talks in the 'Normandy format'. The presidents of Ukraine and France noted the necessity of reforming UN Security Council. They discussed the issue of visa-free regime for Ukrainians and agreed to hold a Ukrainian-French investment forum in November," the press service said.
The leaders also agreed on Hollande's visit to Kiev. "Petro Poroshenko invited Francois Hollande to pay an official visit to Ukraine. The invitation was accepted," the press service added. "The relations between Ukraine and France are at their highest level" since the beginning of 1990s, Poroshenko said.