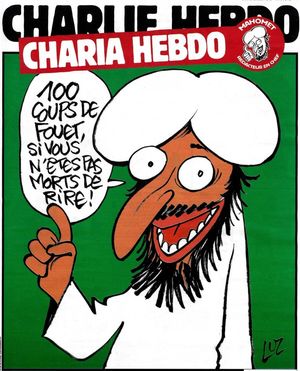 Translated by Daphne Lawless
He worked there from 1992 to 2001, before walking out, angered by "the dictatorial behaviour and corrupt promotion practices" of a certain Philippe Val [former CH editor - trans.] Since then, Olivier Cyran has been an observer from a distance, outside the walls, of the evolution of Charlie Hebdo and its growing obsession with Islam. He went over this long-term drift on the occasion of an opinion piece in Le Monde, signed by Charb [Stéphane Charbonnier, one of the cartoonists murdered in January 2015 - trans.] and Fabrice Nicolino.
Postscript 11 January 2015
: to all those who think that this article was validation in advance of the shameful terrorist attack against Charlie Hebdo (that they were asking for it), the editorial team of Article 11 would like to give a hearty middle finger to such vultures. To make things absolutely clear, please see
this
text.
*
Dear Charb and Fabrice Nicolino,
"We hope that those who claim, and will claim tomorrow, that Charlie is racist, will at least have the courage to say it out loud and under their real name. We'll know how to respond."
Reading this rant at the end of your opinion piece in Le Monde[1], as if to say "come say it to our face if you're a real man", I felt something rising within me, like a craving to go back to fighting in the school playground. Yet it wasn't me being called out. Which upright citizens you hope to convince, moreover, is a mystery. For a good long while, many people have been saying "out loud" and "under their real name" what they think about your magazine and the effluent flowing out of it, without any one of you being bothered to answer them or to shake their little fists.
And so Le Monde has charitably opened their laundry service to you, for an express steam-cleaning of your rumpled honour. To hear you talk, it was urgent: you couldn't even go out in Paris without a taxi driver treating you like racists and leaving you helpless on the footpath. I understand your annoyance, but why did you have to go give yourself another black eye in a different publication than your own? Don't Charlie Hebdo, its website and its publishing house give you space to express yourself to your heart's content? You invoke "Charlie's" glorious heritage of the 60s and 70s, when it was political censorship and not haunting disrepute that gave your magazine something to worry about. But I doubt that, at the time, writers like Cavanna or Choron would have asked for help from the posh press to make themselves respectable.