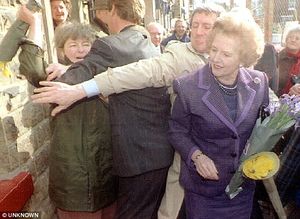 Margaret Thatcher and her ministers were warned of child abuse claims against senior Tory figures in the 1980s, it was claimed today.
A former bodyguard to the Iron Lady revealed
he told her to her face about rumours about one of her closest aides holding parties with underage boys.
And it was claimed a
dossier on Establishment abuse handed to then-Home Secretary Leon Brittan named senior ministers Sir Keith Joseph and Sir Rhodes Boyson.
Westminster has been rocked by claims of senior politicians involved in sex abuse, and allegations of a cover-up.
Home Secretary Theresa May ordered a wide-ranging inquiry into how successive governments, charities, political parties, the NHS, the BBC and the Church failed to protect children from paedophiles.
But its chairman Baroness Butler-Sloss was forced to quit over criticism that her brother, Sir Michael Havers, had been attorney general in the Cabinet in the 1980s, and was accused of a 'cover-up' over a refusal to prosecute Foreign Office diplomat Sir Peter Hayman, who was a member of the Paedophile Information Exchange.
Two weeks on, there is still no sign of a new chairman being appointed, but the
tide of allegations about child abuse at the highest levels of the Establishment continue to emerge.