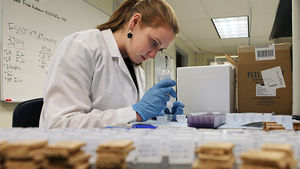 Scientists have found drug resistant super bugs downstream of a sewage treatment plant in the River Sowe near Coventry, media said.
The microbes contain mutated genes that are resistant even to the latest generation of antibiotics, the Independent reports.
The researchers said that
sewage treatment plants are acting like giant
"mixing vessels"
where antibiotic resistance is spreading between microbes, which are then released into the environment.
A
large number of microbes living in the river had a genetic mutation
, which is known to provide resistance to third generation antibiotics or cephalosporins - a class of antibiotic used to treat hospital acquired infections, like blood infections and meningitis.
The scientists also found human gut bacteria in the river sediment that had developed resistance to Imipenem, a type of antibiotic used in severe infections not treatable with other antibiotics, which is administered using intravenous injections.
"This is a worrying development and we need to be concerned about it. We've completely underestimated the role waste-treatment processes can play in antibiotic resistance,"Professor Elizabeth Wellington, from the University of Warwick, who led the study, told the Independent.