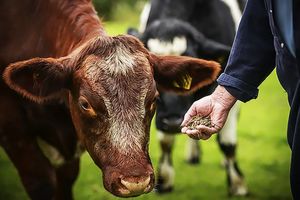 A new study suggests that regularly dosing animals is a worse idea than was previously thought.
It has long been understood that feeding animals antibiotics can create resistant bacteria - bacteria that can cause problems for human health. That's why the Food and Drug Administration has been concerned for decades over the practice of giving livestock subtherapeutic doses to promote growth. While the agency has yet to do much of anything to curb the problem, save for some voluntary regulations, new research suggests that the steady supply of drugs could make animals sicker - and cause disease to spread more rapidly.
The new study, published this week in the journal
PNAS
, looked at how salmonella bacteria was spread in a population of mice. When treated with antibiotics, mice that were sick but showed relatively low amounts of salmonella in their droppings started behaving more like "superspreaders," shedding more bacteria and suffering more acute symptoms. Meanwhile, other mice that, before being treated, passed higher amounts of bacteria and showed fewer symptoms did not shed any less salmonella after receiving an antibiotic.