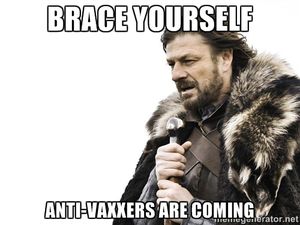 Earlier this year I spent a few days at the Ronald Reagan UCLA Medical Center with my daughter who was having an EEG done. On our way home, I learned that there had been an
outbreak
of an antibiotic-resistant bacteria while we were there, that it had infected seven people and killed two of them. My daughter and I were fine - the infection having been limited to people using a particular kind of
duodenoscope
.
When the story hit the news, I fully expected nationwide outcry similar to that inspired by the recent measles "epidemic" that began at Disneyland. That outbreak killed no-one, yet set the country on fire with calls for mandatory vaccination and even prison sentences for parents who choose not to vaccinate their children. Drug-resistant "superbugs" kill nearly
15,000 people a year
in the US and a recent
report
predicts that they could kill as many as 300 million people by 2050. Surely this far more deadly health threat would lead to similar widespread outrage and calls for those even remotely
responsible
to be held accountable.