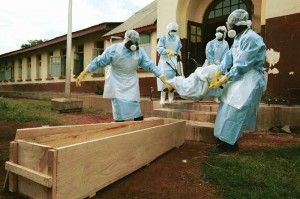 The number of deaths in the current Ebola outbreak has jumped to more than a hundred. dozens of people in west African countries are quarantined and officials are desperately trying to find close contacts of the sick in an attempt to curtail the spread.
Governments are
recommending
that people no longer shake hands or have sex with anyone who is not a regular, monogamous partner. Talking to the
BBC
the
WHO
said:
"(It's) "one of the most challenging Ebola outbreaks we have ever dealt with" and could take another four months to contain,"

Note: Five more deaths have occurred since this report was published.
Every day that this disease is claiming victims is another day it has the chance to escape from Africa. I know many say that it kills too quickly for that to happen, but this is incorrect. Ebola can take between 2 and 21 days to incubate. From the
WHO
website:
The incubation period, that is, the time interval from infection with the virus to the onset of symptoms, is 2 to 21 days.
From the
CDC
website:
Symptoms may appear anywhere from 2 to 21 days after exposure to Ebola virus though 8-10 days is most common.