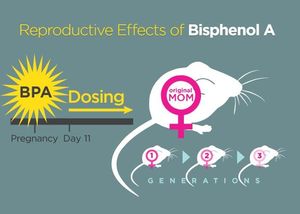 When scientists exposed pregnant mice to levels of bisphenol A equivalent to those considered safe in humans,
three generations of female mouse offspring experienced significant reproductive problems, including declines in fertility, sexual maturity and pregnancy success
, the scientists report in the journal
Toxicology and Applied Pharmacology.
Bisphenol A, an industrial chemical, is found in polycarbonate plastics used in food and drink packaging, and in epoxy resins, which coat the insides of some food containers and plumbing pipes. Thermal paper receipts and dental sealants also may contain BPA.
A national study found
detectable levels of BPA in 93 percent of 2,517 human urine samples tested in 2003-04, suggesting that most of the U.S. populace is regularly exposed to the chemical.
BPA also has been detected in human ovarian follicular fluid, placental tissue and fetal plasma, said University of Illinois comparative biosciences professor Jodi Flaws, who led the new analysis. According to the National Institutes of Health, the primary route of human exposure to BPA is diet.
BPA is an endocrine disruptor, which means that it can interfere with the body's normal hormone signaling. Many studies in animals indicate that BPA exposure can undermine reproductive function, but no previous studies have looked for its effects in three generations of offspring.