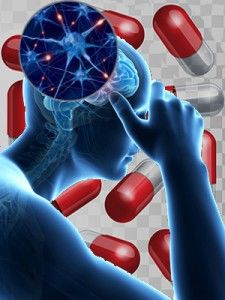 The common belief that depression is linked to low levels of the neurotransmitter serotonin is again being questioned by top psychiatrists.
Professor David Healy of the Hergest Unit, Bangor, U.K., writes in the
British Medical Journal
that the idea that serotonin levels might be lower in people with depression was rejected in the 1960s.
But when serotonin reuptake inhibiting (SSRI) drugs were developed in the 1980s, the manufacturers searched for a problem the drugs could solve.
So drug companies attempted marketing SSRIs for depression, Healy writes,
even though they were less effective than older tricyclic antidepressants
, and "sold the idea that depression was the deeper illness behind the superficial manifestations of anxiety."
"The approach was an astonishing success, central to which was the notion that SSRIs restored serotonin levels to normal, a notion that later transmuted into the idea that they remedied a chemical imbalance," he writes.
But "[N]o one knew if SSRIs raised or lowered serotonin levels; they still don't know," he states. "There was no evidence that treatment corrected anything."