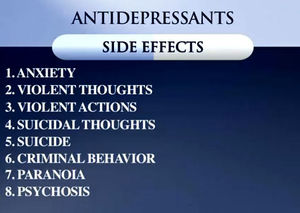 A new paper challenges the prevailing opinion that depression is related to low levels of serotonin in the gaps between nerve cells in the brain.
This theory has predominated for nearly 50 years and has led to the development of the commonly prescribed anti-depressant medications called selective serotonin re-uptake inhibitors, or SSRIs.
But it has never been proven
.
The science behind many anti-depressant medications appears to be backwards
, say the authors of a paper posted by the journal
Neuroscience & Biobehavioral Reviews
.
SSRIs keep the neurotransmitter's (serotonin) levels high by blocking its re-absorption into the cells that release it.
But those serotonin-boosting medications actually make it harder for patients to recover, especially in the short term, said lead author Paul Andrews, an assistant professor of psychology, neuroscience & behavior at McMaster University in Canada.
"It's time we rethink what we are doing," Andrews says. "We are taking people who are suffering from the most common forms of depression, and instead of helping them, it appears we are putting an obstacle in their path to recovery."