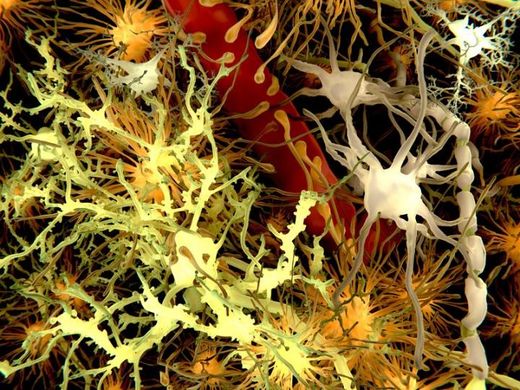 A new study by researchers at Sanford-Burnham reveals the process that leads to changes in the brains of individuals with Down syndrome -- the same changes that cause dementia in Alzheimer's patients. The findings, published in
Cell Reports
, have important implications for the development of treatments that can prevent damage in neuronal connectivity and brain function in Down syndrome and other neurodevelopmental and neurodegenerative conditions, including Alzheimer's disease.
Down syndrome is characterized by an extra copy of chromosome 21 and is the most common chromosome abnormality in humans. It occurs in about one per 700 babies in the United States, and is associated with a mild to moderate intellectual disability. Down syndrome is also associated with an increased risk of developing Alzheimer's disease. By the age of 40, nearly 100 percent of all individuals with Down syndrome develop the changes in the brain associated with Alzheimer's disease, and approximately 25 percent of people with Down syndrome show signs of Alzheimer's-type dementia by the age of 35, and 75 percent by age 65. As the life expectancy for people with Down syndrome has increased dramatically in recent years -- from 25 in 1983 to 60 today -- research aimed to understand the cause of conditions that affect their quality of life are essential.
"Our goal is to understand how the extra copy of chromosome 21 and its genes cause individuals with Down syndrome to have a greatly increased risk of developing dementia," said Huaxi Xu, Ph.D., professor in the Degenerative Diseases Program and senior author of the paper. "Our new study reveals how a protein called sorting nexin 27 (SNX27) regulates the generation of beta-amyloid -- the main component of the detrimental amyloid plaques found in the brains of people with Down syndrome and Alzheimer's. The findings are important because they explain how beta-amyloid levels are managed in these individuals."