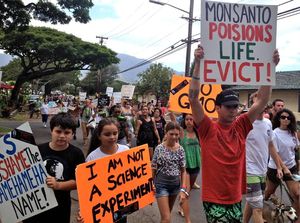 If you've been to a barbecue and ate burgers, ribs, and corn on the cob, it's probably a pretty good bet you that while you were wiping barbecue sauce off your chin you weren't thinking about DNA splicing in some far away laboratory. However, there are folks who do just that: come up with ways to genetically modify foods in order to make them "pest resistant" or "herbicide resistant," and the way scientists accomplish this is reminiscent of a grade B horror film.
Genetic engineering is the science of creating transgenic organisms, meaning genes are manipulated from one species to another to create a trait that did not previously exist. This is also called "recombinant DNA technology." For instance, the DNA in Monsanto's "Bt" corn has been modified by inserting specific genes from
Bacillus thuringiensis
, a ground-dwelling bacterium that is also used as a means of natural pest control. The genetic modification produces a crystalline protein in the stalks, pollen, and leaves of the plant that is toxic to borers and other corn pests.
The first genetically modified organisms, commonly known as GMOs, appeared in 1982 as plant cells that had been genetically modified by scientists of Monsanto Corporation, a chemical giant now turned biotech behemoth, who is also the producer of Bovine Growth Hormone (rBGH), a commercial livestock hormone that has been linked to breast and prostate cancer. Since 1994, GMO crops and livestock, labeled "Frankenfoods" by anti-GMO activists, have proliferated across the globe, with many unanswered questions creating a firestorm of controversy. What are the long-term health effects of ingesting GMO products? How extensively will airborne pollen taint organic crops? By mutating the genes of plants and animals, how will the evolution of species be affected, including humans? Why were GMOs released into the global food markets with no testing?