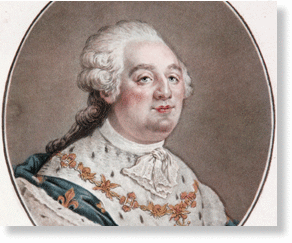 Two centuries after the French people beheaded Louis XVI and dipped their handkerchiefs in his blood, scientists believe they have authenticated the remains of one such rag kept as a revolutionary souvenir. Researchers have been trying for years to verify a claim imprinted on an ornately decorated calabash that it contains a sample of the blood of the French king guillotined in Paris on January 21, 1793.
The dried, hollowed squash is adorned with portraits of revolutionary heroes and the text: "On January 21, Maximilien Bourdaloue dipped his handkerchief in the blood of Louis XVI after his decapitation". He is then believed to have placed the fabric in the gourd, and had it embellished.
The sinister souvenir has been in the private hands of an Italian family for more than a century, said the team of experts from Spain and France which published its findings in the journal
Forensic Science International
.
Two years ago, analysis of DNA taken from blood traces found inside the ornate vegetable revealed a likely match for someone of Louis' description, including his blue eyes.
But not having the DNA of any kingly relation, researchers could not prove beyond doubt that the blood belonged to Louis.
Until now.