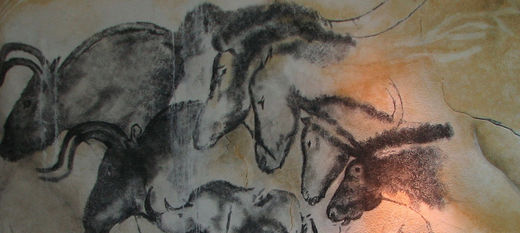 In 1994, the discovery of the wonders contained within Chauvet cave at Vallon-Pont-d'Arc (France) formed a crucial part of our understanding of Palaeolithic art as a whole. At the time the discovery became a media sensation and then more recently returned to the limelight with the release of Werner Herzog's film
Cave of Forgotten Dreams.
The cave, extends horizontally for nearly 500 metres and is located at the entrance to the Ardèche gorges between the Cevennes and Rhone valleys. Over 425 groups of paintings have been documented and include numerous realistic renditions of animals (reindeer, horses, aurochs, rhinoceros, bison, lions, cave bears among others), human hand prints and abstract dots. The images in the front hall are primarily red, created with liberal applications of
red ochre
, while the back hall images are mainly black, drawn with charcoal.
The black drawings are grouped into two main phases; a paste of ground charcoal in water for the more recent and a dry charcoal stick for the earlier. However, the early age assigned to some of the black images have been called into question by researchers Jean Combiera and Guy Jouve, who have carried out a comparison with other cave art from the same period along with an examination of the original
AMS radiocarbon
dates.