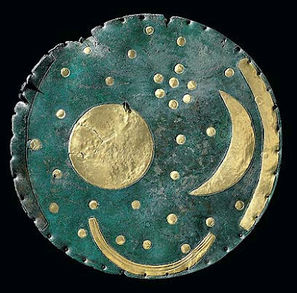 The National Maritime Museum Cornwall will display the 4500-year-old Nebra Sky Disc for the first time in its new exhibition, 2012 BC: Cornwall and the Sea in the Bronze Age.
A single bronze disc decorated with gold symbols that represent the sun, moon, stars and a boat, the Nebra Sky Disc is the world's oldest representation of the cosmos.
It reveals a prehistoric view of the world that before its discovery had never been known to exist, and has single-handedly reformed our understanding of ancient European history.
Amazingly, the disc has local roots: the gold and tin components have been traced back to the Cornish mines of Canon Down.