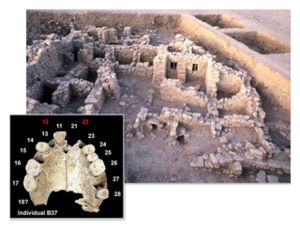 Humans have been mating with their relatives for at least 10,000 years. That's the conclusion of a new study, which finds the earliest known evidence of deliberate inbreeding - including missing teeth - among farmers who lived in what is today southern Jordan. Although inbreeding over long periods can lead to a rise in genetic defects, the team concludes that it may have helped prehistoric peoples make the transition from hunting and gathering to village life.
Researchers agree that the best evidence for family ties is DNA. For example, ancient DNA from
a group of Neandertal skeletons found in a Spanish cave
showed that they belonged to the same extended family.
But DNA often preserves poorly, especially at early farming sites from the so-called Neolithic period in the Near East where high temperatures and burials under house floors or in shallow graves easily degrade the genetic material. So some researchers have searched for signs of family relationships in the skeletons themselves, looking for rare anomalies that might suggest shared genetic heritage.
A team led by Kurt Alt, an anthropologist at the University of Mainz in Germany, examined the skeletons of individuals buried at the Neolithic site of Basta, in southern Jordan. Between about 9500 and 9000 years ago, up to 1000 early farmers lived there; the site was excavated in the 1980s and 1990s by an international team of archaeologists. At least 56 skeletons were found in one area, perhaps a graveyard.
In earlier research, Alt had identified more than 100 skeletal traits that can be used to determine family ties, most of which concern features of the teeth and jaws. Although inbreeding with very close relatives - such as between brothers and sisters, parents and children, or even cousins - boosts the incidence of genetic disease, mating with even more distant family members can increase the prevalence of traits that indicate family relationships. So his team set about looking at the upper jaws, or maxillae, of the Basta skeletons, which were well preserved in 28 individuals.