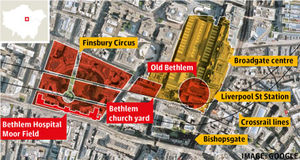 Tunnelling project's chief archaeologist says up to 4,000 bodies of plague victims and inmates of Bedlam may be discovered
Every day hordes of
London
commuters have passed unknowingly over the bodies of thousands of their predecessors, buried a few metres under the roaring traffic and rumbling trains at Liverpool Street, and which are now being exposed for the first time by the huge
Crossrail
construction project.
The bodies include those of mentally ill patients from Bethlem, the ancient and notorious asylum from which the word Bedlam entered the English language. Bodies that were never claimed by their families - often those of beaten, starved and exploited inmates - would have ended up in the burial ground alongside rich and poor, old and young, victims of plague and war, from across London.
Jay Carver, lead archaeologist on the Crossrail sites - the largest
archaeology
project in the UK on the largest infrastructure project in Europe - described the site as exceptionally interesting. "Because of its history, we know that this is one of the most diverse burial grounds in London, a real cross section of its people across two centuries. Bone preservation is excellent in the finds we have already made, and we are expecting many important discoveries when we get into the main phase of the excavation."
The trial trenches have already yielded the first treasure from the 40 archaeology sites along the route of Crossrail's tunnelling: a thumbnail-sized golden coin from Venice, pierced so it could be stitched on as expensive decoration on some costly garment - and likely a bad loss when the thread broke and it fell into the gutter some 400 years ago.