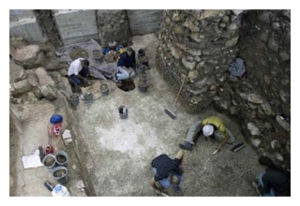 Ancient Romans are known for their sumptuous feasts, but according to a new study, an incredible 98 per cent
commoners ate food that was seen fit only for animals.
Romans are known for eating well, with mosaics from the empire portraying sumptuous displays of fruits, vegetables, cakes - and, of course, wine.
However, common people ate millet, a grain looked down upon by the wealthy as fit only for livestock, according to a new study published in the
Journal of Anthropological Archaeology
.
Researchers said the consumption of millet may have been linked to overall social status, with relatively poorer suburbanites eating more of the grain than did wealthier city dwellers.
The results come from an analysis of anonymous skeletons in the ancient city's cemeteries, 'LiveScience' reported.
"We don't know anything about their lives, which is why we're trying to use biochemical analysis to study them," said study leader Kristina Killgrove, an anthropologist at the University of West Florida.