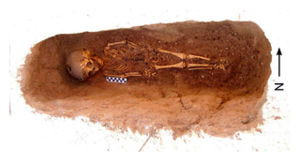 A 2- to 3-year-old child from a Romano-Christian-period cemetery in Dakhleh Oasis, Egypt, shows evidence of physical child abuse, archaeologists have found. The child, who lived around 2,000 years ago, represents the earliest documented case of child abuse in the archaeological record, and the first case ever found in Egypt, researchers say.
The Dakhleh Oasis is one of seven oases in
Egypt's Western Desert
. The site has seen continuous human occupation since the Neolithic period, making it the focus of several archaeological investigations, said lead researcher Sandra Wheeler, a bioarchaeologist at the University of Central Florida. Moreover, the cemeteries in the oasis allow scientists to take a unique look at the beginnings of
Christianity in Egypt
.
In particular, the so-called
Kellis 2 cemetery
, which is located in the Dakhleh Oasis town of Kellis (southwest of Cairo), reflects Christian mortuary practices. For example, "instead of having children in different places, everyone is put in one place, which is an unusual practice at this time," Wheeler told LiveScience. Dating methods using radioactive carbon from skeletons suggest the cemetery was used between A.D. 50 and A.D. 450.
When the researchers came across the abused toddler - labeled "Burial 519" - in Kellis 2, nothing seemed out of the ordinary at first. But when Wheeler's colleague Tosha Duprasbegan brushing the sand away, she noticed prominent fractures on the child's arms.
"She thought, 'Whoa, this was weird,' and then she found another fracture on the collarbone," Wheeler said. "We have some other kids that show evidence of skeletal trauma, but this is the only one that had these really extreme fracture patterns."