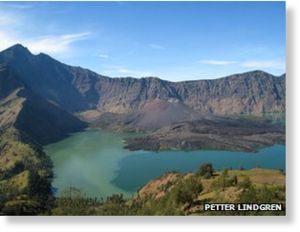 Scientists think they have found the volcano responsible for a huge eruption that occurred in AD1257.
The mystery event was so large its chemical signature is recorded in the ice of both the Arctic and the Antarctic.
European medieval texts talk of a sudden cooling of the climate, and of failed harvests.
In the PNAS journal, an international team points the finger at the Samalas Volcano on Lombok Island, Indonesia.
Little remains of the original mountain structure - just a huge crater lake.
The team has tied sulphur and dust traces in the polar ice to a swathe of data gathered in the Lombok region itself, including radiocarbon dates, the type and spread of ejected rock and ash, tree-rings, and even local chronicles that recall the fall of the Lombok Kingdom sometime in the 13th Century.