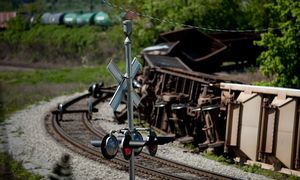 A train derailment in rural eastern Montana spilled 35,000 gallons (132,489 liters) of crude oil and forced the evacuation of about 30 people, a U.S. official said on Friday in an email to state officials.
About 20 cars on the Berkshire Hathaway-owned BNSF [BNISF.UL] crude oil train went off the rails east of Culbertson, Montana
, on Thursday evening, officials said. There was no fire and no injuries were reported.
A hazardous materials team from BNSF responded to the scene and contained the spilled oil with earthen dams, Michael Turnbull, an official with the U.S. Department of Transportation, said in an email to Montana officials that was released to the media.
The spilled crude did not reach any waterways, the email said.