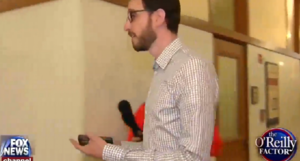 San Francisco's city officials have no time for Fox News' latest attempt to
gin up anti-immigrant hysteria
over the alleged murder of a
white American woman
by an undocumented immigrant.
Bill O'Reilly
sent one of his employees
to ambush different members of the San Francisco Board of Supervisors, accusing them of enabling the murder of Kate Steinle by declaring the city a "sanctuary city" where undocumented workers can access health care, police and fire assistance and other public services without fear of deportation or other forms of government reprisal.
City Supervisor and human rights attorney Jane Kim told the Fox representative that the issue at play in Kate Steinle's death isn't immigration, but gun control, and how to keep weapons out of the hands of felons and the mentally ill.