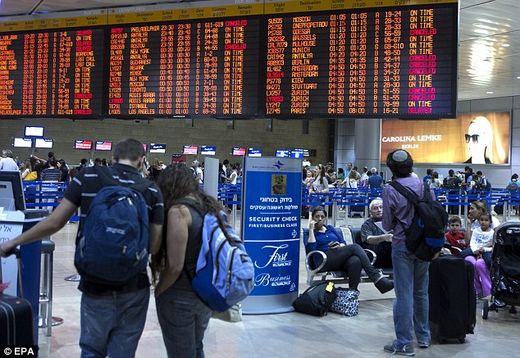 A number of major US and European airlines are immediately suspending flights to and from Israel after a rocket attack near Ben-Gurion International Airport. US Airways, Lufthansa and Delta are some of the companies grounding their planes.
The decision was taken following a warning from the Federal Aviation Authority (FAA), after a rocket fell in the city of Yehud, which is just five kilometers from the airport,
Haaretz
reported.
The FAA has ordered US airlines

not to fly

to or from Ben Gurion Airport "for a period of up to 24 hours." Meanwhile, their European counterparts, the European Air Safety Agency (EASA) says it has issued a 'strong recommendation' to avoid Tel Aviv airport until further notice.
A Delta Boeing 747 from New York was flying over the Mediterranean Sea heading for Tel Aviv on Tuesday when it turned around and flew to Paris instead. Flight 468 had 273 passengers and 17 crew on board.
The Russian airline Transaero also decided to turn back a flight that was bound for Tel Aviv. Flight number 311 was en-route to the Israeli city but instead headed back to Moscow. A spokesman for the company said that Wednesday's flights to Israel have also been cancelled.
US Airways, which has one daily flight from Philadelphia, canceled that flight Tuesday and the return trip from Tel Aviv. It has relocated planes, which are currently at Ben-Gurion airport, according to
Haaretz
.