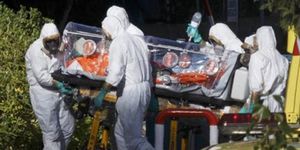 Aside from the three nations in West Africa that are struggling with the Ebola outbreak, another outbreak of the virus occurred in Central Africa and was quickly contained. Now,
new studies confirm that the two outbreaks were unrelated, and offer explanations why one was contained, while the other spiraled out of control.
The Ebola outbreak in the Democratic Republic of the Congo (DRC) began July 26 and was the seventh outbreak in this region since the discovery of the virus in 1976. The first patient was a pregnant woman from Ikanamongo Village who likely contracted the virus when she butchered
a bush animal
. She died Aug. 11. About
70 more people also became ill
and more than 40 died by October, but the outbreak seems to have been tapering off since.
In contrast,
the Ebola outbreak
in West Africa has affected at least 8,400 people and killed more than 4,000 people since it began in Guinea in early 2014 and spread to the neighboring countries of Liberia and Sierra Leone.