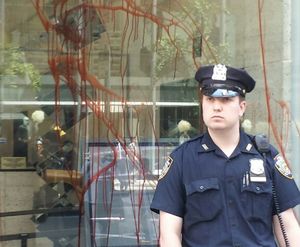 It was not a normal summer Friday for the employees of the Israel Discount Bank, on 511 5
th
Avenue.
According to tweets, various employees (who wish to remain anonymous), and emails obtained by the
Observer
, the bank's windows were attacked and smeared with fake blood as pro-Hamas
demonstrators staged a "die-in" on the sidewalk in front of the bank.
An employee of IDB who works at 511 but cannot give his or her name without authorization said in an email obtained by the
Observer
, "This afternoon, there was [an] anti-Israel protest of about 30 people in front of Israel discount bank ... They defaced the front windows and sidewalk with fake blood. The employees were holed up inside and the doors were locked. No police presence beforehand."
According to another source, "one of the IDB security guards was splashed with paint on the back of his shirt." The
Observer
later learned that the security guard who'd been painted has the first name James.