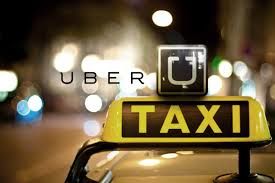 Indian police questioned an Uber executive Tuesday about the company's claim it conducts comprehensive background checks and a top official called for the taxi-booking service to be banned nationwide after one of its New Delhi drivers was accused of rape.
New Delhi police official Brijendra Kumar Yadav said there is a possibility of criminal charges against the company if police find evidence the taxi-hailing app misrepresented the safety of its service.
The driver, 32-year-old Shiv Kumar Yadav, is being held by police and will appear again in a New Delhi court on Thursday. A 26-year-old woman who hired Yadav for a ride home from a dinner engagement Friday night accused him of rape.
Comment:
What is
Uber
?
Uber is a rideshare and taxi service headquartered in San Francisco, United States (U.S.), which operates in multiple international cities. The company uses a smartphone application to receive ride requests, and then sends these trip requests to their drivers. Customers use the app to request rides and track their reserved vehicle's location. As of August 29, 2014, the service was available in 45 countries and more than 200 cities worldwide, and was valued at US$18.2 billion.

Upon inception, Uber offered only full-size luxury cars for hire, and the "UberBlack" title was adopted for the company's main service (named after the "black cars" private transportation services in New York City. In 2012, the company launched its "UberX" program, which expanded the service to any qualified driver with an acceptable vehicle. Due to a lack of regulation, Uber can offer lower fees, so the service has become extremely competitive with traditional taxi services, expanding Uber's appeal to a broader cross-section of the market.