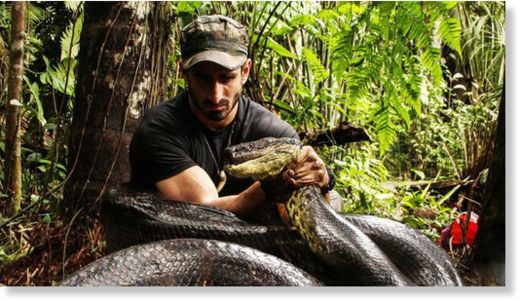 Some of you may have missed (or not!) the "very special episode" of
Eaten Alive
this past Sunday on the Discovery Channel, where a man named Paul Rosolie intended to be eaten alive by an anaconda and have it filmed for the world to see. I'm going to spoil the end result for you right now: he did not in fact get eaten alive.
What the viewing public got to see was a man, dressed up like Darth Vader, provoke a poor snake into attacking him and then 15 minutes later call it off when the pain from the constriction became too much (for the man, not the snake). Yes, amazingly, the snake at first wanted nothing to do with Paul. In
his own words
:
"When I went up to the snake, it didn't try to eat me right away. It tried to escape. And when I provoked it a little bit, and acted a little more like a predator, that's when it turned around and defended itself."
You couldn't really blame the snake, Paul. You're a member of the human race, that is collectively responsible for the extinction of thousands of animals and killings of untold snakes. This particular snake probably realized that you aren't exactly dinner material. But that doesn't matter, because advertising slots must be sold! So Paul attacked until the snake finally decided it had enough and fought back.