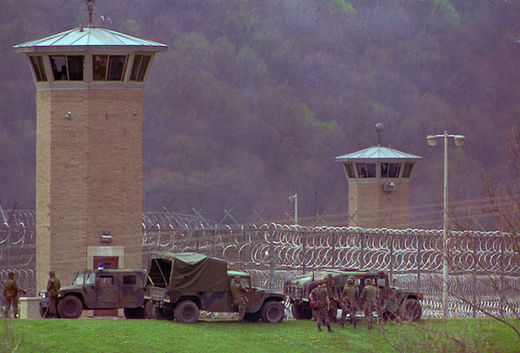 Siddique Hasan, his legs shackled to a chair, sat in the fourth-floor visiting room of the Ohio State Penitentiary, a
supermax prison
. The room, surrounded by thick glass windows, had a guard booth in the center and food vending machines flanking a microwave on one wall. There was a line of small booths, entered through a door behind Hasan, where families, including children, were talking to prisoners through plexiglass partitions.
A riot that occurred Friday has made a prison in Texas, the Willacy County Correctional Center, uninhabitable and forced a mass transfer of prisoners. According to a 2014 report by the American Civil Liberties Union, prisoners there complained of "severely crowded and squalid living conditions." Click here or here for more information about what happened there.
Hasan, 5 feet 10 inches tall, 52 years old, bearded and with wire-rim glasses, had a white
kufi
on his head. He wore a short-sleeve shirt over a long-sleeve shirt, light blue prison pants and white Nikes. His 209-pound frame was taut and compact, the result of an intense exercise regime. He has been on death row since he was convicted for his actions while leading, along with four others, the April 1993 uprising at the Southern Ohio Correctional Facility at Lucasville, Ohio. They are known as the Lucasville Five. The uprising saw prisoners take control of the prison for 11 days in protest against numerous grievances, including deaths that occurred allegedly from beatings by guards. It was one of the longest prison uprisings in U.S. history. By the time it was over, 10 people had been killed by prisoners, including a guard.