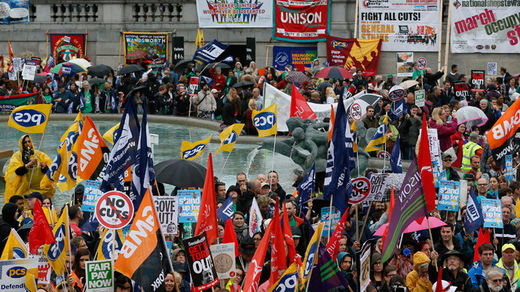 Striking public sector workers have caused widespread disruption to UK services including museums, courts and job centers, as a 24-hour national walk-out grips the nation.
Around 200,000 members of the Public and Commercial Services Union (PCS) are taking part in the nationwide action,
held in response to ongoing pay freezes and government cuts to the public sector
.
The union said many of its members have faced a 20 percent real terms pay cut since 2010, due to the government's pay freeze and a 1 percent raise cap. It further claimed that low-paid public sector workers are forced to claim in-work benefits in order to make ends meet.
The strikes come as a study for the Institute of Policy Research notes a fall in real term wages since 2008, which means workers are now on
average £5,000 a year worse off
.
The PCS feels the government is using the pay freezes to bolster tax-cuts, and that they are "
trying to slash public spending in order to pay for their millionaire friends
."
"We're dealing with a lot of hardship cases. People are having real difficulties in getting through the month. We are just trying to attempt to avoid a pay cut," Russell Carr, a PCS branch organizer, told RT on a picket line in London.