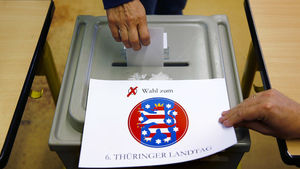 The eurosceptic 'Alternative for Germany' party got more than ten percent of the vote in the country's regional elections on Sunday, making the right-wing a growing threat for Chancellor Angela Merkel's conservatives.
The AFD party won 10.1 percent of the vote in Thuringia and 11.9 percent in Brandenburg, according to projections on Germany's ARD TV announced after voting ended at 6 pm Sunday (1600 GMT).
Two weeks ago, the party already won 9.7 percent in an election in Saxony. With this weekend's results, the AFD will now have seats in three state assemblies. According to predictions by political analysts, the party has a strong chance of entering Germany's federal parliament after the 2017 general election.
Founded in early 2013 to oppose eurozone bailouts, it was branded as a group of "unelectable mavericks" by the German political elite. Yet, the AFD won over seven percent of the vote in the EU elections in May, entering the 28-nation bloc's parliament.
The 52-year-old party leader Bernd Lucke said the recent results in two more eastern states add to the momentum of the party. "We're delighted that voters have made the choice for a political renewal," he told German TV.