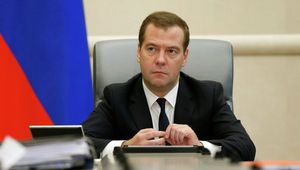 Russian Prime Minister Dmitry Medvedev expressed his concern Thursday over the disappearance of Rossiya Segodnya's Russian photographer Andrei Stenin (
#FreeAndrew
).
"Today,
we are all concerned
about the photographer from Rossiya Segodnya agency, Andrei Stenin, who
disappeared in Ukraine
, and we hope that he'll return home," Medvedev said at the opening of an exhibition in Moscow called
Looking Into War's Eyes
.
A Russian journalist working for Rossiya Segodnya International News Agency, Andrei Stenin, went
missing in eastern Ukraine on August 5
. Stenin's
current whereabouts are unknown
.
On August 9, Rossiya Segodnya
filed a request
with the Ukrainian Interior Ministry to take immediate action to locate the photographer.