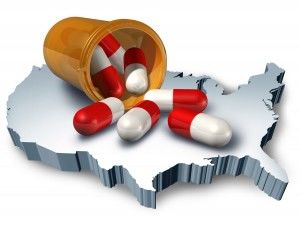 The authorities and experts from a number of States are ringing the alarm bells:
The United States is being swamped by the legal Prescription Drug Trade
, that is drugs and drug-containing medications purchased at pharmacies on prescriptions from doctors (i.e., prescription drug-containing medications - PDCM). A great number of people are involved in this criminal business. According to the management of the country's only specialized task unit that combats violations in the sphere of PDCM, the Drug Diversion Unit of the Police Department in Cincinnati,
the illegal sale of prescription drug-containing medications amounts to 30% of all drug trafficking in the United States
.
Street sale of these medications is carried out by so-called 'doctor-shoppers" who visit a dozen or more doctors a day in order to get prescriptions for the purchase of such medicines.
Sometimes when visiting a doctor they simply steal prescription forms, and then purchase the drugs at pharmacies in any quantity.
Drug addicts buy 2-3 pills of different PDCM, and prepare a dose for themselves, the efficacy of which is equal to heroin, but costs them no more than 10 US Dollars.
Health workers themselves are also rather active participants in this illegal business. For example, employees of the health care system usually make up one third of those arrested for criminal violations in this sphere by the police of Cincinnati alone. Experts of the National Association of Drug Diversion Investigators (NADDI) conclude that if there are so many health workers arrested for PDCM violations in Cincinnati, the severity of the problem in other cities, where there are no specialized units to combat this type of crime, can hardly be imagined. However, despite the scale of the disaster becoming an epidemic, according to experts of the NADDI, the Heads of State Police Departments use only a minor part of their capabilities to tackle it and focus the efforts of their staff primarily on combating the illegal street trade of heroin and cocaine, pushing back PDCM to second place.