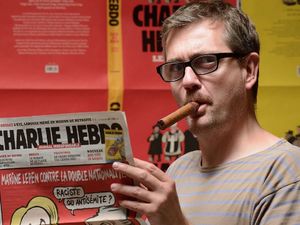 A founder of the
satirical French magazine Charlie Hebdo
has accused its editor, who was killed by masked gunmen last Wednesday, of "dragging the team" to its death by publishing provocative cartoons of the Prophet Mohamed.
Henri Roussel, 80, who contributed to the first issue in 1970 when the magazine was known as
Hara-Kiri Hebdo
, had written to editor Stéphane Charbonnier - who goes by the name "Charb" - to say of the divisive drawings: "I really hold it against you."
Referring to the editor's decision to print a drawing of Prophet Mohamed on the front cover in 2011, Mr Roussel - who publishes under the pen name Delfeil de Ton - wrote in this week's French magazine
Nouvel Obs
: "What made him feel the need to drag the team into overdoing it?",
The Telegraph reported
.