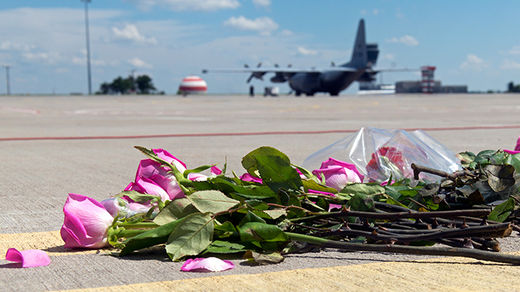 The bodies of the first victims from Malaysia Airlines flight MH17 have arrived back in the Netherlands following the crash in eastern Ukraine last Thursday.
Investigators say they have found no evidence that the black box recorder was tampered with.
The Dutch Safety Board said it took charge of the international investigation, adding that the "cockpit voice recorder was damaged but
the part that contains the data was intact
, nor was there any evidence or indication that [it] had been manipulated."
The authority said it would coordinate
a team of 24 investigators from Ukraine, Malaysia, Russia, Germany, the United States, the United Kingdom, Australia, and the International Civil Aviation Organization (ICAO)
. It added that four Dutch investigators are currently operating in Ukraine.
The board says it will now work on assessing the information it has downloaded from the black box, a process which will need more time. It said the examination of the airliner's other black box, the flight data recorder, would start on Thursday.
Experts have been downloading data from the Boeing 777's voice and data recorders at Britain's Air Accidents Investigation Branch since anti-Kiev militia forces, who control crash sites in eastern Ukraine, handed them over early on Tuesday.
The body said it would also conduct separate investigations into the decision-making processes behind flight routes and the availability of passenger lists.
"Despite the fact that evidence and traces have been damaged or lost, the Dutch Safety Board expects it will be able to gather sufficient relevant information from the crash site," the board said.