A controversial artwork in the centre of Paris said to resemble a giant green sex toy was apparently vandalised overnight Friday, after critics decried the 80-foot installation as a "humiliation" for the French capital.
Called "Tree", the piece by US artist
Paul McCarthy
was erected in Paris's upmarket Place Vendôme on Thursday as part of the
FIAC
international art festival which begins next week.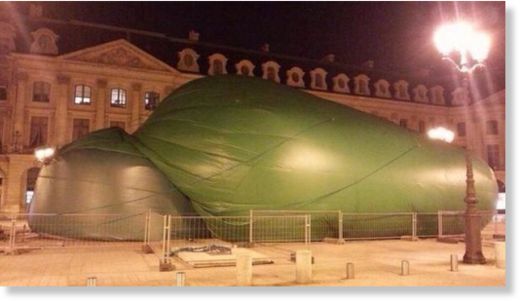 The inflatable artwork is intended to represent a Christmas tree, according to McCarthy, but has caused outrage among some due to its resemblance to an anal plug sex toy, prompting calls for city authorities to remove it.
Feeling has been so strong that McCarthy, 69, has said he was slapped three times in the face by a passer-by as the artwork was unveiled.
Some angry Paris residents now seem to have taken matters into their own hands, with photos posted on Twitter overnight Friday showing the installation lying on its side and looking limp and deflated after apparently being vandalised.