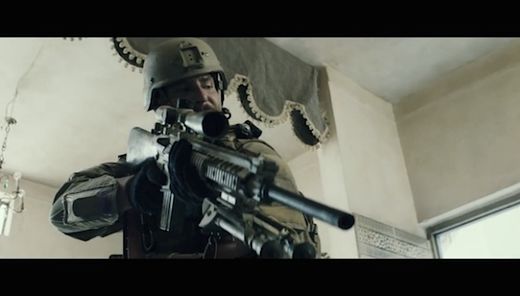 "American Sniper" lionizes the most despicable aspects of U.S. society - the gun culture, the blind adoration of the military, the belief that we have an innate right as a "Christian" nation to exterminate the "lesser breeds" of the earth, a grotesque hypermasculinity that banishes compassion and pity, a denial of inconvenient facts and historical truth, and a belittling of critical thinking and artistic expression. Many Americans, especially white Americans trapped in a stagnant economy and a dysfunctional political system, yearn for the supposed moral renewal and rigid, militarized control the movie venerates. These passions, if realized, will extinguish what is left of our now-anemic open society.
The movie opens with a father and his young son hunting a deer. The boy shoots the animal, drops his rifle and runs to see his kill.
"Get back here," his father yells. "You don't ever leave your rifle in the dirt."
"Yes, sir," the boy answers.
"That was a helluva shot, son," the father says. "You got a gift. You gonna make a fine hunter some day."
The camera cuts to a church interior where a congregation of white Christians - blacks appear in this film as often as in a Woody Allen movie - are listening to a sermon about God's plan for American Christians. The film's title character, based on Chris Kyle, who would become the most lethal sniper in U.S. military history, will, it appears from the sermon, be called upon by God to use his "gift" to kill evildoers. The scene shifts to the Kyle family dining room table as the father intones in a Texas twang: "There are three types of people in this world: sheep, wolves and sheepdogs. Some people prefer to believe evil doesn't exist in the world. And if it ever darkened their doorstep they wouldn't know how to protect themselves. Those are the sheep. And then you got predators."
The camera cuts to a schoolyard bully beating a smaller boy.