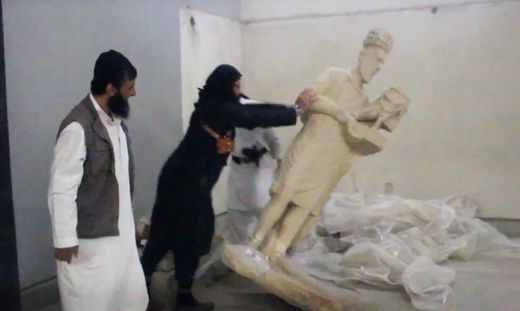 Whether they're authentic or not, videos of Islamic State militants destroying ancient artifacts at Iraq's Mosul Museum and elsewhere are "propaganda videos"
meant as "heritage terror,"
an Islamic art professor told RT.
The videos show men with sledgehammers knocking over statues, smashing antiquities and torching ancient writing. But
there are questions being raised about the authenticity of the videos, when it's known that the Islamic State (IS, formerly known as ISIS/ISIL) needs money to keep operating its terror campaign - and antiquities could fetch large sums of money on the black market.
Speaking to RT's Manila Chan, Dr. Stephennie Mulder, an associate professor of Islamic Art at the University of Texas at Austin, said the Islamic State's destruction of ancient artifacts in Iraq and Syria is
an act of propaganda
.
"This is a propaganda video that is
intended as an act of heritage terror. [ISIS] know this kind of action will cause alarm in the international community
," said Mulder. "It demonstrates their mastery over everything. Their mastery over the past and
it has a deep impact on the people of Iraq as well who cherish these objects
."