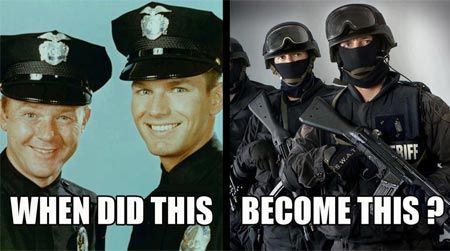 It seems more and more these days that if you think a loved one is in danger in America, calling the cops should be your absolute last possible resort.
Missourian Elbert Breshears recently
called for an ambulance
because his elderly wife, who suffers dementia, had endured an episode and knocked a window out of their home.
According to ABC affiliate
KSPR33
and unfortunately for Breshears, the cops showed up before the ambulance did:
"The wife and I were standing about here, that's the window she knocked out. I was standing here holding her hand and she was wavering hollering help," Breshears said.

When police got there,"police car drove up, he bailed out ran over and knocked me down. He told me to get up, I told him I couldn't," he explained.

That's when Breshears says police got aggressive. "First thing, I know they grab me, threw me out there on the gravel. One of them sat down on my back, the other sat down on my head. They were trying to get handcuffs on me. I told them I can't get my hands up. I have no objection to being handcuffed," says Breshears.

By then paramedics arrived. Breshears says he and his wife were taken to the hospital. A doctor looked him over. "He dug out the gravel out of my head and sewed my head up," he says.