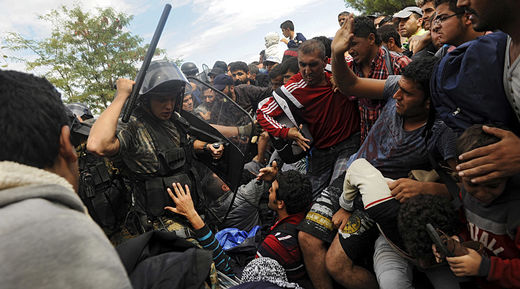 A large group of migrants, who have been prevented from entering Macedonia from Greece for the past week, overwhelmed border guards on Saturday afternoon, causing multiple injuries in the process.
AP reported that the unrest began when police, who let in 600 people between Friday night and Saturday morning, attempted to allow the most vulnerable - women and children - to pass the checkpoint.
As they made the crossing, thousands of men began to squeeze in from behind, and then rushed the checkpoint. Several women and children were caught in the crush, fainting and sustaining injuries.
Eyewitnesses reported that police, who had earlier used tear gas and rubber bullets to fend off the migrants, threw two stun grenades into the crowd, but could not prevent the influx.
It was estimated that 5,000 people, mostly from Afghanistan, Syria and other Middle East states had gathered at a crossing near the village of Gevgelija.