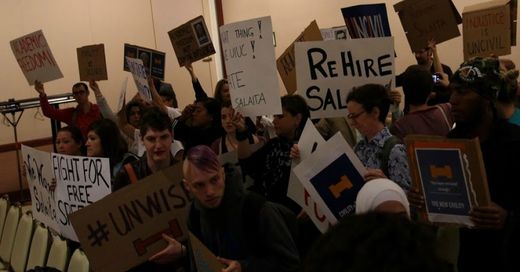 The board of trustees of the University of Illinois voted Thursday to reject the appointment of
Steven Salaita
as dozens of student and faculty supporters of the professor packed the meeting room at the Urbana-Champaign campus.
Before and immediately after the vote, The Electronic Intifada questioned top university officials on video, including the president, chancellor, board chair and several trustees, about the apparent influence of pro-Israel donors on the decision to fire Salaita.
Salaita has
expressed
"disappointment" in the decision, stating, "I am speaking with my attorneys about my options."
Lone dissenter
A lone trustee,
James D. Montgomery
, voted in favor of Salaita's appointment.
Regarding Salaita's tweets, Montgomery, the only university official who did not evade questions, told The Electronic Intifada that it was "pretty clear that some of those opinions were justified and probably most of the people in this room would agree with the opinions in terms of the tragedy that is going on between Israel and Gaza."