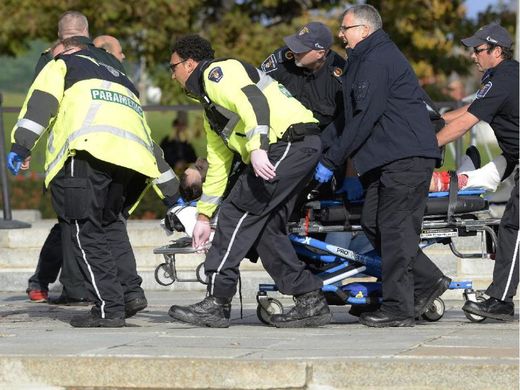 I'm not one to hastily jump to conclusions about events like these, but
the alleged shooting
at the Canadian parliament and a nearby war memorial that took place today smells like a false-flag operation
designed to expedite the Harper regime's militarist agenda.
The mainstream media is in a furor over the incident.
Non-stop wall-to-wall coverage has commenced.
Even American and British outlets have picked up the story.
One very noticeable clue as to the fraudulent nature of this event is the
immediate calls from establishment propagandists for a crack down on free speech (what they call "hate speech") and the bolstering of Orwellian "anti-terrorism" laws which will in effect hand the state unlimited powers to spy on the citizenry of Canada and snuff out dissidents.
For example, the former CSIS Assistant Director Ray Boisvert
said this
on CBC:
"We need to get at those who are the purveyors of hate. So those who proselytize, those who are radicalizing, we need to find ways to go after them with respect to hate speech or perhaps its time for new legislation under the anti-terrorism act as we're seeing in the UK."
The former Canadian spy boss essentially echoed what British PM David Cameron said in a UN speech last month wherein he
called for "non-violent extremists" to be criminalized.
The traitorous British statesman specifically named 9/11 and 7/7 skeptics as falling within his dubious definition of "non-violent extremists."