Comment:
In 2006, after the AngloZionist
failure
in Lebanon and after a prolonged aerial bombardment resulting in thousands of civilian deaths, the US began its "redirection" policy and opted to use insurgencies, sectarianism, colour revolutions, and intensified covert operations. ISIS is nothing but a continuation of that policy.
The following excerpt is from:
Subverting Syria: How CIA Contra Gangs and NGO's Manufacture, Mislabel and Market Mass Murder
2007: Seymour Hersh reveals in The New Yorker that U.S., Israel, Saudi Arabia and Hariri in Lebanon as well as the Syrian arm of the Muslim Brotherhood were assembling, arming, training, and heavily funding a front of sectarian extremists front, many of them with direct ties to Al Qaeda, to unleash in both Lebanon and Syria. The goal was to create and exploit a sectarian divide between Sunni and Shi'a Muslims. Hersh interviewed intelligence officers who expressed concerns over the "cataclysmic conflict" that would result, and the need to protect ethnic minorities from sectarian atrocities. The report foresaw that extremists would be logistically staged in northern Lebanon, where they would be able to cross back and forth into Syria.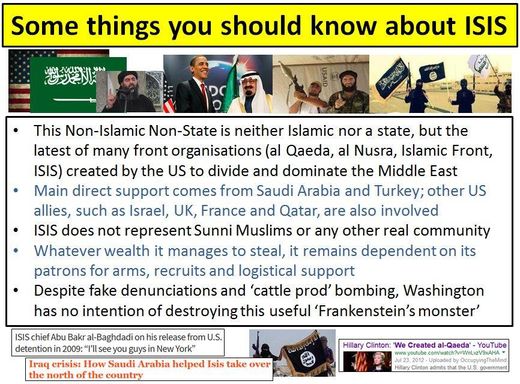 Sir John Baggot Glubb, better known as Glubb Pasha, was one of the modern Mideast's most colorful and romantic figures. He and "Chinese" Gordon of Khartoum were the last of the great British imperial officers.
Seconded by Britain to its protectorate, the Hashemite Kingdom of Jordan, Glubb built up its small Bedouin army, the Arab Legion, into the Arab world's finest military force.
Glubb's Arab Legion would likely have defeated Israel's forces in the 1948 Arab-Israeli War had Britain and Jordan's double-dealing king Abdullah not blocked the Legion's advance, as Glubb Pasha bitterly recalled in his memoirs.
When asked which of his many medals and honors he valued most, Glubb surprisingly replied , "Defender of the Shepherds of Iraq, " This obscure award was conferred upon Glubb by the King of Iraq when Sir John commanded the Iraq Border Constabulary during the 1930's.
Glubb Pasha and his men had waged a long campaign against the Ikhwan of Saudi Arabia. The Ikhwan (Brotherhood) was a collection of fanatical Saudi tribesmen imbued with the puritan desert creed of Wahabism. They saw all non-Wahabi Muslims as infidels (kufr), fair game to be robbed or killed. Even the king of Saudi Arabia failed to control the marauding Ikhwan.
Eight decades later, the Ikhwan is back, this time with heavy weapons. Instead of camels and horses, its men are riding Toyota Land Cruisers and American Humvees captured from Iraq's puppet army. The Ikhwan in Syria and Iraq now calls itself, the Islamic State.