Following the posting on the Central Bureau's Transient Object Confirmation Page about a possible Nova in Centaurus (TOCP Designation:
PNV J13544700-5909080
) we performed some follow-up of this object remotely through the 0.50-m f/6.8 astrograph + CCD + focal reducer of
iTelescope
network (MPC Code Q62 - Siding Spring, AU).
On our images taken on December 03.68, 2013 we can confirm the presence of an optical counterpart with unfiltered CCD magnitude ~5.0 at coordinates:
R.A. = 13 54 45.22, Decl.= -59 09 04.5 (equinox 2000.0; UCAC-3 catalogue reference stars).
According to Vizier the nearest star (located at 1.538 arcsecond from the transient) to this position in the USNO-B1.0 catalogue is:
USNO-B1.0 0308-0442031 (J2000) 13 54 45.374 -59 09 03.52 mag. B2=15.52 R2 =15.12
Our confirmation image (click on it for a bigger version):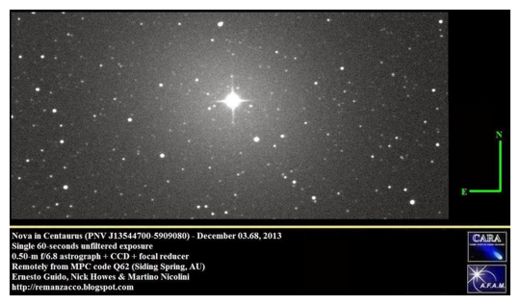 Here is an animation
showing a comparison between our confirmation image and the archive POSS2/UKSTU plate (R Filter - 1999).