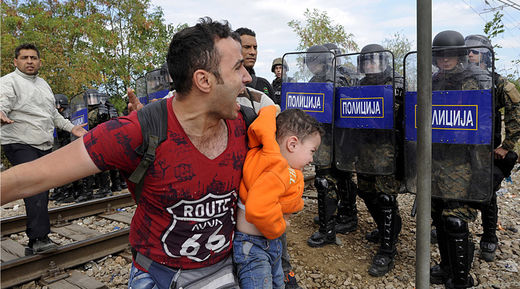 The 'immigration crisis' in Europe continues to worsen as a result of Western-instigated chaos in the Middle East and African countries. Several EU nations are facing a drastic influx of desperate people, with little resources available to help them.
Approximately 39,000 migrants, mostly Syrians, passed through Macedonia in July - twice June's figures. This is an alarming number and Macedonia is running out of trains to transport these people onward to the European Union. Not that they will fare much better there. On Thursday the country declared a state of emergency and Macedonian police
used tear gas and stun grenades
against these desperate people, injuring several. The border has been sealed with razor wire around the town of Gevgelija, where approximately 3,000 to 4,000 people, including children, are stranded. Is this how desperate men, women and children from Syria, Afghanistan, and Iraq - countries that have been ravaged by NATO's wars of aggression - should be treated by NATO member states?

"Several people were injured when hundreds of men, women and children tried to board a train to Serbia, the nearest country to the European Union (EU) member-state of Hungary, at the station of Gevgelija in Macedonia, Friday."