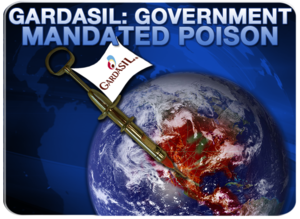 Gardasil, the human papilloma­virus vaccine produced by Merck, was brought to market in 2006 with great fanfare, widely proclaimed as the first ever anticancer vaccine. Having gained a strong foothold due to fast-tracking by the FDA and rushed to market ahead of completed safety studies and ahead of its competitor, Gardasil was already an entrenched, recommended vaccine by the time it was approved.
1
Merck created a market for Gardasil out of thin air with deceptive and dishonest advertising
, and thereby planted fear in the mind of consumers: fear of an unknown health crisis, an invisible time bomb waiting to explode and harm women everywhere.
2
When criticized for its aggressive marketing, Merck countered that it was performing a public service by raising awareness about the human papillomavirus and wasn't selling anything.
3
Really?
This lie became public as Merck was caught lobbying the 50 states for mandatory Gardasil vaccination prior to FDA approval.
4
The fact is that there was never a need for Gardasil in the first place: regular Pap testing had already lowered the incidence of cervical cancer by 80% in the US to a few thousand cases a year, and the vast majority of all HPV infections resolve of their own accord.
5
But by lining the coffers of such groups as Women in Government (WIG), National Foundation for Women Legislators (NFWL), National Conference of State Legislatures (NCSL), and, of course, the American Legislative Exchange Council (ALEC),
Merck was able to influence legislation such that almost immediately after the vaccine was approved, it was part of the vaccine schedule recommended for all girls.
6
If it hadn't been for Governor Rick Perry's blatantly self-serving blunder of trying to mandate Gardasil for school attendance in Texas in the face of huge conflict of interest and a $50 million contribution to his presidential campaign, Gardasil might have gone even further.
7