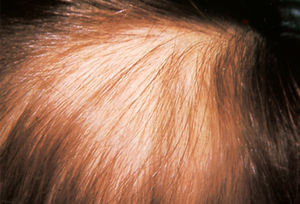 According to the American Academy of Child and Adolescent Psychiatry, Trichotillomania is defined as "the medical term for severe hair pulling." In 1889 French dermatologist, François Henri Hallopeau, first coined the term after witnessing a boy pull out patches of his own head hair. Trichotillomania stems from the Greek prefixes:
thrix (hair), tillein (to pull) andmania (madness).
Hair pulling is a misunderstood and understudied psychological compulsion that is said to affect a recorded
four percent of people
and
1.2 percent of Americans today
. As many as
one in 100
Americans suffer from trichotillomania, and the disorder is
four times
more likely to affect women than men.
However, those numbers are probably much higher, because most people do not just openly admit they pull their hair, and may suffer in secret for years.