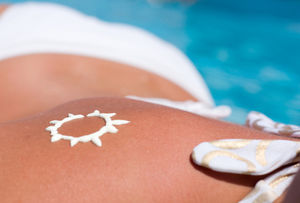 Summer is fast approaching. It is a time when I see fear rampant on the beach in the form of slathering chemicals on our children's skin or covering them from head to toe. We don't want them to get cancer from the sun, do we?? So we do our due diligence and cover ourselves and our children with whatever our conscience allows.
But what if the sun really doesn't cause skin cancer?
Oh, I know we've been told for years that the depletion of the ozone layer decreases our atmosphere's natural protection from the sun's supposedly "harmful" ultraviolet (UV) rays.
We've been told that these rays damage the skin's cellular DNA which then produce genetic mutations that can lead to skin cancer. And of course the US Department of Health and Human Services and the World Health Organization both have identified UV light as a proven human carcinogen. The CDC even tells us a few serious sunburns can increase your child's risk of getting skin cancer. Pretty scary stuff, huh? No wonder we cover ourselves and our children with chemicals or clothing - we'd be a fool not to!