Following is a fascinating interview with Dr. Mitchell Gaynor, a leading oncologist who has pioneered new strategies for the treatment and prevention of cancer. Dr. Gaynor, author of the book
The Healing Power of Sound
,
actively uses sound in his integrative oncology practice. This interview was reprinted with permission from Mr. Bill Thompson. It should be noted here that singing bowls are horizontal gongs. More information about sound healing can be found here.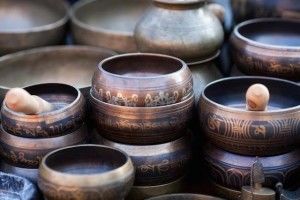 NT
: How did you discover Tibetan "singing" bowls and their usefulness in healing?
Gaynor
: Well, I took care of a Tibetan monk in 1991. I'm a cancer specialist and also a hematologist and I had been working with guided imagery and meditation with my patients since the mid-1980's. I was actually asked to see this Tibetan monk at Cornell Medical Center for a routine medical problem which was anemia. But he was suffering from a very severe disease that was destroying his heart muscle called cardiomyopathy. I talked with him about what we could do for his anemia and what diagnostic work-up we'd do.