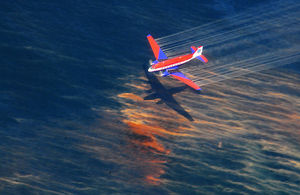 On April 19, 2013, GAP released "Deadly Dispersants in the Gulf: Are Public Health and Environmental Tragedies the New Norm for Oil Spill Cleanups?" The report details the devastating long-term effects on human health and the Gulf of Mexico ecosystem stemming from BP and the federal government's widespread use of the dispersant Corexit, in response to the 2010 Deepwater Horizon oil spill.
GAP teamed up with the nonprofit
Louisiana Environmental Action Network (LEAN)
to launch this effort in August 2011 after repeatedly hearing from Gulf residents and cleanup workers that official statements from representatives of BP and the federal government were false and misleading in the wake of the Deepwater Horizon disaster. Over the next 20 months, GAP collected data and evidence from over two dozen employee and citizen whistleblowers who experienced the cleanup's effects firsthand, and GAP studied data from extensive Freedom of Information Act (FOIA) requests. Taken together, the documents and the witnesses' testimony belie repeated corporate and government rhetoric that Corexit is not dangerous. Worse than this,
evidence suggests that the cleanup effort has been more destructive to human health and the environment than the spill itself.
Conclusions from the report strongly suggest that the dispersant Corexit was widely applied in the aftermath of the Deepwater Horizon explosion because it caused the false impression that the oil disappeared. In reality,
the oil/Corexit mixture became less visible, yet much more toxic than the oil alone.
Nonetheless, indications are that both BP and the government were pleased with what Corexit accomplished.
The report is available here:
Part One
,
Part Two
,
Part Three
. You can download an Executive Summary of the report
here
.
Additional report exhibits are on file with GAP.