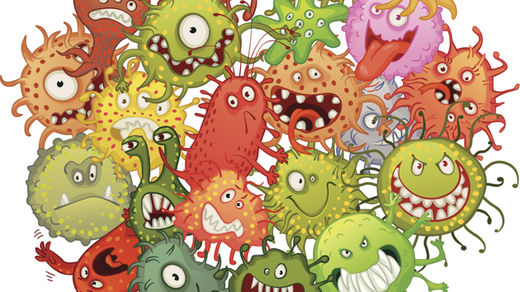 We're told that tweaks to the microbiome can cure everything from allergies to Ebola. Not exactly, say experts.
In 2001, Joshua Lederberg, a Nobel Prize-winning biologist, coined the term "microbiome," naming the trillions of microorganisms that reside in and on our bodies. Today, if you type that word into Google, you'll turn up thousands of hits linking gut bacteria to a laundry list of health problems, from
food allergies
to
Ebola
. Between 2007 and 2012, the number of journal articles published on the microbiome increased by nearly 250 percent. Our bodily inhabitants are quickly being cast as culprits or saviors for a diverse array of ailments.
The hype has kicked off a gold rush. Big food companies - including Nestle, PepsiCo, Monsanto, and General Mills - have funded gut bacteria
studies
, and some have even
opened
centers to develop foods that interact with the microbiome, such as
probiotics
. According to
Transparency Market Research
the global probiotics market is expected to reach an astonishing $45 billion by 2018.