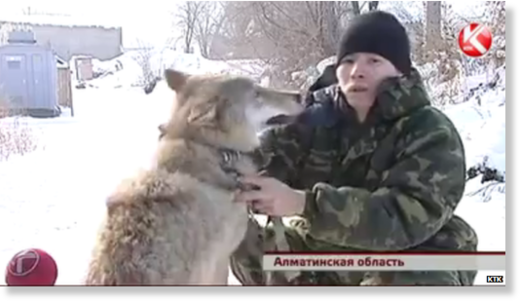 Villagers in Kazakhstan are increasingly turning to an unusual animal to guard their land - wolves, it's been reported.
"You can buy a wolf cub for just $500 (£320), they say, and hunters are adamant that if treated well the wild animal can be tamed," the
KTK television channel reports
. Nurseit Zhylkyshybay, from the south-eastern Almaty region, tells the channel he bought a wolf cub, Kurtka, from hunters three years ago, and the animal is perfectly happy wandering the yard of his house. "He's never muzzled, I rarely put him on a chain and do take him for regular walks around the village. Our family and neighbours aren't scared of him at all," Mr Zhylkyshybay insists. "If the wolf is well fed and cared for, he won't attack you, although he does eat a lot more than a dog."