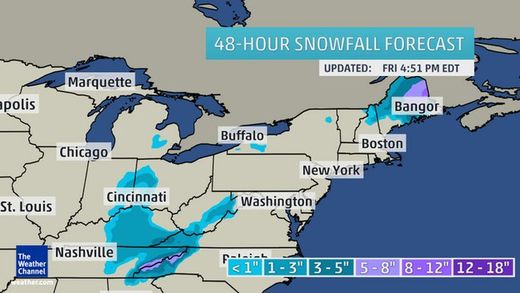 Winter storm warnings and winter weather advisories are posted for parts of the Appalachians and snow advisories are in effect in the Great Lakes as the season's first snow targets those areas from Halloween into the weekend.
As of Friday morning up to
8 inches
of snow fell in Winchester, Wisconsin and near Three Lakes, Michigan. Wind gusts up to 60 mph have also been reported in parts of Michigan.
Snow Timing
Given the expected intensity of a southward plunge of the jet stream and the magnitude and depth of cold air pulled with it, we're not simply talking about chilly rain showers, but also accumulating snow for some as well as the first flakes of the season for others.
- Friday:
The cold front plunges through the Great Lakes early, then through the Ohio Valley and Appalachians. Rain will mix with, or changeover to wet snow in parts of Michigan and Wisconsin and spread to the Ohio Valley and Appalachians later in the day into the night. Bands of lake-effect rain or snow will also set up.
- Saturday:
Additional snow will fall over the Appalachians and parts of the piedmont from east Tennessee and western North Carolina (possibly Upstate South Carolina) north to at least West Virginia. Some wet snow may also linger in parts of eastern Lower Michigan, Ohio, western Pennsylvania, western New York. Snow may develop later in parts of northern New England.
-
Sunday:
Snow, possibly heavy, in parts of northern New England and gusty winds are expected as well.