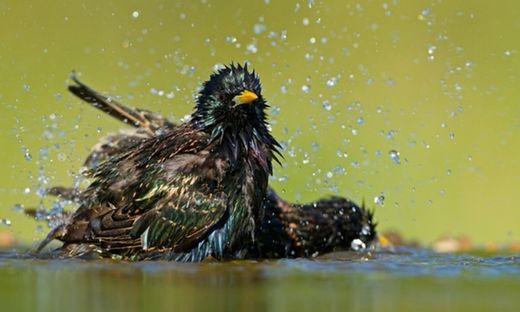 Behaviour could be one cause of the unusual drownings of the birds in large groups in England and Wales
Starlings have been consistently drowning in large groups in a phenomenon yet to be fully explained by scientists
, according to new research led by the Zoological Society of London (ZSL).
In 12 separate incidents recorded between 1993 and 2013 in England and Wales, starlings were found drowned in groups of two to 80. In 10 cases, at least 10 starlings were found drowned at a time, the research published in the journal
Scientific Reports
on Wednesday shows.
One expert said that the
mass mortalities were "really unusual", with drowning considered a rare cause of death among wild bird populations and normally only recorded as affecting individual birds.
Records since 1909 of 800,000 ringed birds from 79 species reveal that drowning was more commonly recorded as a probable cause of death in starlings than in any other species.
Post mortems revealed
no evidence that underlying disease had been a factor in the incidents
which all occurred during the summer and spring months and concerned juvenile birds in most cases.