For almost as long as we've had civilization, we've lost it. There are records going back hundreds of years of explorers discovering huge temples encrusted with jungle, or giant pits full of treasure that were once grand palaces. Why did people abandon these once-thriving cities, agricultural centers, and trade routes? Often, the answer is unknown. Here are ten great civilizations whose demise remains a mystery.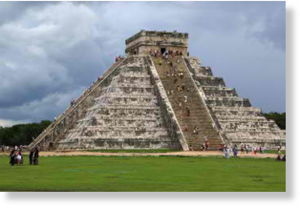 1. The Maya
The Maya are perhaps the classic example of a civilization that was completely lost, its great monuments, cities and roads swallowed up by the central American jungles, and its peoples scattered to small villages. Though the languages and traditions of the Maya still survive up to the present day, the civilization's peak was during the first millennium AD, when their greatest architectural feats and massive agricultural projects covered a vast region in the Yucatán - today, an area stretching from Mexico to Guatemala and Belize. One of the largest Mesoamerican civilizations, the Maya made extensive use of writing, math, an elaborate calendar, and sophisticated engineering to build their pyramids and terraced farms. Though it's often said that the Maya civilization began a mysterious decline in roughly the year 900, a great deal of evidence points to
climate change in the Yucatán
combined with
internecine warfare
, which resulted in famine and abandonment of the city centers.