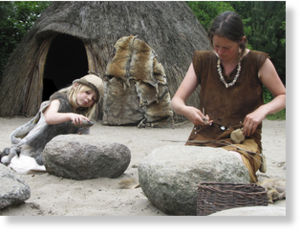 An early prehistoric hearth has been discovered on the planned construction site for a branch of major British supermarket chain Sainsbury's
The charcoal remains, excavated from the site in Nairn, a town in the Scottish Highlands, date back to the Mesolithic period (10,000 to 4000 BC). They are believed to have been a temporary travelling stop rather than a settlement, due to the absence of any further Mesolithic findings at the site.
"An extremely large quantity of wood charcoal fragments was recovered from the hearth. The size of the fragments suggests either deliberate deposition or in-situ burning," said Headland Archaeology, who carried out the excavation, in a report.
Archaeologists used carbon-dating of the charcoal to determine the age of the hearth. However, dating a site from this particular substance is problematic, due the potential time lag between the felling of the tree and the burning of the material, the report said.