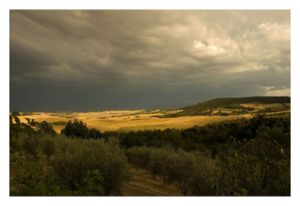 Seattle - The death of an infant may not have been an occasion for mourning in ancient Italy, according to archaeologists who have found baby bones scattered on the floor of a workshop dating to the seventh century B.C.
The grisly finds consist of bone fragments uncovered over years of excavation at Poggio Civitate, a settlement about 15 miles (25 kilometers) from the city of Siena in what is now Tuscany. The settlement dates back to at least the late eighth century B.C. Archaeologists excavating the site have found evidence of a lavish residential structure as well as an open-air pavilion that stretches an amazing 170 feet (52 meters) long. Residents used this pavilion was as a workshop, manufacturing goods such as
terracotta
roof tiles.
In 1983, scientists uncovered a cache of bones on the workshop floor, consisting mostly of pig, goat and sheep remains. But among the bony debris was a more sobering find: two arm bones from an infant (or infants) who died right around birth.
In 2009, another baby bone surfaced at the workshop, this one a portion of the pelvis of a newborn. [
See Images of the Infant Bones
]
The bones "were either simply left on the floor of the workshop or ended up in an area with a concentration of discarded, butchered animals," said Anthony Tuck, an archaeologist at the University of Massachusetts, Amherst, who presented an analysis of the bones Friday (Jan. 4) at the annual meeting of the Archaeological Institute of America.