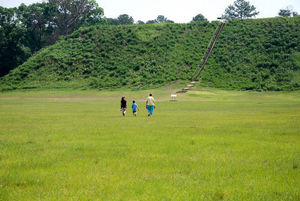 Around 200 AD Indians in Florida and Georgia began the construction of enormous earthen pyramids. At the same time corn also arrived in Florida. Corn is a native crop of Mexico and archaeologist William Sears, who first discovered this evidence of corn agriculture in Florida, argued in his
book
that it must have come from Mexico or Central America.
One such earthen pyramid was constructed in the Florida panhandle at a site known today as the
Letchworth-Love Mounds
. This "mound," or more accurately "earthen pyramid," is the tallest such earthwork in Florida at over 46 feet high. Pottery collected from this site was mostly of a variety known as Weeden Island. Weeden Island pottery contains many designs and motifs which appear Mesoamerican in orign. Weeden Island pottery likely evolved from another type of pottery known as Swift Creek which was also decorated with a series of designs and symbols which several researchers have noted have a Mesoamerican-appearance.
Across the border in Georgia another huge earthen pyramid was also constructed at the same time as Letchworth. The site, known as
Kolomoki Mounds
, also features large collections of both Swift Creek and Weeden Island pottery. The archaeologist who recently studied the site noted in his book,
Kolomoki: Settlement, Ceremony & Status in the Deep South
, that Kolomoki was the most populated settlement north of Mexico during its time period. The large pyramid at Kolomoki has a base larger than a football field and rises 57 feet high.