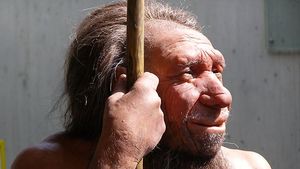 Anthropologists have dealt a blow to theories that
Homo sapiens
and Neanderthals interbred, bequeathing humans today with some of the genetic legacy of their mysterious cousins.
Over the last two years, several studies have suggested that
Homo sapiens
got it on with Neanderthals, an enigmatic hominid who lived in parts of Europe, Central Asia and the Middle East for up to 300,000 years but vanished 30-40,000 years ago.
The evidence for this comes from fossil DNA, which shows that on average Eurasians and Asians share between 1 per cent and 4 per cent of their DNA with Neanderthals, but Africans almost none.
But a new study by scientists at Britain's University of Cambridge says the shared DNA came from a shared ancestor, not from "hybridisation" or reproduction between the two hominid species.