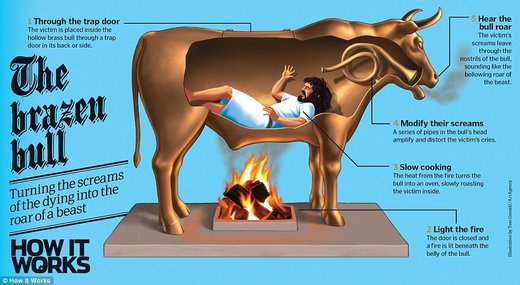 From brutal torture devices to bizarre medical treatments, these terrifying contraptions reveal a darker side to innovation.
They show how inventors throughout history have put their skills and intellects to use in horrifying ways, creating contraptions that have caused unimaginable suffering.
The feature, first published in
How It Works
magazine, highlights some heinous inventions used in torture, war and medicine.
In the past, a punishment much worse than a long prison sentence awaited criminals.
From boiling people alive to sawing them in half, execution methods were often developed to be as cruel as possible and these gruesome events were usually carried out in public to deter others from following in the footsteps of the accused.
Even if people weren't sentenced to death, there were plenty of ghastly implements that could be used to torture them. Typically used to extract a confession or information about accomplices, torture was popular in medieval times, with the screams of victims echoing from castle dungeons across Europe.
War has also inspired a wide selection of horrific innovations. While guns and bombs were designed to kill instantly, chemical weapons could draw out death for several agonising days - thankfully, this form of warfare is now prohibited.
We are also lucky that some medical devices from history are no longer used. Despite being designed with good intentions, many medieval procedures were truly stomach-churning, making a trip to the doctor quite the ordeal.
Cruel Methods Of Execution
One of the most brutal methods of execution ever created took the form of a hollow bull statue.Invented in ancient Greece by Perillus, a bronze worker in Athens, it was given as a gift to a cruel tyrant named Phalaris of Agrigentum.As well as roasting criminals alive, the device also doubled as a musical instrument, converting the victim's desperate cries into what Perillus described as 'the tenderest, most pathetic, most melodious of bellowings'.