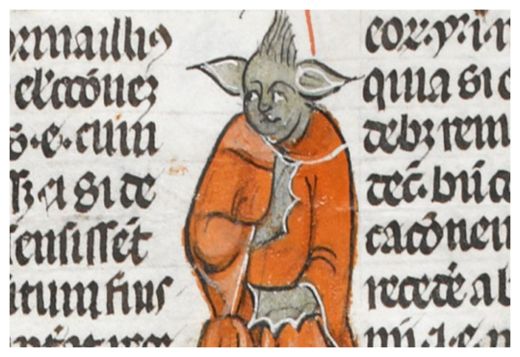 In most versions of the Biblical story of Sampson, the ancient Israelite gained incredible strength through his hair, but if a 14th century image currently making the rounds on the Web is accurate, he might have also had some help from a certain Jedi master.
It's hard to deny that this illustration of a monk bears a striking resemblance to the popular
Star Wars
character Yoda, as
Mashable
pointed out on Thursday. Yoda was spotted in the Decretals of Gregory IX with gloss of Bernard of Parma (also known as the
Smithfield Decretals
) by historian Damien Kempf while he was researching for his book
Medieval Monsters
.
According to the website, Kempf said during a recent interview that he "actually couldn't believe it" when he spotted the Yoda-like monk in a 700-year-old manuscript. Julian Harrison, curator of pre-1600 historical manuscripts at the British Library, told
NPR
that the artist who illustrated the manuscript "clearly had a vivid imagination."