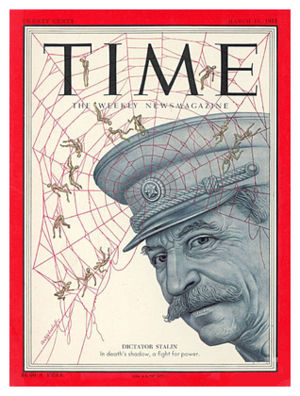 We have long maintained that the truth about the USSR, in general, and particularly the Stalin period, has long been the object of the most cynical, mean-spirited, and comprehensive propaganda effort ever seen in the annals of history.
For reasons of sheer class interest among the plutocrats of the West, the business elites that still rule most of the so-called "capitalist democracies," the demonization of Stalin was a necessity, a campaign only briefly interrupted by World War Two and quickly resumed literally a few hours after its ending.
The Western elites —with the American ruling circles in the lead—correctly saw an enemy in Stalin.
They could not bribe him and they could not intimidate him. Nor could they easily topple him, as they had done (and still do) countless times with weaker, "inconvenient leaders." What's more, Stalin was at the helm of a powerful nation and titular leader of an ideology directly opposed to their indispensable economic system.
Occasional diplomacy aside, they hated him. He and his nation stood in the way of their plans for global hegemony. So the the venom had to flow and did—abundantly. And in that sordid enterprise the capitalist elites found countless allies, not to mention the usual battalions of ignorant, useful idiots.
As any propaganda student will attest, when vilifying a nation's policies and social values, it's far easier (and effective) if the propagandist aims the Big Lie machine at its leader. As we have seen in recent times with Gaddafi, Saddam Hussein, Bashar al-Assad, Fidel Castro, Iran and North Korea's leaders, Venezuela's Hugo Chavez, and finally Putin—among many others (the empire is never lacking in "dangerous enemies")—
the character assassination of a leader is an old tactic to prepare the perennially benighted home population for an attack on the targeted nation.
From this perspective it's not difficult to see that if the Ministry of Truth could swiftly complete the total demonization of Vladimir Putin—a figure in good standing merely 3 years ago—and not even an avowed socialist, one can only imagine what outrageous fabrications they could have concocted (and did) to cordon off the image of Stalin, an outspoken communist, over several decades. This made eminent sense to the West's doctrinal gatekeepers. Given the identification of Stalin's long rule with the Soviet Union at its most embattled, the blackening of Stalin's name served an important purpose: it provided the Western propagandists an invaluable shorthand—an "irrefutable symbol" of communism's putative evil—to block the very idea of genuine socialism as an option for humanity.