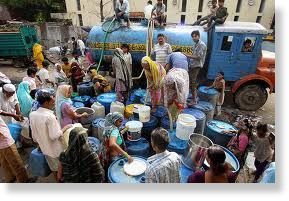 Large parts of New Delhi were struggling with acute
water shortages
on Friday after a neighbouring state cut its supplies at the peak of summer, officials said.
The sprawling Indian capital, with a population of 16 million sweltering in 43 degree C (109.4 F) summer heat, relies on four neighbouring states for its water -- Haryana,
Uttar Pradesh
, Punjab and Uttarakhand.
Haryana, the biggest supplier, cut its flow to the city on Thursday and about three million people have suffered shortages or been completely cut off, according to the Delhi Jal Board, a government agency responsible for water supply.