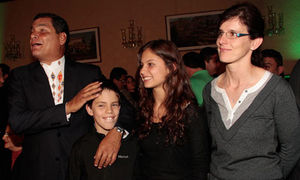 Ecuador's president Rafael Correa has been elected to a third term in power.
The leftwing incumbent, who first took office in 2007 and was re-elected in 2009, won 58% of the vote, well ahead of his closest challenger, former banker Guillermo Lasso, with 24%.
A beaming Correa appeared on state TV hugging jubilant supporters at the Carondelet presidential palace less than an hour after polls closed. "This victory is yours. It belongs to our families, to our wife, to our friends, our neighbours, the entire nation," Correa said. "We are only here to serve you. Nothing for us. Everything for you, a people who have become dignified in being free."