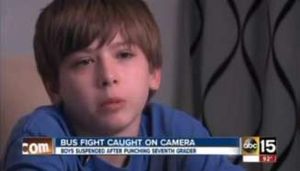 Seventh-grader Parker Brockman was recently beat up on a bus while returning home from Sunrise Middle School in Scottsdale, Arizona.
Instead of helping Brockman, other kids on the bus started recording the attack by two brothers, reports the
NY Daily News
.
Brockman told KNXV-TV that one of the brothers "was insulting me, cussing at me, saying 'hit me.' He was literally telling me to punch him the whole time. After a while I swung a few punches."
After goading him into a fight, the unidentified brothers started hitting him.
Brockman said: "They were basically on top of me trying to punch my face."
Finally
, the bus driver stopped the vehicle and broke up the fight.