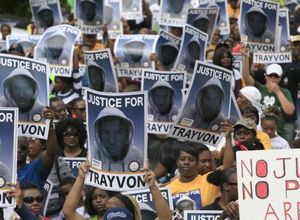 Protesters have taken to the streets in the US as black community leaders demanded that the authorities pursue a federal civil rights case against George Zimmerman, who shot dead Trayvon Martin but was acquitted of the teenager's murder.
In Los Angeles,
police fired non-lethal - bean bag - baton rounds after demonstrators threw rocks and batteries at officers
. One person was arrested but police emphasised that most of the protesters were peaceful. Streets were closed off in the city, as well as in San Francisco, where people marched to condemn Zimmerman's acquittal.
In New York, hundreds of protesters marched into Times Square on Sunday night after starting out in Union Square, zigzagging through the streets to avoid police lines. Marchers carried signs and chanted "Justice for Trayvon Martin!" and "No justice, no peace!" as tourists looked on. Beyoncé called for a moment of silence for Trayvon during a concert in Nashville, Tennessee, while
rapper Young Jeezy released a song in Trayvon's memory
. Protests have been relatively small in scale so far, easing fears that violent unrest would follow the widespread outrage over the verdict.