Rates of thyroid problems in children near the nuclear plant are high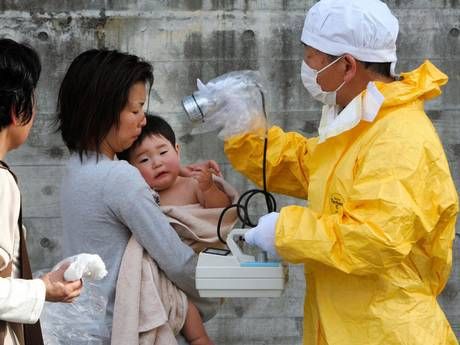 Like most fathers, Yoji Fujimoto frets about the health of his young children. In addition to normal parental concerns about the food they eat, the air they breathe and the environment they will inherit, however, he must add one more: the radioactive fallout from a nuclear disaster.
Three days after meltdown began at the Fukushima Daiichi nuclear plant on 11 March 2011, Mr Fujimoto moved his two daughters, then aged four and three, to safety hundreds of kilometres away. Last December, the eldest of the two was diagnosed with adenoidal cysts, the prelude to a type of cancer that often strikes the salivary glands. "I was told by the doctor that it's very rare," he says.
Although Mr Fujimoto and his family were in Chiba Prefecture, over 60 miles (100km) from the plant and in the opposite direction from the worst of the fallout, he believes his daughter inhaled enough radiation to cause her illness. "I'm convinced this is because of the Fukushima accident."
The United Nations said last week it did not expect to see elevated rates of cancer from Fukushima, but recommended continued monitoring. The report by the UN Scientific Committee on the
Effects of Atomic Radiation
said prompt evacuation meant the dose inhaled by most people was low. Tokyo Electric Power Co, operator of the Daiichi plant, estimates the final tally for escaped radiation at 900,000 terabecquerels, about one-fifth the amount released by the Chernobyl accident in 1986. Most was vented in the first three weeks.
The precise impact of this radiation is bitterly contested, but at least one finding from Chernobyl seems consistent - elevated rates of thyroid cancer in children. The Chernobyl Forum, a 2003-05 UN-led study, cited close to 5,000 cases of thyroid cancers among those exposed under the age of 18 in the most affected areas, probably from drinking contaminated milk. Many scientists believe it takes four to five years for the cancers to develop.