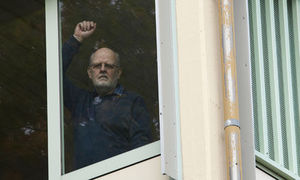 It reads like a real-life Scandinavian crime novel. In the 1990s, Thomas Quick confessed to more than 30 murders, making him Sweden's most notorious serial killer. Then, he changed his name and revealed his confessions were all faked
Sture Bergwall resides in a psychiatric hospital for the criminally insane three hours' drive north of Stockholm. A high wire fence circles the building. CCTV cameras track the movements of the outside world. The narrow windows - some of them barred - are smudged with dirt and thick with double-glazed glass. In order to visit, you must enter through a succession of automatically locking doors and walk through an airport-style security gate. You must leave your mobile phone in a specially provided locker and hand over your passport in return for an ID tag and a panic alarm. Two members of staff, wearing plastic clogs that squeak across the linoleum, escort you through the corridors.
In the visitors' room, Bergwall sits straight-backed on a small red chair, dim light glinting off rectangular-framed spectacles, his feet planted slightly apart in grey socks and Velcro-strapped sandals. He has been a patient in Säter hospital since 1991 and although he is 62, the flesh on his hands is still pink and unworn, the result, one imagines, of a lack of exposure to sunlight. His hair - what is left of it - is white.