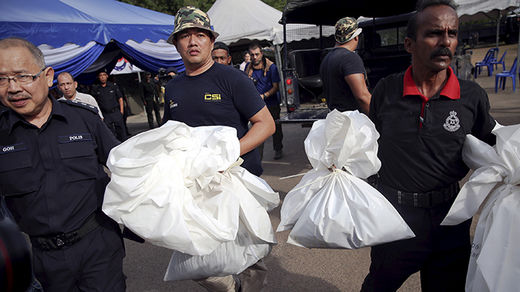 A total of 139 graves have been found in Malaysia in more than two dozen human trafficking camps believed to have been used by gangs smuggling migrants across the Thai border. Signs of torture were also discovered, the nation's police chief said Monday.
"It's a very sad scene...to us even one is serious and we have found 139," Malaysia's inspector general of police, Khalid Abu Bakar, told reporters in the northern state of Perlis.
"
We are working closely with our counterparts in Thailand. We will find the people who did this."
Describing the conditions at the 28 abandoned camps scattered along a 50 km (30 mile) stretch of the Thai border, Khalid said authorities were
"
shocked by the cruelty." He added that signs of torture were also discovered, but declined to elaborate.
Photos of the camp show basic wooden huts built in forest clearings. Khalid said bullet casings were found in the vicinity, and metal chains were found near some graves.
The first decomposed body was brought down to a police camp set up at the foot of the mountains where the camps were found on Monday evening. Delivery of the corpse took nearly five hours, due to the rough terrain.
"The body was only bones and little bit of clothing on it," said Rizani Che Ismail, the officer in charge of the Padang Besar police department, as quoted by Reuters. He added that the cause of death was not immediately known.