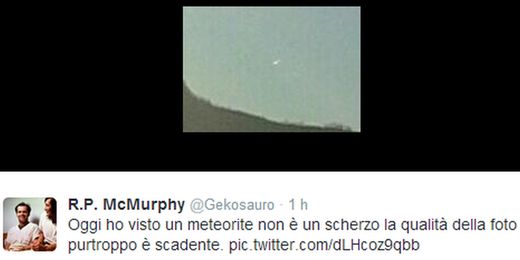 Translated by SOTT.net
Just as
reported by Mlactu yesterday evening, a meteor blazed across the sky in Southern France
on Saturday, February 22nd, at around 8pm. It was seen in Corsica, the in Bouches-du Rhôme (Marseille, Fréjus, Fos-sur-Mer and even in Aix-en-Provence), in the Hérault region (near Béziers) and also in the Alpes-Maritimes (Nice) and in Ardèche, after having been observed in Italy. Several witnesses share today their reports leaving comments on Mlactu.fr, confirming the sighting. Do not hesitate to do the same! Several readers wish to know what happened to the meteor they saw or heard about. Please know that Mlactu is doing its best to provide a serious and precise explanation as soon as possible.
"Seen directly from the Bastia Stadium, it was a beautiful image," says Guidicelli on Mlactu.fr. "It lasted for five seconds. It was rather large, with a yellow, red and green trail. It suddenly disappeared behind the stadium's tribune, South of the Armand Cesari Stadium".

"I thought I was crazy, nobody believed me", explains Benazeraf. I imagined it was a white shooting star but it was too big and too long for that! A white light with an orange trail, and it traveled across the sky for at least five seconds before I stopped being able to see it because of a tree that cloaked my view !"

"That's reassuring, I thought I was crazy too", adds Jenny Liegeois. "I saw it in Arcs sur Argens, a great orange fireball descending at a very high speed."