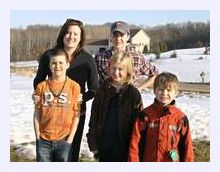 Hudson-area residents lucky enough to have been looking at the stars sometime before 8 p.m. Wednesday, March 3, were treated to what will no doubt be a once-in-a-lifetime sight.
Judging from reader comments on the
Star-Observer's
Web site
, a rare meteor fireball passed over the community at a low altitude.
Michelle Judge, who lives about five miles east of Hudson on the south side of I-94, was returning to her house from doing chores in the barn when she saw the fireball.
"I could see the actual fire in a ball. It was very good-sized -- and it was totally quiet," Judge said when contacted by the
Star-Observer
, after reporting the sighting online.
Judge said the fireball traveled almost directly west at an altitude of what she thought wasn't more than a few hundred feet.
It disappeared over her field, Judge said, "and then the rumble came and the turkeys went crazy."