Early Monday afternoon, a bright object flashed across the sky before vanishing with a flash, according to scores of eyewitnesses from Virginia to Massachusetts.
The likeliest explanation is that a large meteor - a space rock hurtling through the atmosphere - passed eastward over the North Jersey-New York City area.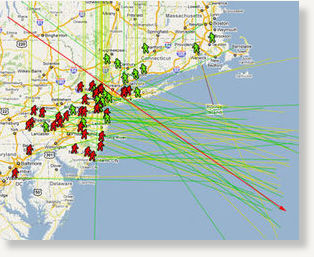 It might have been 5 feet in diameter with a weight of more 5 metric tons, judging from reports that it blazed as bright as a full moon, said NASA scientist Bill Cooke of the Marshall Space Flight Center.
He based his estimate on "a reasonable speed" of
33,500 m.p.h.
Good thing it didn't hit anything.
"My crude estimate of the energy of this fireball is about 100 tons of TNT, which means it was capable of producing a crater 125 feet in diameter and about 15 feet deep, assuming an impact into sandstone," Cooke said.