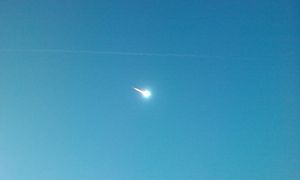 A fireball meteor zipped across the Netherlands sky Tuesday evening before exploding in to the North Sea, an expert says.
The Netherlands just escaped a natural disaster from a meteor. Many Dutch people in the Netherlands witnessed a large "fireball" meteor in the sky. In the north people heard a bang and saw flashes. Also on Twitter people reported on the phenomenon.
The Groningen astronomical Theo Jurriens confirmed that this was a very bright meteor and at one point burst into three pieces.
About one hundred
reports
have been received from people who have seen the fireball. From the north of the Netherlands there are reports of people who heard rumblings when the meteor passed by and buildings were shaking.
Several pictures of the fireball meteor have been posted on the internet.