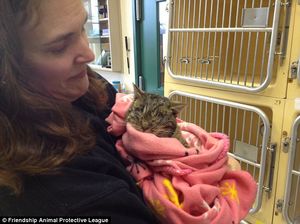 A driver who found a gray kitten frozen to the road in Ohio and rescued it says she initially thought it was a dirty chunk of ice.
Which is exactly what the 5-month-old cat was encased in when Dara Taylor saw it on her way to work Monday, stopped the car and pried the helpless animal off the road.
'I thought it was a chunk of ice in the middle of the road,' Taylor said. 'When I got closer, it moved. That freaked me out.'
Taylor told the Lorain County
Chronicle-Telegram
the cat was even unable to open its own eyes, but he tenaciously clung to life
'As I got out of the car, I could hear him meowing so loudly and pitifully and his little heart was beating so fast,' she said.
Taylor took the kitten to the Friendship Animal Protective League, where workers immediately set to warming him up.
They also named him Frosty.