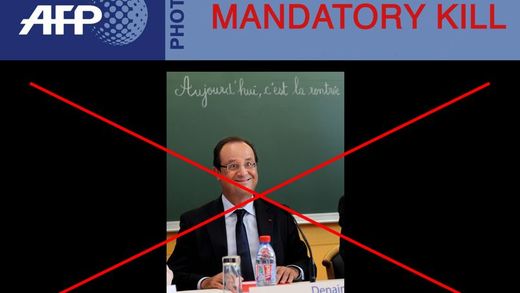 President Hollande found himself at the centre of an embarassing debate yesterday after Agence France Presse (AFP), the French press agency, withdrew a photograph that left him looking like a village idiot.
Critics accused the agency, which depends largely on the French state for its financial equilibrium, of self-censorship in an attempt to avoid ruffling Mr Hollande's feathers.
But the row merely added to the publicity surrounding the picture, which went viral on French internet sites amid widespread hilarity.
The photograph, taken when Mr Hollande visited a school in Denain, northern France, to mark the start of the new term on Tuesday, made him look like a clown with an expression of stupefaction in his eyes, according to Le Point, the news magazine.
Rue 89, a news site, said he looked "simple-minded".
The picture, taken by Denis Charlet, one of AFP's photographers, was made available to the media outlets which subscribe to the agency.