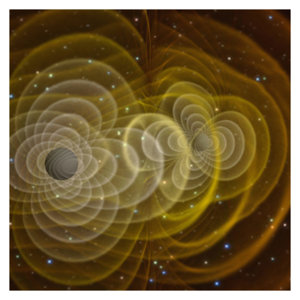 In the next five years or so, scientists are poised to discover proof that space and time can wrinkle in the form of gravitational waves. These waves were predicted almost 100 years ago by Albert Einstein's general theory of relativity, but have yet to be seen.
That could change soon when the latest, most sensitive
experiments hunting gravitational waves
come online. "There's so much activity and excitement in the field right now," said Mansi M. Kasliwal, an astronomer at the Observatories of the Carnegie Institution for Science in Pasadena, Calif. "The momentum is really building."
Kasliwal is the author of a paper published online today (May 2) in the journal
Science
describing the burgeoning field of gravitational wave studies.
According to
general relativity
, massive objects warp space and time around them, like a bowling ball dropped onto a sheet of rubber, causing passing objects, and even light, to travel along curved paths.
When two extremely dense objects, such as neutron stars (stars so dense the protons and electrons in their atoms collapse to form neutrons) or black holes, orbit each other in binary pairs, their interactions should
create ripples in the fabric of space-time
called gravitational waves. The most powerful waves would arise when two neutron stars or black holes merge together.