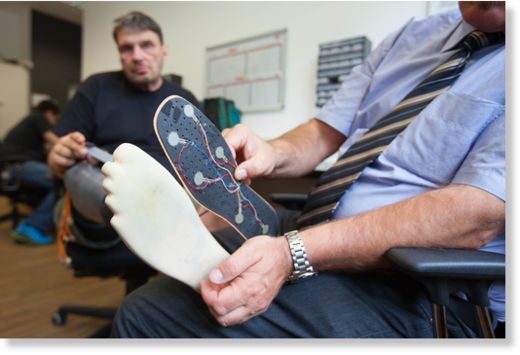 The world's first sensitive prosthetic leg, which simulates the feelings of a real limb, was revealed by Austrian scientists today.
The limb, developed by Professor Hubert Egger of the FH Upper Austria (University of Applied Sciences), allows wearers to tell which surface they are walking on and dramatically improves amputee's balance and coordination.
The development could wipe out the phenomenon of phantom pain, where amputees can experience severe discomfort as the brain receives no neural feedback from their missing limb.
A two-stage process was used to fit the limb to its first user, Austrian amputee Wolfgang Rangger, who lost his right leg to a blood clot and has been testing the limb for the past six months.
AFP reported that surgeons first rewired working nerve endings from Rangger's stump to healthy thigh tissue close to the surface of the skin. These nerves were then connected via stimulators in the prosthesis shaft to a foot which was equipped with six sensors.