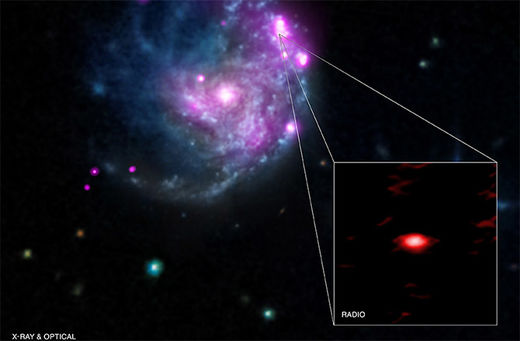 Astronomers have detected a black hole embedded in the spiral arm of a galaxy 100 million light-years from Earth — but this isn't any old black hole, it belongs to an extremely elusive class that may be the 'missing link' in black hole evolution.
Using observational data from NASA's Chandra X-ray Observatory
and the European Very Long Baseline Interferometry (VLBI) Network, which detects radio waves from energetic sources in the cosmos, the researchers, led by Mar Mezcua of the Harvard-Smithsonian Center for Astrophysics, were able to also deduce that
this particular 'intermediate-mass black hole' (IMBH) is creating a 'dead zone' inside its host galaxy, NGC 2276.
"In paleontology, the discovery of certain fossils can help scientists fill in the evolutionary gaps between different dinosaurs," said Mezcua. "We do the same thing in astronomy, but we often have to 'dig' up our discoveries in galaxies that are millions of light years away."
Black holes are known to come in two main classes: stellar-mass black holes, which are spawned by supernovae and are around 5-30 times the mass of the sun, and supermassive black holes, which occupy the cores of most galaxies and have solar masses of millions to
billions
. But to understand how black holes grow, there must be some black holes that have masses between the stellar and the supermassive. After all, logic dictates that if all black holes start small and grow over time,
there must be some intermediate mass black holes out there with girths that range between a few hundred to a few hundred thousand solar masses.