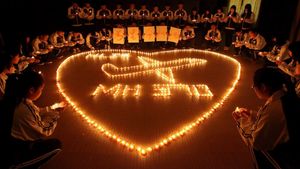 A military aviation technology expert has written to the Australian government to debunk its theory that missing Malaysia Airlines flight MH370 is lying in the southern Indian Ocean.
In a letter exclusively obtained by IBTimes UK addressed to Australian Prime Minister Tony Abbott, Foreign Affairs Minister Julie Bishop and Defence Minister David Johnston,
Andre Milne, alleges the country's claims surrounding MH370 crashed into the southern Indian Ocean are false and amount to a "criminal act of fabrication of evidence".
The official Malaysia report released earlier in March said the latest satellite data via British firm Inmarsat proved the plane flew for several hours before it crashed into the Indian Ocean on 8 March 2014. The airliner had mysteriously veered off its course from Kuala Lumpur to Beijing for reasons still not known. No distress signal was sent.
Malaysia Prime Minister Najib Razak at the time said it was believed the aeroplane's transponder, which emits an identifying signal was "
deliberately disabled
" before the plane changed direction and continued flying for a further seven hours.