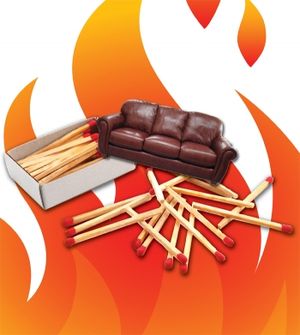 Distorted science. Fabricated watchdog groups. False testimonies. Decades of public deception. It's the stuff of a summer blockbuster - but truth is stranger than fiction, they say.
And so it is with the story of how, over the course of nearly 40 years, flame retardant substances ended up in nearly every piece of furniture, every electronic, every household ware and article of clothing in the U.S. In a four-part series from 2012, the
Chicago Tribune
used thousands of government, scientific and internal documents to expose the intricate web of lies that made it possible for chemical companies to fill American homes (cars, classrooms, hospitals...) with compounds known to cause cancer, disrupt sexual and neurological development and impair fertility.
But things seem to be moving in a new, less toxic direction as the California law that has required California manufacturers to include flame retardant chemicals in their products, the law that essentially set the national standard for furniture production since 1975 - Technical Bulletin 117 - was revised last year to allow California manufacturers to produce upholstered furniture without flame retardant foam. The revised standard, TB 117-2013, went into effect on Jan. 1, giving many environmentalists, toxicologists and concerned citizens hope that the Golden State will again lead the way - this time on a less poisonous path. And taking things one step further, if everything goes well on the floor of the California Senate in the last week of August, furniture manufacturers who sell in California will also be required to label whether furnishings do or do not contain flame retardant chemicals, yet another promising step forward for the nation as a whole.