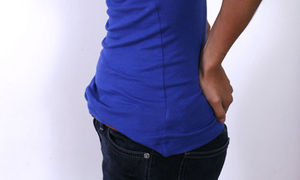 Scientists hail medical breakthrough by which half a million UK sufferers could avoid major surgery and take antibiotics instead
Up to 40% of patients with chronic
back pain
could be cured with a course of antibiotics rather than surgery, in a medical breakthrough that one spinal surgeon says is worthy of a Nobel prize.
Surgeons in the UK and elsewhere are reviewing how they treat patients with chronic back pain after scientists discovered that many of the worst cases were due to bacterial infections.
The shock finding means that scores of patients with unrelenting lower back pain will no longer face major operations but can instead be cured with courses of antibiotics costing around £114.
One of the UK's most eminent spinal surgeons said the discovery was the greatest he had witnessed in his professional life, and that its impact on medicine was worthy of a Nobel prize.
"This is vast. We are talking about probably half of all spinal surgery for back pain being replaced by taking antibiotics," said
Peter Hamlyn, a consultant neurological and spinal surgeon
at University College London hospital.
Hamlyn recently operated on rugby player Tom Croft, who was
called up for the British and Irish Lions summer tour last month
after missing most of the season with a broken neck.
Specialists who deal with back pain have long known that infections are sometimes to blame, but these cases were thought to be exceptional. That thinking has been overturned by scientists at the University of Southern Denmark who found that 20% to 40% of chronic lower back pain was caused by bacterial infections.
In Britain today, around 4 million people can expect to suffer from chronic lower back pain at some point in their lives. The latest work suggests that more than half a million of them would benefit from antibiotics.