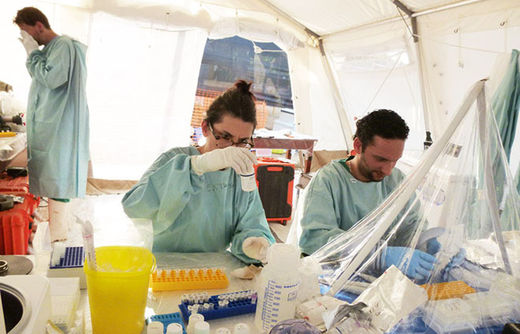 You've seen Ebola and other viral hemorrhagic fevers depicted on screens both large and small, but what health care workers are currently fighting in West Africa is worse than anything writers have dreamed up.
In sixth grade, I molded a human hand out of clay and then used acrylic paints to map the course of radiation poisoning. When a seventh-grade science teacher told us to create models of animal cells, mine had to be three-dimensional. I bought a fishbowl and some clear Jell-O. Over the course of an afternoon and night, I tiptoed into the kitchen every hour or two to pour a thin layer of gelatin onto my legume and pasta organelles.
By eighth grade, I had moved on to viruses, becoming fascinated with the least-understood and most terrifying group known to man: viral hemorrhagic fevers, the genre that claims yellow fever, dengue fever, and the Marburg and Ebola viruses. I learned that
Ebola isn't
a
scary virus - it's
the
scary virus
. Yellow fever may have wiped out
more than
10 percent
of Philadelphia's population in 1793, but that stunning death toll is nothing compared to the devastation that Marburg and Ebola wreak. They're our epidemiological boogeymen.
What Ebola does to the human body defies reason. It's like something out of a horror movie, not a textbook. A la
Andromeda Strain
, we know very little about
where this virus comes from
, just that the most likely "ground zero" is the fruit bat. These bats serve as natural reservoirs, occasionally infecting other animals - from primates to antelopes, porcupines, rodents, dogs, and pigs. Most strains that can infect humans are extremely contagious and exceedingly lethal, with fatality rates between 60 and 90 percent.