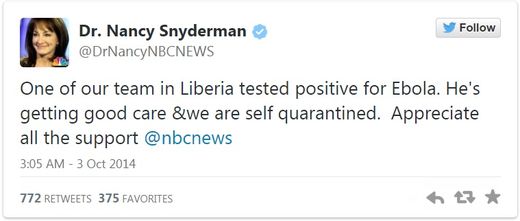 NBC News says a freelance cameraman working for the network has tested positive for Ebola and will be flown back to the United States for treatment.
The
network reported
the freelancer, identified as Ashoka Mukpo, was just hired Tuesday to be a second cameraman for its medical editor, Nancy Snyderman, a physician. It said the freelancer, who has been working in Liberia for some time, showed symptoms Wednesday, and was feeling "tired and achy" before being tested.
The network said the 33-year old cameraman, who is also a writer, was taken to a Doctors Without Borders treatment center and that the positive result came back 12 hours later.
He is the fourth American known to have contracted Ebola in Liberia, according to NBC. Another physician,
reportedly American
and working for the World Health Organization, was flown back to the United States after testing positive in Sierra Leone.