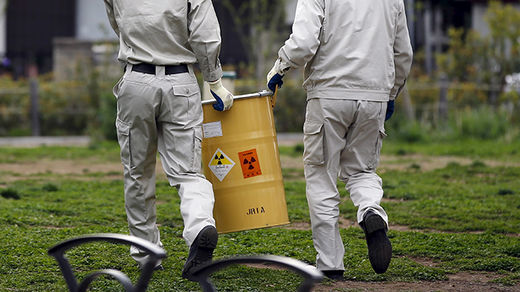 A playground in Tokyo turned out to be contaminated with radiation levels that
2,000 times exceed the maximums permitted
in areas adjoining the devastated Fukushima nuclear plant.
Authorities fear some children have been exposed to radiation influence.
The administrative office of Toshima ward in northwest Tokyo reported that soil probes showed 480 microsieverts per hour.
Two hours of exposure at such levels would equal one year's maximum allowable dose of radiation.
Radiation levels measured this month in Okuma, a town less than 20 km from the Fukushima nuclear power plant, are ranging from 0.7 to 23.2 microsieverts per hour.
"
We are still checking what caused these elevated radiation levels and what type of radioactive substance it is
,"
Reuters quoted park representative Kyoko Tsujimura, stressing that radiation elsewhere in the park is low.