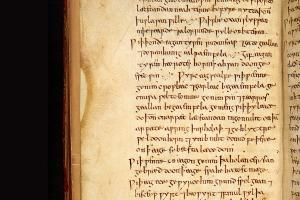 Take cropleek and garlic, of both equal quantities, pound them well together... take wine and bullocks gall, mix with the leek... let it stand nine days in the brass vessel...
So goes a thousand-year-old Anglo Saxon recipe to vanquish a stye, an infected eyelash follicle.
The medieval medics might have been on to something. A modern-day recreation of this remedy seems to alleviate infections caused by the bacteria that are usually responsible for styes. The work might ultimately help create drugs for hard-to-treat skin infections.
The project was born when a microbiologist at the University of Nottingham, UK, got talking to an Anglo Saxon scholar. They decided to test a recipe from an Old English medical compendium called Bald's Leechbook, housed in the British Library.
Some of the ingredients, such as copper from the brass vessel, kill bacteria grown in a dish - but it was unknown if they would work on a real infection or how they would combine.