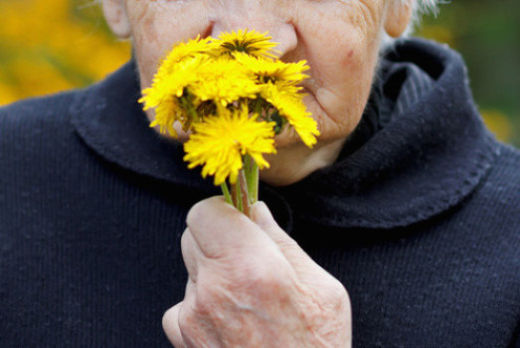 A decreased ability to identify odors might indicate the development of cognitive impairment and Alzheimer's disease, while examinations of the eye could indicate the build-up of beta-amyloid, a protein associated with Alzheimer's, in the brain, according to the results of four research trials reported today at the Alzheimer's Association International Conference® 2014 (AAIC® 2014) in Copenhagen.
In two of the studies, the decreased ability to identify odors was significantly associated with loss of brain cell function and progression to Alzheimer's disease. In two other studies, the level of beta-amyloid detected in the eye (a) was significantly correlated with the burden of beta-amyloid in the brain and (b) allowed researchers to accurately identify the people with Alzheimer's in the studies.
Beta-amyloid protein is the primary material found in the sticky brain "plaques" characteristic of Alzheimer's disease. It is known to build up in the brain many years before typical Alzheimer's symptoms of memory loss and other cognitive problems.
"In the face of the growing worldwide Alzheimer's disease epidemic, there is a pressing need for simple, less invasive diagnostic tests that will identify the risk of Alzheimer's much earlier in the disease process," said Heather Snyder, Ph.D., Alzheimer's Association director of Medical and Scientific Operations. "This is especially true as Alzheimer's researchers move treatment and prevention trials earlier in the course of the disease."