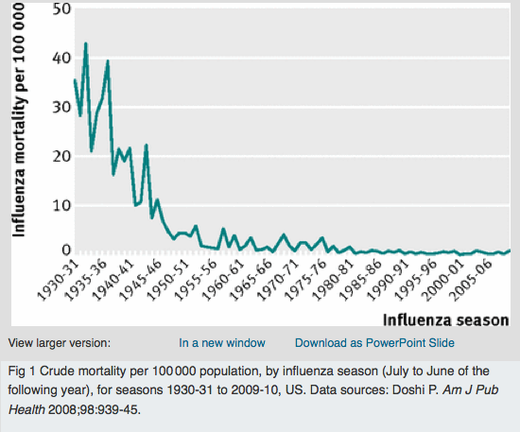 The winter heralds 'flu season', and many will be urged to get them themselves adequately protected through vaccination. A recent piece in the
British Medical Journal
[1] by Dr Peter Doshi (from the John Hopkins University School of Medicine in Baltimore, US) makes the point that public health campaigns often present flu vaccination as a no-brainer: we're all at risk of flu and its complications, the flu shot is risk free, and vaccination saves lives. However, as Peter Doshi goes on to explain, all these assertions are open to question.
Dr Doshi questions the trend for increasing numbers of people being defined as 'at risk'. In 1960, this definition only applied to individuals aged 65 or older. By 2010, this definition had extended to everyone over six months of age.
It is often claimed that flu vaccination saves lives. This claim is based on so-called 'epidemiological' evidence which finds that those who receive the flu vaccine are less likely to die than those who don't. Risk reductions of 30 - 50 per cent are sometimes quoted. However, as Peter Doshi points out,
flu only accounts for about 5 per cent of wintertime deaths. How, on earth, then can flu vaccination reduce the overall risk of death by those previously quoted figures? Answer: it can't.