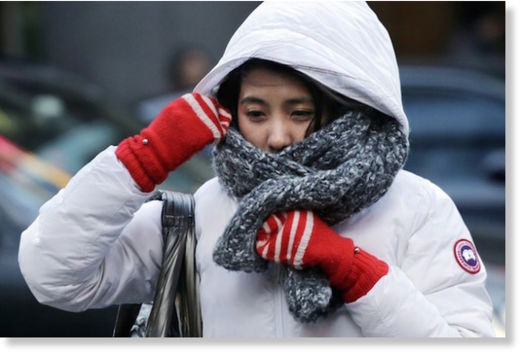 Looking for a silver lining in the cold that's gripping much of the country? The next time an icy blast of wind cuts through your flesh, remind yourself that it is also
stimulating the growth and activity of brown fat
, the so-called good fat that burns calories and produces heat.
Located in your chest and back, brown fat's job is to protect your vital organs which, in winter, means giving you a way to generate additional heat for them. It's more prevalent in newborns and hibernating animals, whose need for warmth is greater, but researchers discovered about five years ago that adults have some, too.
In contrast to white, or "bad," fat, which stores energy as those bulges you're trying to eliminate at the gym,
brown fat is full of mitochondria, the glucose-burning power plants of cells, which give brown fat its color. People with more brown fat tend to be leaner and have lower blood sugar levels.
It takes a little time in the cold to crank up the brown fat, but temperatures don't have to be down at the Polar Plunge level.
When researchers
exposed people to temperatures of 59 to 60 degrees for two to six hours over 10 consecutive days,
they found immediate increases in brown fat activity. In another study, men who slept in rooms for a month at 66 degrees
increased their brown fat and its activity by 30 percent to 40 percent
. When the night-time temperature was raised to 80 degrees for another month, their brown fat stores declined below baseline levels.