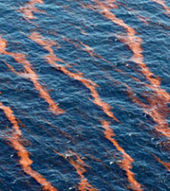 Update: 'Flummoxed' BP engineers ask public for oil leak solutions
New Orleans, Louisanna -- With the impending threat of a growing oil slick just offshore, US Gulf coast states are seizing at all straws to avert disaster, with police in north Florida even suggesting protecting beaches with rolls of hay.
"That's why we get a lot of inventions in wartime, because people are willing to take a chance," Eric Smith, an oil and gas expert at Tulane University in New Orleans, said of the flood of ideas on how to stop the spill in the Gulf of Mexico.
On Florida's Santa Rosa Beach, Walton County Sheriff Michael A. Adkinson and C.W. Roberts, Inc., a private contractor, unveiled their audacious plan to stop oil from blackening 26 miles of pristine white beaches facing the Gulf.