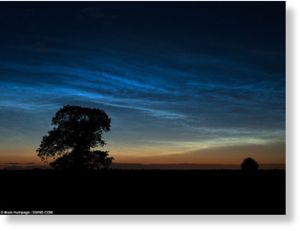 With the sun dappled across these white clouds and a deep blue sky, it appears dawn is about to break.
But this remarkable photograph of an English rural landscape near was taken at midnight and shows the rare phenomenon of 'night shining.'
The shimmering clouds form at an altitude of around 55 miles above sea level and are made up of tiny ice droplets. Because they are so high up in the atmosphere the sun is able to illuminate the clouds from below the horizon.
Called 'noctilucent' clouds, which literally means 'night-shining' in Latin, they are normally spotted in polar regions during the summer months.
But stunned residents spotted a rare glimpse of the clouds lighting up Leicester's skyline shortly after midnight on Thursday morning.