How do you lose track of the world's second largest fish?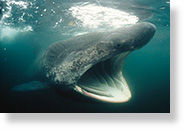 For decades, that's what scientists have been doing each winter, when basking sharks mysteriously disappear from the cool waters of the Atlantic and Pacific Oceans.
Now the baffled experts have at least part of the answer: Giant basking sharks from New England take tropical vacations.
Previously thought to inhabit only temperate waters, a new study shows that the sharks, which grow up to 32 feet (10 meters) long, make vast migrations to deep, warm-water hideouts.
Before the annual winter disappearance, scientists tagged 25 basking sharks off New England with floating, timed-release satellite transmitters.