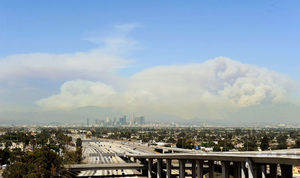 California's Governor, Arnold Schwarzenegger, has urged the residents of Los Angeles to prepare for a mass evacuation in the event of a public call to flee raging fires.
Wildfires in the US Golden State, razing around 35,000 acres (over 14,000 hectares) of bush land, are threatening 13,000 properties just north of Los Angeles.
The ravaging flames, fanned by the weak Pacific Ocean breeze and fueled by incoming arid weather system from the west midlands United States, have thus far forced thousands out of their homes in the vicinity of the ongoing inferno.
The blaze has caused mandatory evacuations of around 7,000 California houses close to the valleys around the Big Tujunga Canyon, Schwarzenegger told reporters on Monday.