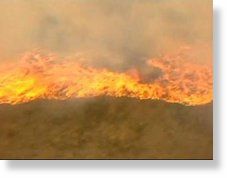 Sydney - Police say the death toll from wildfires that swept southeastern Australia has risen to 25 people.
More than a dozen blazes burned unchecked Saturday in three states, with temperatures soaring and high winds fanning flames.
Victoria Police Deputy Commissioner Kieran Walshe told the Nine television network on Sunday that 25 deaths had been confirmed and that officials believe that number will rise further as police reach further into the fire zone.
Walls of flame roared across southeastern Australia on Saturday, razing scores of homes along with forests and farmland in the sunburned country's worst wildfire disaster in a quarter century. At least 14 people died and the toll could rise to more than 40, police said.
Witnesses described seeing trees exploding and skies raining ash as some of the hottest temperatures on record combined with raging winds to create perfect conditions for uncontrollable blazes.