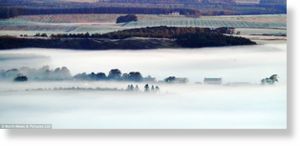 Crank up your central heating and get out your thermals... because winter is about to bite.
Icy polar winds are to sweep across the country from tomorrow, with temperatures plummeting to below freezing and up to 2ins of snow forecast for parts of the north by the end of the week.
Millions will wake up to frost this week, but the worst of the weather will hit Scotland and North-east England.
Wednesday will be the coldest day of the week, with temperatures as low as -3C on Tuesday night in rural parts of the north. The mercury will also struggle to rise above freezing overnight in the south.